About the Program:
The VMCAS Fee Assistance Program for VMCAS 2022 will Open in May
VMCAS is moving to a fee assistance program starting with the VMCAS 2022 cycle. The fee assistance program will open in May when applicants have the ability to submit applications to schools. A limited number of VMCAS fee waivers are provided to qualified applicants on a first-come, first-served basis until allotted funds are exhausted. Each fee waiver covers only the initial application fee ($220), so if you wish to apply to additional programs, you are responsible for the remaining balance. If you received a fee waiver (fee reimbursement) during a previous cycle, you may still apply for fee assistance in the next cycle.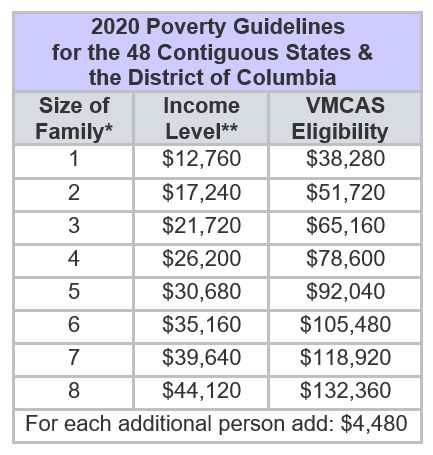 The Fee Assistance Program approval is tied directly to the U.S. Department of Health and Human Services' poverty level guidelines. You will be granted a fee waiver if each household reported on your application has a 2020 total family income that is 300 percent (300%) or less than the 2020 national poverty level for that family size (see VMCAS Eligibility column of chart above). For more information and for guidelines in Hawaii and Alaska, please visit: 2020 Federal Poverty Guidelines.
*Size of family means the number of exemptions listed on the qualified income tax return forms. For example, a family size of 4 may include two parents and two dependents.
** Income Level refers to the adjusted gross income stated on the federal income tax return 1040, 1040A, or 1040EZ.
Service-based Fee Assistance
To qualify for a service-based fee waiver, you must have participated in one of the eligible service-based organizations:
• Active or Veteran Military Service Member
• McNair Scholar
The Fee Assistance Program will open in May.
The VMCAS Help Center contains full details and instructions on how to apply for the Fee Assistance Program.
Please email your questions to: ddabdub@aavmc.org.