About the Program:
The Fee Reimbursement Program for VMCAS 2021 is Now Open!
The VMCAS 2021 Fee Reimbursement Program is sponsored by the Association of American Veterinary Medical Colleges (AAVMC). A limited number of fee reimbursements are available through this program. Reimbursements are granted to financially disadvantaged applicants on a first-come, first-serve basis. The application is open beginning May 12, 2020, and will close on the deadline (September 15, 2020) or once the allotted funds are exhausted. AAVMC will review your submission to determine if you qualify for a reimbursement based on your income, or your parent's income if you are claimed as a dependent, as reported on the most recent Federal Income Tax Return. No other documentation is accepted. Your fee reimbursement request must be received and processed AFTER you e-submit your VMCAS application. If granted, you will receive a refund equivalent to the "one school" fee ($220). If you choose to apply to more than one VMCAS school, you will be responsible for fee(s) for each additional designation. This reimbursement program applied to the VMCAS application fee only. You are still responsible for supplemental application fees, regardless of your VMCAS reimbursement program status.
Requirements:
To be considered for a VMCAS Reimbursement, you must:
Be a U.S. Citizen, U.S. Permanent Resident, or have refugee/asylum status.
Submit your VMCAS 2021 Application.
Submit this VMCAS Fee Reimbursement Program Request Form by September 15, 2020.
Upload a copy of your 2019 Federal Income Tax Return. (Submit your parent's tax return if you can be claimed a dependent).
Do NOT send any documents by any other method but the submission program. Do not email us your forms. They must be submitted online using the online form.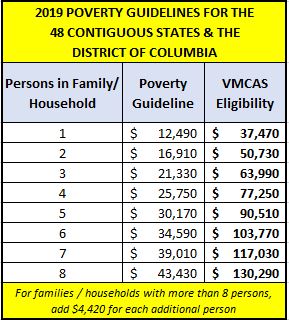 Note: Any deviation from the above requirements mayresult in disqualification!
The Fee Reimbursement Program award approval is tied directly to the U.S. Department of Health and Human Services' poverty level guidelines. You will be granted fee assistance if each household reported on your application has a 2019 total family income that is 300 percent (300%) or less than the 2019 national poverty level for that family size (see VMCAS Eligibility column of chart above). For more information and for guidelines in Hawaii and Alaska, please visit: 2019 Federal Poverty Guidelines.The Fee Reimbursement Program will open May 12, 2020 and processing will begin on or around July 1, 2020. Please click on the following link to submit your request: VMCAS 2020 Fee Reimbursement Program.Please email your questions to: ddabdub@aavmc.org.