COVID-19 concerns did not deter more than 300 registrants from attending Catalyze 2020, the AAVMC's Annual Conference and Iverson Bell Symposium in Washington, D.C.
Held during a week before heightened concerns led to many domestic restrictions or cancellations, the conference featured a number of biosecurity practices, including a "no handshake" policy. An abundance of hand sanitizer was made available and people were encouraged to eschew traditional handshakes and hugs in favor of hand or elbow bumps.
For those present, there were plenty of opportunities for learning and networking, with an insightful array of sessions and workshops from which to choose.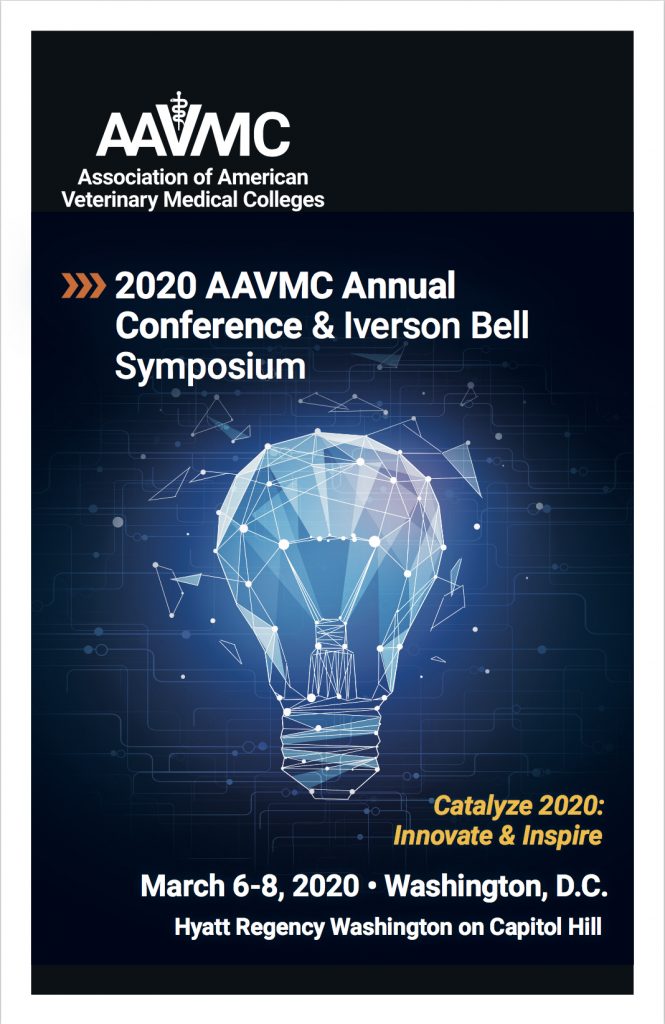 AAVMC Conference Catalyzes, Innovates and Inspires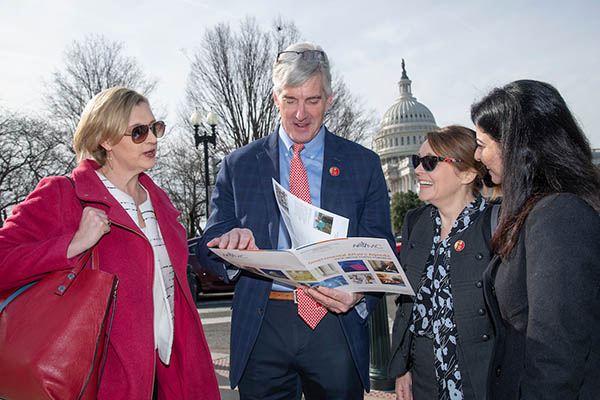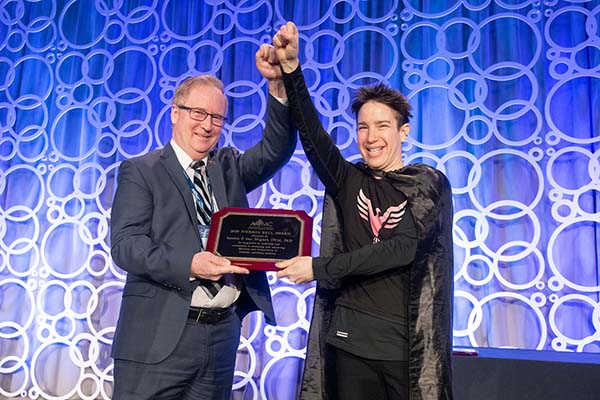 On Thursday, March 5, 81 deans and other veterinary medical school representatives from 26 states conducted 156 meetings with Congressional members or staffers to discuss issues of importance to academic veterinary medicine.
COVID-19 awareness and concerns illuminated the importance of the profession and brought special urgency to conversations about targeted programs such as the 2019 Advancing Emergency Preparedness Through One Health Act, the America Grows Act (for agricultural research) and Section 1433, Formula Funds for Animal Health and Disease Research.
The conference kicked off on Friday, March 6 with sessions through March 8 that included dozens of expert presentations, workshops and keynote speakers such as Jeff Selingo, a writer for the Washington Post and the Chronicle of Higher Education, who is the author of two New York Times best sellers.
Selingo spoke on how technological and societal changes are prompting changes in education and what that might look like long-term. He stressed the need to develop platforms for lifelong learning and the development of student skills that can transfer from one domain to another, with structures that might rely more heavily on internships and flexible, digital learning. He also noted the need to develop outcomes-based, human skills "to complement rather than compete with technology."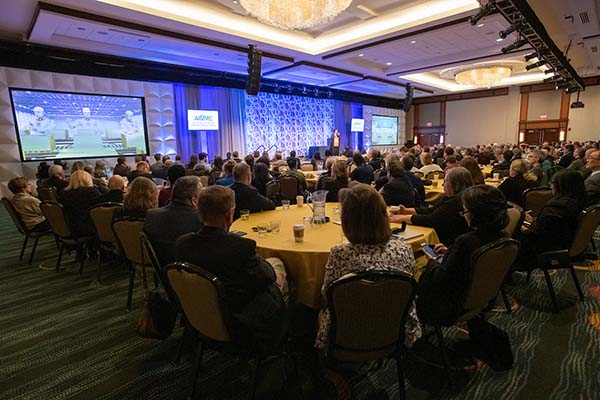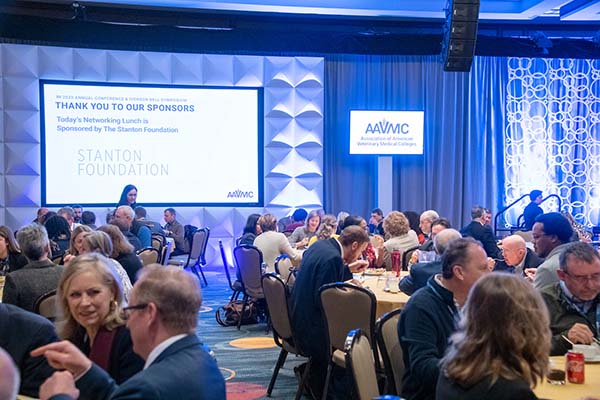 That human/technology interface theme resonated throughout the conference with sessions such as "Preparing Veterinary Graduates for a Changing Profession: Using Hackathons as a Vehicle to Teach Vital Professional Skills" and a "Use of Animals in Education Symposium."
The symposium examined both the benefits and limitations of using simulations, haptic training models, cadavers, or critically ill animals to teach veterinary medical skills, and how to objectively evaluate the effectiveness of different approaches.
In an emotionally touching presentation, Dr. Philp Nelson, dean of the College of Veterinary Medicine at the Western School of Health Sciences, spoke about his school's policy that no animals will be harmed or die as part of their educational programs. The school relies heavily on willed bodies, conducts memorial services for the donated animals and invites donors to write personal stories about their relationships with the donated animals and the impact on their lives.
AAVMC President-elect Paul Lunn, dean of the college of veterinary medicine at North Carolina State University, talked about the need to constantly study and evaluate the use of animals to ensure that they are only used ethically and with careful, balanced consideration to all factors. "I think we're at a time where we have an opportunity to exercise careful scrutiny and evaluate whether we're really following best practice," he said—something the AAVMC intends to encourage members to do.
New this year, award winners were introduced via compelling, professionally produced videos that profiled honorees. One award-winner, Iverson Bell awardee Dr. Sandra San Miguel, took the stage in a flowing cape to illustrate how she inspires young students to become superheroes through learning about science and veterinary medicine.
Videos (see videos below) also profiled Iverson Bell awardee Jaime Gongora, Distinguished Veterinary Teacher Award recipient Dr. Jerome Masty, Excellence in Research Award recipient Dr. Peter J. Havel, Billy E. Hooper Award for Distinguished Service Award recipient Dr. Eleanor Green, and Senator John Melcher Leadership in Public Policy Award recipient Dr. Glen Hoffsis. The Presidential Award for Meritorious Service was awarded to members of the Competency-based Veterinary Education (CBVE) group and to Dr. Darcy Hall and Dr. Karen Cornell for their work with the AAVMC's Leadership Academy.
In another new development, programming normally featured during the Iverson Bell Symposium, previously a biennial event, was apparent in presentations throughout the meeting. The decision to make the Iverson Bell Symposium a part of every conference was made to reinforce the idea that diversity and inclusion should infuse everything that AAVMC members do.
Some of those sessions included "When Hate is a Crime: Creating an Inclusive and Safe Environment on Campus," "Policies, Practices and Practices and Places: Supporting Religious, Secular and Spiritual Identities in Veterinary Medical Education," and "Where are the Men?"
In "Where are the Men," the AAVMC's Senior Director for Institutional Research and Diversity Dr. Lisa Greenhill outlined some of the factors that discourage men from entering veterinary medicine. She stressed that we need to work harder to develop the pipeline for males with concerted efforts such as mentoring, developing role models, and focusing on salaries. She acknowledged the efforts will likely take years before gleaning results.
Keynote speaker Dr. Ashanti Johnson used her personal story, experience and empirical evidence to emphasize the benefits of diversity and inclusion in a talk on "Diversity, Equity and Belonging." Dr. Johnson is one of the first African American female chemical oceanographers in the U.S. and a leading expert on diversity in STEM. She spoke about the importance of prioritizing and cultivating input from diverse viewpoints and how organizations can encourage diversity in everything from interpersonal dynamics to programmatic initiatives, mentorship and career development.
"Share your story," she said, because once you've done it, you become the best practice."
---
Award Winner Tribute Videos
---
AAVMC Elects New Officers, Unveils New Initiatives at Annual Assembly Meeting
During the annual Assembly Meeting on March 6, the AAVMC unveiled a new, rebranded visual presence, a bolder logo, and a new tagline of "Trusted Leader, Valued Partner, Advancing Health."
The AAVMC also introduced a new strategic framework that includes goals and strategies structured around the AAVMC's vision, mission and values.
AAVMC CEO Dr. Andrew T. Maccabe announced the decision to develop a new Web platform that will include AAVMC Connect for member engagement and to develop communities of interest. The organization will also expand offerings in leadership development and continue work on the Competency Based Veterinary Education initiative (CBVE).  
In a special presentation, Dr. Erin Sorrell from the Georgetown University Center for Global Health Science and Security spoke about the COVID-19 outbreak and response. She also provided the perspective of an historical overview of related coronaviruses, such as SARS in 2002 and MERS in 2012.
In the previous week, Congress had designated $8 billion in supplemental funds to fight the virus. "I encourage members with disease-fighting efforts related to that effort to apply for those funds," encouraged outgoing AAVMC President Dr. Michael Lairmore, dean of the College of Veterinary Medicine at UC Davis.
There were several changes to the board of directors. Dr. Mark Markel, dean of the University of Wisconsin School of Veterinary Medicine, became AAVMC President and Dr. Paul Lunn, dean of the North Carolina State University College of Veterinary Medicine, was voted in as President-Elect. Dr. Michael Lairmore transitioned into the role of Past-President.
Dr. Rustin Moore, dean of the Ohio State University College of Veterinary Medicine, became At-Large Director Representing Region I (U.S.), Dr. Sean Callanan, dean of the Ross University School of Veterinary Medicine became At-Large Director Representing Region IV (Europe, Mexico and the Caribbean) and Jes E. and Clementine M. Schlaikjer Endowed Chair in the Department of Veterinary Science at the University of Kentucky, began a second term as At-Large Director Representing Departments of Veterinary Science.
---
CIVME Awards 2020 Research Grants
The American Association of Veterinary Medical Colleges' (AAVMC) Council on International Veterinary Medical Education (CIVME) has funded four program grants designed to foster the enrichment and advancement of international academic veterinary medicine.

This year's program included funding the first MSD Animal Health CIVME Antimicrobial Stewardship Grant. This newly established program is the result of a recent collaboration with MSD Animal Health that seeks to improve instructional programs related to antimicrobial resistance in educational institutions around the world.

Nine applications for the inaugural grant of $10,000 were reviewed by CIVME officials. The funded project was "Antimicrobial Stewardship Cooperative," which was submitted by Laura Hardefeldt of the University of Melbourne in collaboration with Kirsten Bailey and Glenn Browning of the University of Melbourne, and Scott Weese of the University of Guelph.

This year, 22 proposals representing collaborative efforts from around the world were reviewed during the traditional educational microgrant funding process that began when CIVME was established in 2016.

Funded programs and principle investigators include:
"Appalachia to East Africa: Improving Veterinary Student Outcomes Through Teacher Training," submitted by Jamie Stewart of Virginia Tech in collaboration with Cassidy Rist and Jennifer Hodgson, Virginia-Maryland College of Veterinary Medicine; Misty Bailey, India Lane and Marcy Souza, University of Tennessee; Julie Hunt and Katherine Fogelberg, Lincoln Memorial University; Samuel Majalija, Makerere, Uganda; Jane Mburu, Egerton, Kenya; and A. Muhairwa, Sokoine, Tanzania.
"What Makes a Curriculum Leader in Veterinary Education?" submitted by Sheena Warman of the University of Bristol and Elizabeth Armitage-Chan of the Royal Veterinary College in London in collaboration with Katy Cobb, University of Nottingham; Heidi Janicke, St. George's University; Emma Read, The Ohio State University; Mario Baratta, University of Turin; and Sarah Kelly; University of Bristol.
"Capacity Building in Veterinary Educational Research by Developing an Open Access Resource to Support Community Members," submitted by Julie Hunt of Lincoln Memorial University in collaboration with Sarah Baillie of the University of Bristol; Mirja Ruohoniemi, University of Helsinki; Waraporn Aumarm, Bangkok University; Manuel Boller, University of Melbourne; and Victoria Philips, Society for the Protection of Animals Abroad.
CIVME was founded in 2016 to help advance AAVMC interests in elevating the quality of international academic veterinary medicine. Specifically, the charge from the AAVMC Board of Directors was to "advance high-quality veterinary education internationally through enabling and empowering best practice." CIVME seeks to advance their initiatives by promoting inter-regional collaboration.

CIVME addresses that through:
Communication and collaboration that advances veterinary medical education around the world
Facilitating collaboration among educational researchers
Disseminating innovations and other educational advances to educators and institutions to magnify the impact of projects
CIVME comprises representatives from eight major global regions (Australasia, North America, Central/South America, Continental Europe, UK/Ireland, Middle East, Africa and Asia).
---
Career Day Features Unique Veterinary Career, Draws Hundreds of Prospective Future Veterinarians
The AAVMC's annual Career Day and Information Sessions event always draws hundreds of prospective veterinarians and family members and this year was no exception.
The event is free for any high school or undergraduate student with an interest in the veterinary medical profession and featured representatives from more than 20 veterinary medical schools who provided information and answered questions.
The event often seeks to broaden students' ideas of where getting a veterinary medical degree can lead. This year's career speaker was Dr. Melinda Merck from Veterinary Forensics Consulting, who spoke on "A Career as a Forensic Veterinarian."
She explained that forensic veterinarians apply veterinary knowledge to answer legal questions, which might include criminal cases, crime scene investigations, investigating animal cruelty or testifying in court. Forensic veterinarians might work with human forensic experts, attorneys, local animal shelters, local or federal law enforcement officers or other investigators.
Merck explained that she showed an early interest in solving mysteries, drawn to early influences such as Scooby Doo, Nancy Drew and the television show Quincy, Medical Examiner. After earning her Doctor of Veterinary Medicine (DVM) degree from Michigan State University, she worked for a veterinary practice and then opened her own practice focused solely on felines. Eventually, however, she was looking for new challenges and, more and more, she began to learn about forensic techniques and was called upon to provide expert testimony.
Eventually, she garnered so much expertise that she wrote a textbook and developed enough renown to become a successful consultant.
She relishes the challenge of solving puzzles, becoming "a voice for the animals," and using science and evidence-gathering techniques to uncover truth.
Next, attendees heard from the AAVMC's Diana Dabdub, director for admissions & recruitment affairs, who offered advice for how to prepare for veterinary medical school. She emphasized that, despite an overall emphasis on certain math and science prerequisites, each school has its own admissions requirements, as outlined in the AAVMC's Veterinary Medical School Admissions Requirements (VMSAR) publication.
She also discussed career options and conveyed information that most aspiring veterinarians may not know: that not all schools require a bachelor's degree, that some schools such as Virginia-Maryland have inter-state agreements where people from more than one state qualify for in-state tuition, and that different extra-curricular activities and volunteer hours may matter more for some schools than for others.
She encouraged students to develop a budget, research the specific requirements of their target schools, and begin to prepare as early as possible, as well as providing other advice and tips.
Thursday Conference
Friday Conference
Saturday Conference
Deans Dinner
Sunday Conference and Career Fair