The AAVMC's 50th Anniversary Celebration concluded with an epic annual conference and Gala Celebration centered around the theme of "Fifty and Forward." The AAVMC meeting began with the introduction of "Pathways to Progress," a book on the history of the AAVMC and its member institutions authored by Cornell Dean Emeritus Dr. Donald F. Smith. The AAVMC Recognition Lecture was renamed the "Billy E. Hooper Lecture Award for Distinguished Service to Veterinary Medical Education" to honor a giant in the history of the AAVMC. And AAVMC President Dr. Eleanor Green made several exciting announcements about the future.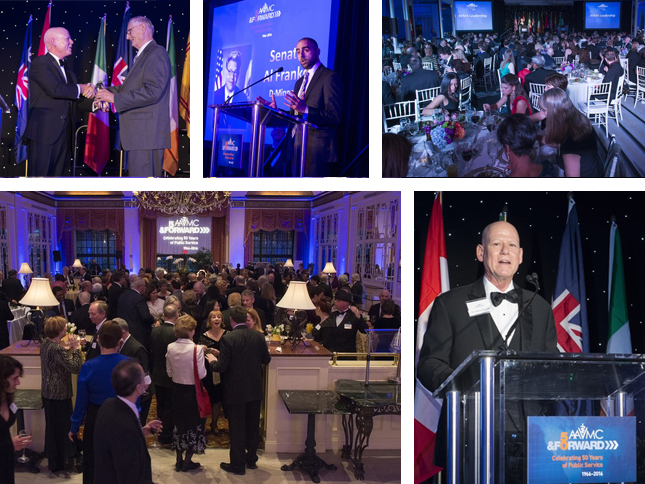 ---
Dazzling Gala Celebrates Past and Future
The AAVMC's 50th Anniversary Gala Celebration was a splendid evening of celebration, entertainment and fellowship. Over 300 guests, including friends from the veterinary medical community, business and government gathered for this milestone event. A dozen colorful flags representing the AAVMC's international member institutions framed the stage from which guests were entertained by two-time Pulitzer Prize-winning Washington Post columnist Gene Weingarten and heard congratulations from more than a dozen speakers. The dinner began and ended with the introduction of two new AAVMC videos. Please take a moment to view them by clicking the icons at the bottom of this page.
---
Explore Conference and Gala Programs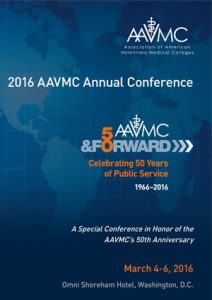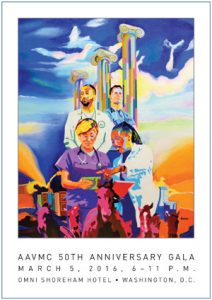 By clicking on the icons above, you can access more detailed information about the conference presentations made during our "Fifty and Forward" conference. You can also see who presented congratulatory remarks during our evening gala celebration and read letters of recognition and congratulations from major stakeholder organizations. A portion of a formal resolution of congratulations passed by the United States Congress is also available.
---
New AAVMC Videos
The Gala Dinner segment began and ended with the introduction of two new AAVMC videos.
"We are the AAVMC!" is a fast-moving two-minute graphical piece that describes the organization's direction and values.
"Let's Hear From a Few of our Friends" features remarks from past and present AAVMC leaders on the value of the organization and it's achievements and future directions.