The AAVMC has been bringing thought leaders together to network and inspire each other since its inception.
That vital work continues.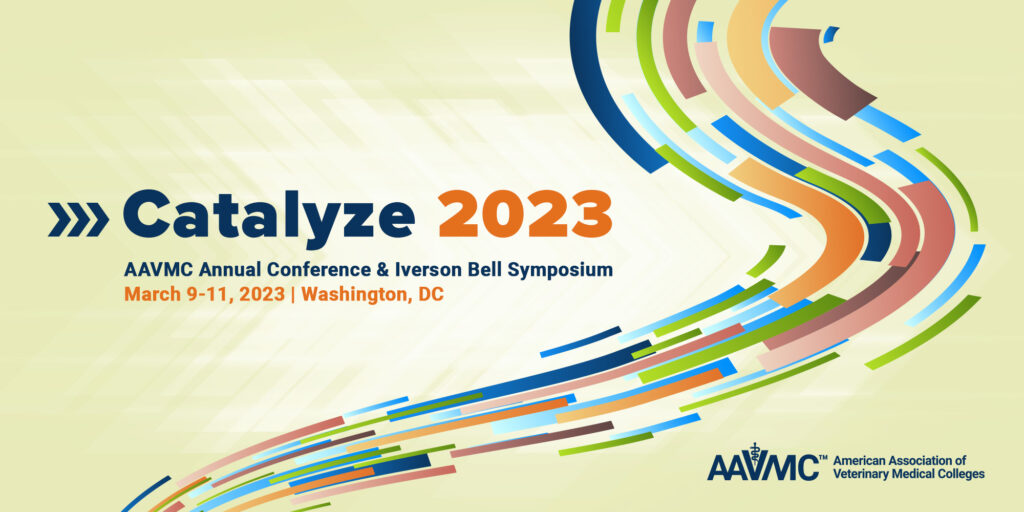 AAVMC Annual Conference & Iverson Bell Symposium
The AAVMC's annual conference is considered one of the leading professional development events in international academic veterinary medicine. Hundreds of educators and other leaders from the veterinary medical profession gather every year for a three day-symposium that features respected thought-leaders from around the world, explores issues and opportunities, shares best practices, and focuses on diversity, equity and inclusion. The conference also features the AAVMC's annual Advocacy Day on Capitol Hill. Please SAVE THE DATE for March 9 – March 11, 2023 at the Watergate Hotel, Washington, DC.
Spotlight on Spectrum of Care Pedagogy Symposium: A Special Call for Abstracts
Deadline: December 1, 2022
The AAVMC seeks to showcase pedagogy related to spectrum of care (SOC) through a dedicated symposium at the 2023 AAVMC Annual Catalyze Conference. The symposium will feature presentations, panels, and discussions about pedagogy and research aimed to help students develop the knowledge, skills, and attributes needed to provide a range of care options. Preparing graduates to offer a wide range of care options that are responsive to both patient factors and the needs of socioeconomically diverse clients is a core component of training for both general and specialty practice. Therefore, abstracts related to SOC-related pedagogy in any area of veterinary education are welcome. Learn more about submitting here.
Regional Iverson Bell Symposia
Once presented biennially, the Iverson Bell Symposium is now a fixture of every AAVMC Annual Conference. Designed to promote diversity, equity and inclusion throughout academic veterinary medicine, the meeting honors the late Iverson Bell, a towering figure in the history of veterinary medicine who served as the first Vice President of the American Veterinary Medical Association. Regional Iverson Bell symposiums are periodically presented periodically around the country.
Dean's Leadership Conference
With origins in the 1980's, the Dean's Leadership Conference provides an opportunity for deans to consider and address the issues, opportunities and challenges shaping the future of academic veterinary medicine in a focused, executive environment. In recent years, the meeting has included an Industry Leadership Panel, which provides an opportunity for corporate executives and academic leaders to exchange perspectives and ideas.
January 12 – 14, 2023 Jupiter Beach, Florida.
Annual Primary Care Veterinary Educators (PCVE) Meeting
The Primary Care Veterinary Educators (PCVE) is focused on helping improve instructional practices in veterinary medical clinical education. Every year, the group convenes an annual meeting that explores and shares best practices in an area of academic veterinary medicine that helps faculty members best prepare students for clinical veterinary practice.
April 20 – 23, 2022 at Oklahoma State University.
Veterinary Educator Collaborative
The Veterinary Educator Collaborative (VEC) is component of the AAVMC that fosters faculty development and promotes best practices among veterinary educators. The group presents a bi-annual conference and is open to all veterinary educators and the educationalists who support them.
June 28-30, 2022 at Kansas State University.
National Veterinary Scholars Symposium
Every year, with substantial support from Boehringer Ingelheim Animal Health, the AAVMC presents the National Veterinary Scholars Program. This meeting annually highlights the essential role of scientific research in veterinary medicine and provides veterinary medical students who have conducted original research through the Boehringer Ingelheim Veterinary Scholars Program with an opportunity to formally present their research in a professional environment.
AAVMC is now accepting abstract submissions through July 14th at 12 Noon CST. No late submissions or edits to abstracts will be accepted. To submit an abstract, click here.
August 2-6, 2022 in Minneapolis, Minnesota.
Vet Ed Africa 2022
The AAVMC Council on International Veterinary Medical Education (CIVME) and the African Association of Veterinary Education Establishments (2A2E-V) to host Vet Ed Africa in Pretoria, South Africa. November 1 – 3rd, 2022 at 26 Degree South Hotel. For hotel information, click here. To submit and abstract and learn more about the conference, click here. Abstracts are due no later than September 1, 2022.
AAVMC Summer Meeting
The AAVMC's annual Summer Meeting is scheduled in conjunction with the annual meeting of the American Veterinary Medical Association (AVMA). The meeting is open to all AAVMC members and features a series of speakers sharing information on current issues and important topics in academic veterinary medicine.
The Summer Meeting is scheduled for Summer 2022. More details regarding hotel reservations and registration will be available soon.
Association of Veterinary Advancement Professionals (AVAP) Annual Meeting
AVAP, a component of the AAVMC, is a several hundred member association of communications, fund-raising, and alumni relations officers working at AAVMC member institutions. These institutional advancement officers convene a meeting in conjunction with the annual meeting of the American Veterinary Medical Association (AVMA) which is focused on professional development and best practices.