Research Into Equine Disorders Can Shed Light on Human Conditions
Like most of her colleagues, Dr. Molly McCue became a veterinarian to help animals. But she soon discovered that studying her patients also could shed light on some of the most debilitating diseases afflicting humans.
After receiving her degree in veterinary medicine and completing her residency in internal medicine, McCue went to the University of Minnesota to pursue a doctoral degree in comparative and molecular biosciences, supported by a predoctoral T32 training grant from the National Center for Research Resources (NCRR), part of the National Institutes of Health. "That training allowed me to pursue more molecular-based approaches in my research but still focus on animals," she explained.
McCue's research identifies genes involved in disorders of metabolism, the complex process in which the body turns food into energy. Two years ago, she discovered that a mutation of a gene called GYSI — which encodes an enzyme that breaks down glycogen, one of the chemical forms in which sugar is stored in tissues — plays a role in inherited metabolic disorder in horses. Horses with this mutation are at risk of suffering from severe muscle pain and cramping when their owners start riding and exercising them.
Humans also suffer from many conditions that involve problems with the metabolism of glycogen, and McCue's study now provides a compelling clue as to one gene that might be involved.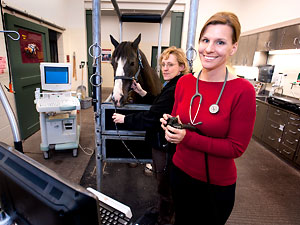 For now, McCue and colleagues have developed a genetic test to identify horses with the mutation, both to keep them from being bred further and to provide the necessary preventive medicine. "The disease can be controlled by limited starch intake and exercising these animals daily, and the horses can go on to be active," she said.
Veterinarian scientists like Dr. McCue have the training to identify the most valuable animal models to study disease processes. As a result, not only does their research help animals, but it could also have an impact on human health.