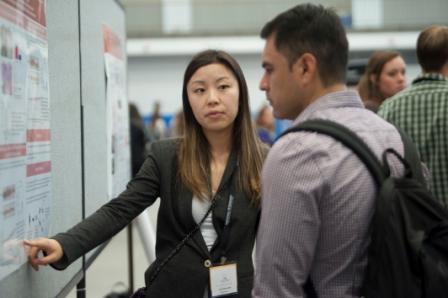 Washington, D.C, August 15, 2019 – The National Veterinary Scholars Symposium (NVSS) July 24-27 drew 673 attendees from throughout North America and Europe to focus on veterinary medical student research. The conference was organized and hosted by the Cummings School of Veterinary Medicine at Tufts University and held at Worcester State University in Massachusetts.
Attendees included 600 veterinary medical students from more than 40 schools who are involved in research, faculty members/mentors and distinguished researchers from academia, industry and government.
The symposium, which is widely recognized as the premiere national meeting for veterinary student research, is the culmination of many student summer research programs, including the Boehringer Ingelheim Veterinary Scholars Program, multiple programs funded by the National Institutes of Health (NIH), the Foundation for Food and Agriculture Research (FFAR) and the colleges of veterinary medicine. The symposium highlights the ways veterinary scientists advance basic and applied research to support global health and serves as an incubator for many students who pursue careers in scientific research.
First- or second-year veterinary medical students who were mentored by university faculty members in established laboratories presented scientific posters on their hypothesis-driven research projects.
Themed "Engaging Veterinarians to Advance Animal and Human Health," the symposium was presented with support from Boehringer Ingelheim Animal Health, the NIH, the Burroughs Wellcome Fund, the American Veterinary Medical Association/American Veterinary Medical Foundation and the AAVMC.
Dr. M. Sawkat Anwer, Distinguished Professor and Associate Dean for Research and Graduate Studies at the Cummings School, described the symposium as highlighting "the importance of collaborative research conducted by veterinarians, physicians and basic scientists," adding that, "Such collaborations are essential to understanding, preventing and treating diseases affecting animals as well as humans."
The symposium provided students with exposure to a variety of topics at the intersection of animal and human health through presentations and panel discussions. Breakout sessions highlighted advances in emergency and critical care, antimicrobial resistance, regenerative medicine, oncology, and infectious diseases and pathways to research career development.
Distinguished speakers presented on topics that ranged from "Vaccines and Immunotherapeutics" to "Understanding Cancer Biology" and "How Re-engineered Antibodies from Camelids May be the Antibody Therapeutics of the Future."
Sample student research topics included: defining causes of intra-mammary infection in dairy cattle using a novel sampling technique; the use of MR spectroscopy to differentiate canine brain masses; development of a laser scalpel neurosurgical approach to treat focal neocortical epilepsy; and defining causes of intra-mammary infection in dairy cattle using a novel sampling technique.
Networking opportunities included a closing reception followed by a banquet.
The American Association of Veterinary Medical Colleges (AAVMC) is a nonprofit membership organization working to protect and improve the health and welfare of animals, people and the environment around the world by advancing academic veterinary medicine. Members include 50 accredited veterinary medical colleges in the United States, Canada, Mexico, the Caribbean, Europe, Australia, Asia and New Zealand.
– 30 –
Download the photo.
Photo credit: Shawn Kelly
MEDIA CONTACTS:
Jeff Douglas or Jeanne Johnson
Phone: 202/371-9195, x144
Email: jdouglas@aavmc.org or jjohnson@aavmc.org