Renowned Economist and Education Policy Expert to Present Keynote Address at AAVMC Annual Conference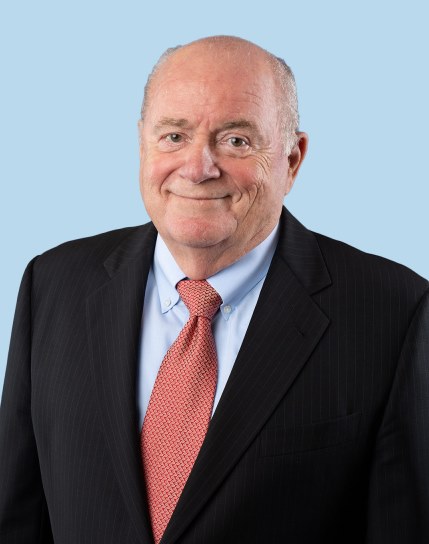 Dr. Anthony Carnevale, an internationally recognized economist and human resources/education policy expert, will be a keynote speaker at the AAVMC's Catalyze 2022 Annual Conference March 3-5, 2022, at the Watergate Hotel in Washington, DC.
Dr. Carnevale is a research professor and director of the Georgetown University Center on Education and Workforce. Both Democrat and Republican U.S. presidents have accessed his expertise by appointing him to serve on national workforce, education, and technology commissions.
His research documents the increasing dominance of the college educated in the workforce and factors affecting higher education and success. He is a co-author of The Merit Myth: How Our Colleges Favor the Rich and Divide America, an AAVMC Community Reads-featured book that looks at how elite colleges use measures of meritocracy that favor the wealthy and perpetuate racial and class privilege.
Dr. Carnevale was the founder and president of the Institute for Workplace Learning (IWL) between 1983 and 1993, where he worked with private companies to develop high-performance work systems and to develop more effective work and training systems.
Between 1996 and 2006, he served as vice president for public leadership at the Educational Testing Service (ETS). While at ETS, Dr. Carnevale was appointed by President George Bush to serve on the White House Commission on Technology and Adult Education. Before joining ETS, Dr. Carnevale was director of human resource and employment studies at the Committee for Economic Development (CED), the nation's oldest business-sponsored policy research organization. While at CED, Carnevale was appointed by President Clinton to chair the National Commission on Employment Policy.
He has also served as director of political and government affairs for the American Federation of State, County and Municipal Employees (AFSCME), the largest union in the AFL- CIO, and as a senior staff member in both houses of the U.S. Congress.
Registration for the AAVMC's annual conference "Catalyze 2022" is open! Register today to receive early bird registration discounts.
---
Another Solid Increase in VMCAS Applicants for 2021

Record numbers of applicants continue to seek admission to the professional degree programs operated by AAVMC member institutions. Following the September 29 deadline for the 2021-2122 VMCAS admissions cycle, a total of 10,834 qualified applications had been received by colleges and schools throughout the system.
That represents a 5.5% increase over last year's cycle, when a total of 10,273 applicants applied for admission to the class that matriculated this year. 2021-22 cycle applicants applied to an average of 5.37 different schools.
The application deadline was extended to September 29 from September 15 as a result of natural disasters that temporarily shut down some academic institutions and impaired applicant ability to finalize their applications.
The number of applicants seeking admission to veterinary college has been growing steadily in recent years.
Factors influencing the increases remain unclear, however they may include an extended application cycle and growing awareness and appreciation for the veterinary medical profession.
Transcription verification processes will continue through October, but AAVMC officials do not expect significant variance. The AAVMC will release more specific information concerning this year's VMCAS cycle later this year.
---
Youth Marketing Initiative Taking Shape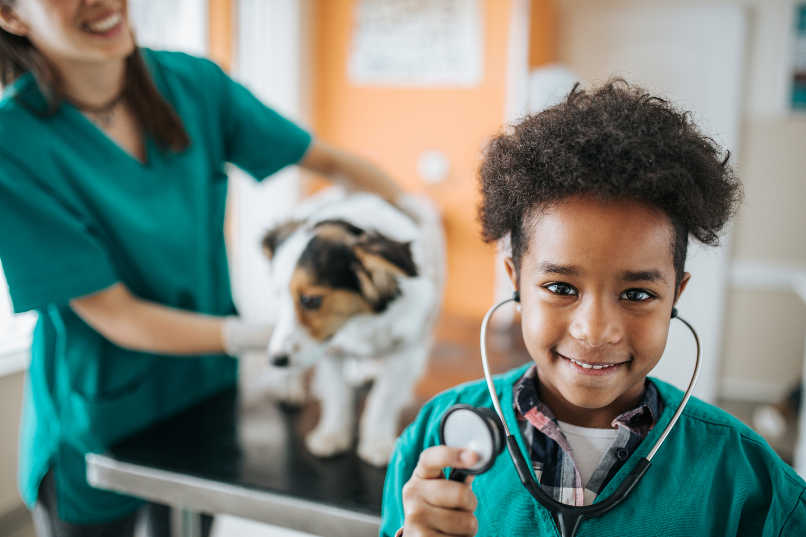 The AAVMC is putting the final touches on a major Youth Marketing Initiative designed to inspire and cultivate interest in veterinary medicine among school children and help create pathways toward a career in the profession.
The program is a major element of the AAVMC's National Recruitment Strategy and is expected to play a major role in ongoing AAVMC efforts to recruit students to serve in a more diverse veterinary medical profession.
The program is critically timed, as environmental factors will likely impact the applicant pool sooner than originally thought, according to Director for Admissions and Recruitment Affairs Ms. Diana Dabdub.
Admissions officials understood that the decline in birth rates in 2008 would affect the number of students entering higher education.
"While we had previously anticipated that graduate and professional education would see this impact around the year 2030, the COVID-19 pandemic has accelerated this," she said. "The COVID-19 pandemic impacted Fall 2020 enrollment in undergraduate education, and this will ultimately have a trickle-down effect on graduate and professional education sooner than anticipated."
Through this initiative, we will be able to identify differences in the target audiences and avenues for recruiting and supporting students of diverse backgrounds in veterinary medicine. Ultimately, the long-term goal of this project is to grow an inclusive and diverse veterinary medical workforce.
As part of the planning process, an advisory panel comprised of representatives from ADEA (Dental), AACP (Pharmacy), HOSA (Future Health Professionals) (Science teacher), MANRRS, Purdue University CVM, AVMA, and SAVMA was created to help inform the direction of the initiative and serve as a sounding board for future campaign creation.
Significant market research has also been conducted to hone message development and strategy.
The program will include the development of a sub-brand, website and social media campaign specifically targeted at school children at various stages, including elementary, middle and high school.
"Everything that will be created will have a DEI focus as our ultimate goal is to create pathways to veterinary medicine through nurturing and support of diverse students," said Dabdub.
In 2007, AAVMC initially developed a National Recruitment Strategy that highlighted recruitment and pathway development as a priority. This plan was updated in 2017 and outlined several recommendations, including raising the profession's visibility, age-specific marketing (social media, website, communication, print), and creating a prospect database.
---
Accepted Student Wellbeing Course Now Available on AAVMC Learn

A new Accepted Student Wellbeing Course produced by the AAVMC's Offices of Wellbeing and Admissions and Recruitment is now available for students.
The course is targeted at helping accepted students think critically and holistically about their wellbeing pre-arrival to veterinary school but is open to all, according to AAVMC Director for Wellbeing Ms. Makenzie Peterson.
Individuals can access the course through the AAVMC's new online learning management system AAVMC Learn. The goal of this project is to establish a baseline knowledge of wellbeing for incoming students; its connection to diversity, equity, and inclusion; create a unified sense of "readiness" and language related to wellbeing; and help students create their wellbeing care-plans prior to arriving on campus.
Topics covered include the transition into veterinary school, mental and emotional health, engaging in help-seeking behaviors, imposter syndrome, and growth vs. fixed mindsets. The course is also available in five languages (English, French, Spanish, Korean, Mandarin) with closed captions, and can be supplemental or blended with what a college curriculum already offers.
Although the course is not required for incoming students during their application process, veterinary colleges and schools are welcome to require the course be completed by their incoming students, according to Peterson. Zoetis has sponsored the creation of the online course.
Several members of the AAVMC's Academic Veterinary Wellbeing Professionals group contributed to the project development.
Those include: Bethany Colaprete, EdS, LPC, LMHC, NCC, Director of Counseling and Wellness Center, Counselor/Clinical Assistant Professor, Washington State University College of Veterinary Medicine; Jeremiah E. Grissett, PhD, Counselor and Wellness Coordinator, Oklahoma State University College of Veterinary Medicine.
Also Andria Jones-Bitton, DVM, PhD, Associate Professor of Epidemiology, Department of Population Medicine, Director of Well-Being Programming, Ontario Veterinary College, University of Guelph; and Julia Rice, MA, CVM Wellbeing Director, North Carolina State University College of Veterinary Medicine.

Members can also look forward to another course being created later this academic year regarding student wellbeing and the transition into clinics. For more information or to share feedback related to the course, please contact AAVMC Director for Wellbeing Ms. Makenzie Peterson at mpeterson@aavmc.org.
---
Washington Taking Action on PSLF, Other Debt Relief Measures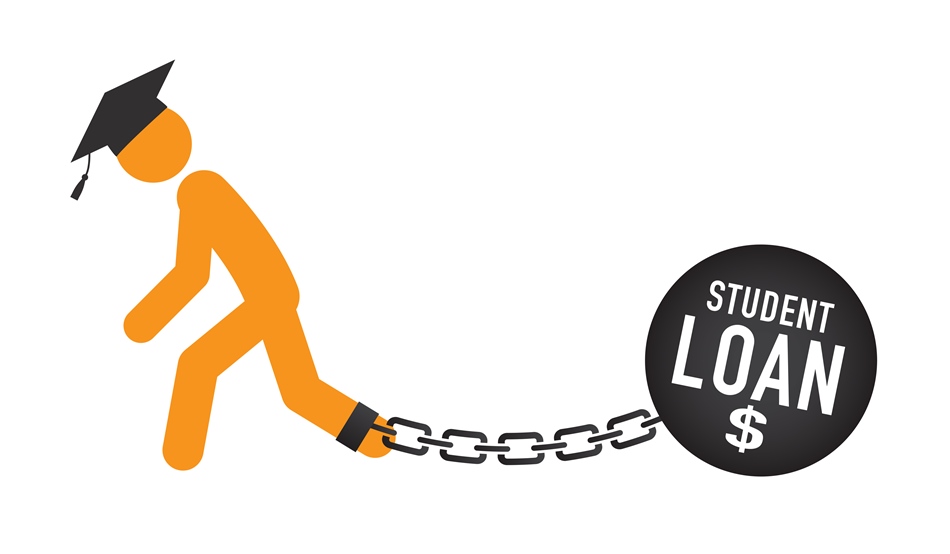 Education debt currently hovers around $1.6 trillion. Efforts to address this growing crisis have gathered traction in Washington recently as policy-makers and debtors have begun to consider and experience its colossal implications.
The U.S. Department of Education announced a major overhaul of the Public Service Loan Forgiveness Program on October 6, for example, that will clear the way for 22,000 borrowers (including veterinarians and other healthcare providers) to become immediately eligible for $1.74 billion in loan forgiveness. Some 27,000 other borrowers could qualify for an additional $2.82 billion with proper documentation of qualifying employment.
The program, which began in 2007 and is a top AAVMC legislative priority, has been saddled with red tape in recent years, with many qualified providers hitting roadblocks as they attempted to claim benefits.
Created under the College Cost and Reduction Act, the PSLF program enables direct loan borrowers to have their remaining balances forgiven after ten years, providing they work in a qualifying occupation and make 120 monthly payments.
Here are some other progress points concerning recent loan relief efforts undertaken by the Biden administration, according to AAVMC Director for Governmental Affairs Kevin Cain:
Nearly $10 billion in debt for permanently disabled borrowers and defrauded students who attended for-profit colleges has been cancelled.
The Senate confirmed James Kvaal on Sept. 14 as under-secretary of education, a role in which he will work on questions regarding debt forgiveness, student loan repayments, and litigation against the agency over Trump-era policies. He is expected to advocate for further loan forgiveness.
As a part of the reconciliation package, Democrats hope to make at least two years of community college free for most Americans.
Student loan payments will restart after Jan. 31, 2022. This is likely the final extension on forbearance from the Department of Education.
---
Advocacy Committee Cultivating Support for Academic Veterinary Medicine on Capitol Hill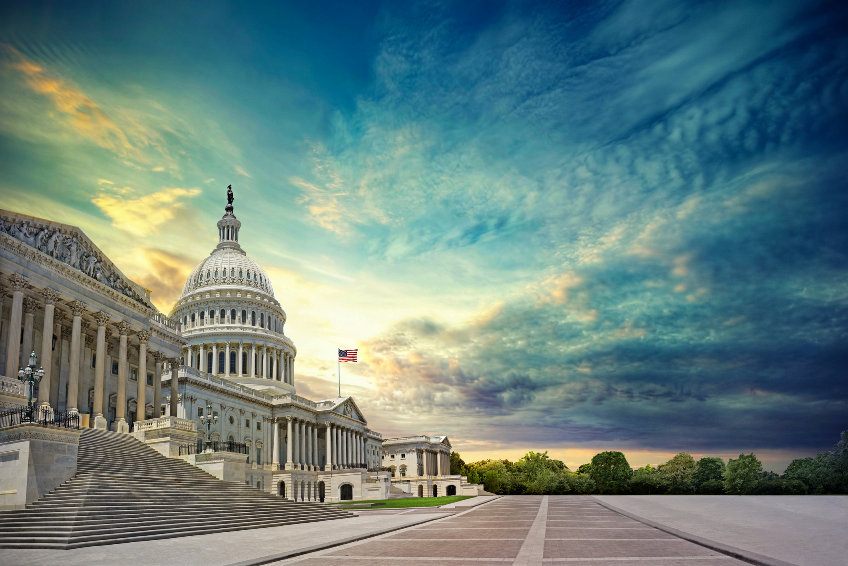 Federal legislation, budgetary measures and executive agency regulations and policies related to veterinary medicine, higher education and agriculture have an enormous impact on the fates and fortunes of academic veterinary medicine.
Supporting and monitoring legislation, building relationships and coalitions and providing expert information are all duties embraced by the AAVMC's Office of Governmental Affairs, which works closely with the AAVMC Advocacy Committee to set priorities and create an action plan.
Chaired by Dr. Carolyn Henry, dean of the University of Missouri College of Veterinary Medicine, the 19-member Advocacy Committee meets monthly to review issues and hone strategies. The group works closely with AAVMC Director for Governmental Affairs to establish an annual list of legislative priorities and key initiatives for the AAVMC's annual Advocacy Day 0n Capitol Hill.
Right now the Advocacy Committee is closely following House and Senate negotiations on President Biden's Build Back Better plan, as well as working on appropriations for FY 2022.
The AAVMC's governmental affairs program, working closely with the Advocacy Committee, works with other organizations like the American Veterinary Medical Association, the Association of Public and Land-grant Universities (APLU), and other organizations to advance common interests.
Members of the AVMA's Government Relations Division occasionally participate in meetings. The group also works with the Veterinary Medicine Caucus on Capitol Hill to foster policies and programs that advance veterinary medicine.
Please click here to see a list of the members of the AAVMC Advocacy Committee.
---
AAVMC Institutions Earn Veterinary Services Grant Program Awards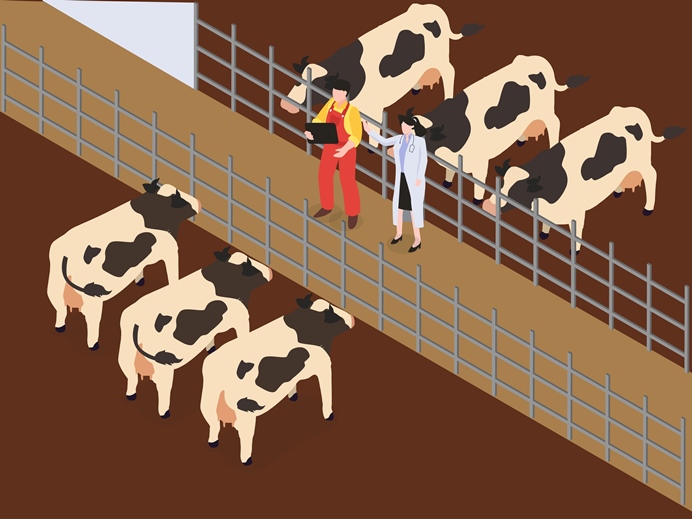 Several AAVMC institutions have been awarded Veterinary Services Grant Program awards by the USDA's National Institute of Food and Agriculture (NIFA). The purpose of the program is to alleviate veterinarian shortage situations in rural areas and support the availability of emergency veterinary services.
AAVMC member institutions awarded Education, Extension and Training Awards include the University of Minnesota, the University of Missouri, the University of Kentucky and Texas A&M University.
2020 EET Awardees
Collaborative food animal diagnostician and anatomic pathology training grant. Regents of the University of Minnesota. $240,335
Building a Veterinary Medical Mastermind: Leaning on each other to improve professional development skills. Wisconsin Veterinary Medical Association, Inc. $245,000
Food Armor Veterinary Student Educational Program Expansion: Reaching more food animal students and early graduate veterinarians across the United States. Food Armor Foundation, Inc. $243,361
Show-Me VET ECHO: Veterinary Education and Training (VET) through Extension for Community Healthcare Outcomes (ECHO) program. University of Missouri. $238,000
Online avian medicine course for veterinarians targeting small poultry producers to ensure early disease detection for animal/public health. University of Kentucky Research Foundation. $230,787
Your Practice Now and Next Generation Workshops. American Association of Bovine Practitioners. $238,000
Improving the sustainability of rural veterinarians through mentoring, targeted education, telemedicine, and monitoring of disease syndromes. TAMU Agrilife Extension. $243,000
---
AAVMC's Dabdub Authors DEI Article for Hispanic Heritage Month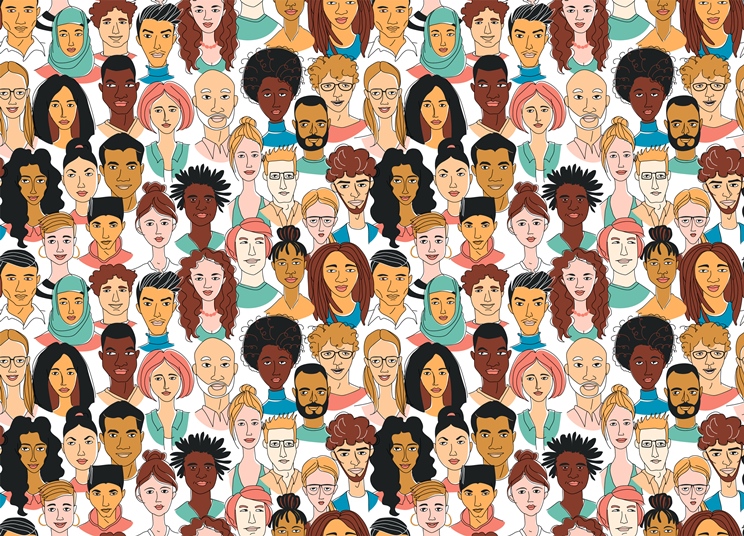 National Hispanic Heritage Month, which encourages people to reflect upon the important contributions made by Hispanic Americans in American history and culture, is being observed from September 15-October 15, 2021.
As part of that effort, AAVMC Director for Admissions and Recruitment Affairs Ms. Diana Dabdub co-authored an article in the monthly "Associations Now" magazine produced by the massive 47,000 member American Society for Association Executives (ASAE).
In the article titled "Eight Ways to Make a More Culturally Responsive Organization," Dabdub and her colleagues outline the importance of creating diverse, high-performance organizations and some of the many opportunities that arise from recruiting more Hispanic Americans.
The importance of creating a culture of belonging, leadership, mentoring, advocacy and other strategies and approaches are outlined in the article.
The authors site Bureau of Labor Statistics data that suggests 20% of the American workforce will be Hispanic American by 2024.
---
AAVMC's 2021 Annual Conference Website Earns Recognition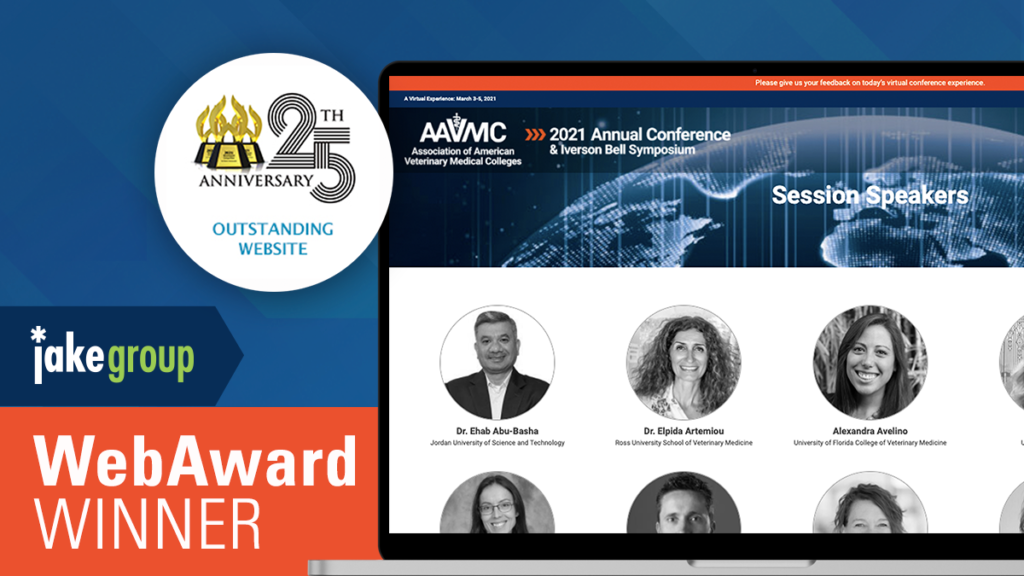 The website developed to support the AAVMC's "Catalyze 2021" virtual annual conference has been honored with an "Outstanding Achievement Award" by the Web Marketing Association during their 25th annual excellence in websites recognition program.
"We're pleased to earn this recognition," said AAVMC CEO Dr. Andrew T. Maccabe. "We worked hard to adapt our programs for success in the pandemic altered world we live in. Converting our annual conference to a successful virtual experience took a lot of effort on behalf of our staff, our partners, and our guests. I think this award is a reflection of that collective effort."
AAVMC Manager for Meetings & Events Ms. Leslie Wilson led the initiative, working with Washington D.C. digital marketing firm "The Jake Group," which submitted the work.
"This recognition is not just ours, but belongs to AAVMC and the entire team who worked tirelessly to pull off a successful virtual event during an unprecedented time," said The Jake Group President Ms. Anneli Werner.
The Web Marketing Association's annual WebAward Competition has been setting the standard of excellence for Website development since 1997. Independent judges from around the world review sites in 96 industries. The WebAward Competition is the premier award recognition program for Web developers and advertising agencies.
---
Deadline for 2022 Professional Achievement, Service Awards October 15
If you're planning on nominating someone for an AAVMC professional recognition or service award, you better act quickly! The deadline is October 15. The awards inspire and recognize excellence in teaching, research, service, diversity and inclusion and other important areas of academic veterinary medicine and will be presented during the 2022 annual conference in Washington.

The professional excellence awards that will be presented this year include:
Eligibility for these awards is generally limited to members of the AAVMC member institution community unless otherwise noted in the individual award announcements. Nominators are encouraged to review individual award criteria and to consider the importance of diversity as an AAVMC core value in selecting potential nominees for recognition. Additional information on the AAVMC's awards program is available here.
Please submit all materials to the following survey linked here.
More specific information about award criteria and submission information is available on the individual award pages. Please contact AAVMC Manager for Member Engagement Ms. Lawann Blunt at lblunt@aavmc.org with questions.
---
Annual Pet Week on Capitol Hill a Virtual Experience for 2021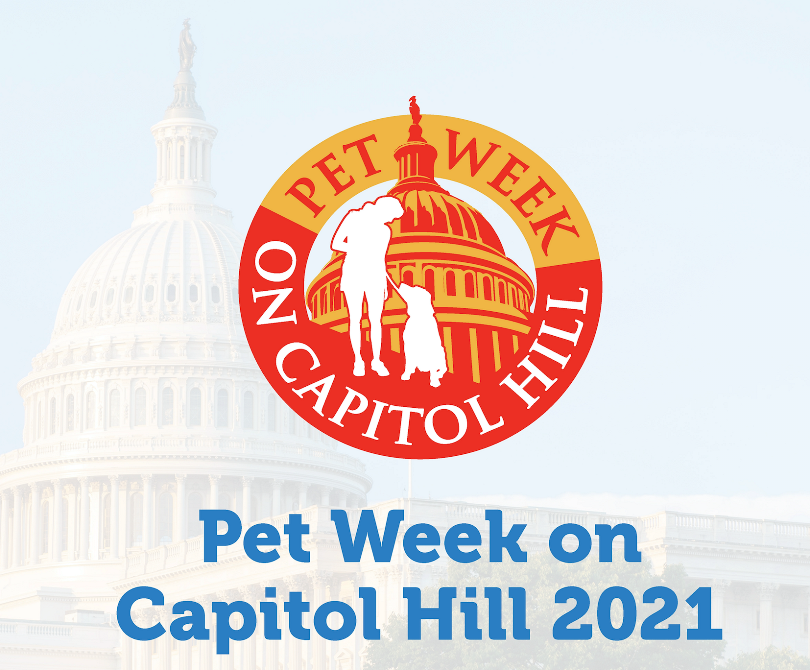 It's "Pet Week on Capitol Hill" time again, an annual event that celebrates the many different benefits of the human animal bond with Members of Congress, leaders from business and industry, and associations like the AAVMC and the AVMA.
The week-long celebration kicks off October 18, and will again be observed virtually as a result of the pandemic.
Hosted by the Human Animal Bond Research Institute (HABRI), Pet Week on Capitol Hill is a celebration of the importance of pets in our lives and the scientific evidence that shows how policies that strengthen the human-animal bond can improve wellbeing for both people and companion animals.
The series of events being presented during Pet Week on Capitol Hill will be live-streamed from www.PetNight.com and on HABRI's Facebook page.
Informational presentations by association and business and industry officials will explore topics surrounding the documented health and other benefits of the human animal bond, the pandemic's effect on homeless companion animal populations, veterinary and pet-oriented legislation in Congress and many other areas.
Dr. Kurt Schrader (D-Oregon), who co-leads the Veterinary Medicine Caucus in Congress, will discuss relevant current legislation on Thursday, October 21 at noon. Schrader will also emcee the always popular "Cutest Pets on Capitol Hill Awards Ceremony," that day at 4 p.m., which often features Members' pets.
The AAVMC has long been an official supporter of HABRI, which maintains the world's leading database of scientific information regarding the human health benefits of companion animal ownership.
---
IPEC's Virtual Poster Fair Showcase Open to AAVMC Members

Faculty, staff and students at AAVMC member institutions are invited to attend the Interprofessional Education Collaborative's (IPEC) inaugural "Virtual Poster Fair Showcase" on Tuesday, October 19.
The AAVMC is a member of IPEC, which includes 21 national health professions associations that seek to improve healthcare by promoting interdisciplinary collaboration.
More than 20 virtual poster presentations outlining innovative practices and approaches for implementing interprofessional education programs. Some of the poster themes include:
Simulation-Interprofessional Education (SIM-IPE)
System and Statewide IPECP
Interprofessional Leadership
Peer Teaching and Learning
Virtual Interprofessional Learning
Complex Care
Patient Safety
The event is focused on health professions educators, students, and practitioners. Participation is free, but attendees must register by October 14. Please click here for details.
---
In the News
New Coalition Put Together By Penn Vet Aiming To Improve 'National Crisis' In Pet Care Caused By Pandemic
CBS Philadelphia
K-State Receives $3.4 Million to Create New Core Research Lab
Yahoo News
Deep-sea Doctor Appointments Could Help Pinpoint Problems in Endangered Whale Species
LA Times
UGA Research Offers Hope for a Viable Therapeutic to Combat COVID-19
365 Wellness
Researchers Explore Promising Stem Cell Treatment for MRSA Superbug
Laboratory Equipment
Cats Share Many Ailments with Humans — and They Could Share Cures
WTOP
RDBN to Push for More Seats in Veterinary School
BC Local News
USask Research Aims to Improve CPR and Patient Outcomes
Education News Canada
Is Veterinary Medicine Ready for a Midlevel Practitioner?
VIN News
Demographic Data Included in 2021 Internship, Residency Matching Summary
JAVMA News
SAVMA Stays Focused on Diversity, Equity, and Inclusion
JAVMA News
Beware of Dog Parks: Canine Parasite Has Evolved Resistance to All Treatments
Focus Technica
Researchers Identify Mutations of Delta, Delta Plus Variants
DoveMed
ABAC, UGA Awarded Grant to Direct More Veterinarians to Rural South Georgia
Yahoo News
First UCalgary Prof and First Veterinarian Ever Elected President of Canadian Academy of Health Sciences
Education News Canada
How Long Can I Leave my Cat Alone? Cat Experts Reveal a Surprising Answer
Inverse
---
From Our Members
WSU Offers Host of Osteoarthritis Treatments for Animals
Washington State University
RUSVM Announces Expansion of Scholarship Initiative to Further Strengthen Pipeline of Diverse Students
Ross University
Molson Foundation Donates $1 Million to UdeM's Faculty of Veterinary Medicine
University of Montreal
University, Elanco Animal Health Incorporated Sign Strategic Alliance to Improve Animal Health
Kansas State University
Veterinary Intern Helps Care for Injured, Orphaned Wildlife
Washington State University
Ribbon-cutting Launches Boehringer Ingelheim Animal Health Auditorium for College of Veterinary Medicine
Kansas State University
NIH-funded Research to Address Rising Male Infertility
Cornell University
WSU to Lead $125 Million USAID Project to Detect Emerging Viruses
Washington State University
Texas A&M PEER Program Receives NIH Grant Supplement To Counter COVID-19 Vaccine Hesitancy In Rural Texas
Texas A&M University
---
"Like" us on Facebook or follow us on Twitter, LinkedIn, and Instagram: