---

March 2018
AAVMC Annual Conference Focuses on Innovation in Education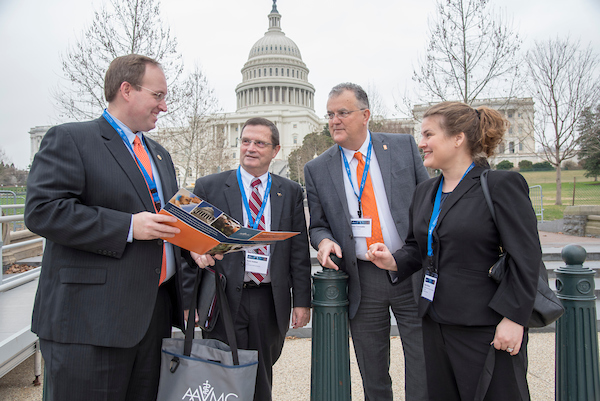 There were 138 meetings held on Capitol Hill for Advocacy Day. Find more
photos and a conference summary here.
Innovation in education was the theme of this year's AAVMC annual conference and it didn't disappoint. Most of the 265 educators attending returned to campus with fresh ideas and new perspectives on technology, assessment, multicenter collaboration, international academic veterinary medicine and a host of other topics.
International experts presented dozens of talks that spanned the arc of teaching and learning. Presentations ranged from a virtual reality excursion through a dog's circulatory system to an examination of how our counterparts in human medical education handle quality assurance in professional education.
But the major news from the conference was the introduction of a new Competency Based Veterinary Education Framework (CBVE) that was more than two years in development and
informed by work done in other health professions. The work has the potential to anchor
transformational change in curricular development and assessment.
Registrants also heard from the Principal Deputy Director of the National Institutes of Health (NIH) on Friday afternoon. Dr. Lawrence Tabak presented an overview of the NIH that focused on three general areas: 1) the large multidisciplinary collaborations required to advance biomedical research in the era of genomic medicine, and 2) the need for increased rigor and reproducibility in scientific research, and 3) growing areas of convergence and collaboration between human and veterinary medicine.
U.S. Secretary of Agriculture Dr. Sonny Perdue, the first veterinarian to ever serve in that post, was scheduled to present remarks during the Friday afternoon plenary session, but a last-minute scheduling conflict prompted him to send video greetings instead.
Friday afternoon's plenary session wrapped up the afternoon with a dynamic presentation from University of Maryland – Baltimore County (UMBC) President Dr. Freeman Hrabowski. The Civil Rights Movement veteran and noted STEM advocate delivered a rousing address on the need to create opportunities for women and underrepresented minorities in the 21st century workplace of science and technology.
Hrabowski dazzled his audience with facts and figures about the modern landscape of education in society. All of it made the case that society needs to do a better job of providing opportunities for underrepresented minorities and women in the world of work – particularly in engineering, computer science and the so-called STEM areas.
Hrabowski has backed up that premise with action: UMBC has become nationally recognized for the number of students from all racial, ethnic and economic backgrounds that go on to pursue doctoral degrees in science and technology. They also place more graduates with organizations like the National Security Agency (NSA) as well.
Freeman concluded his address by challenging the audience to recite a mantra for positive living and making a difference: "Thoughts! Words! Actions! Habits! Character! Destiny!"
On Advocacy Day, held on the day prior to the meeting kick-off, 72 educators representing 27 states made the trek to Capitol Hill, where 138 meetings were held with scores of Congressional offices. And almost 30 scientific posters describing scholarly work in academic veterinary medicine were featured.
See a conference summary and photos here.
---
AAVMC Rolls Out Competency-Based Learning Program to Improve Veterinary Medical Education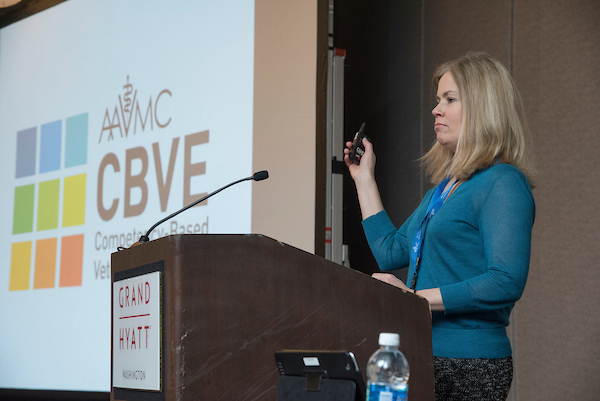 Co-chair Dr. Laura Molgaard introducing CBVE.
A new
Competency-Based Veterinary Education
program that aims to improve veterinary medical education and quality assurance was introduced during the AAVMC's 2018 annual conference.
It's an outcomes-based, learner-centered approach to veterinary medical education that uses a shared framework and language to help ensure that every veterinary medical college student graduates with competencies that enable them to be successful from their first day as independent veterinarians.
"This framework, which represents the latest pedagogical thinking and best practices, lays the foundation for colleges and schools to develop competency-based education," said AAVMC Chief Executive Officer Dr. Andrew T. Maccabe, noting that the CBVE program is one of the most substantial pedagogical initiatives ever undertaken by the AAVMC.
"Colleges and schools will benefit from a common language and a more comprehensive picture of graduate outcomes based upon evidenced-based criteria and agreed-upon standards from some of veterinary medicine's best educators and the latest research," he added. "It's not a final product, but a first step in a journey of co-creation."
The framework outlines a series of competencies that are core as well as sub-competencies that veterinary medical colleges can customize or use as guidelines for assessing veterinary medical students' proficiency.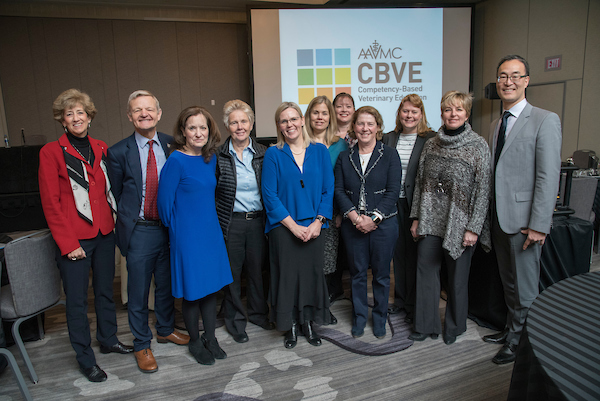 The CBVE Working Group. Left to right: Jody Frost (educational consultant), Stephen May, Bonnie Rush, Jan Ilkiw, Emma Read, Laura Molgaard (co-chair), Susan Matthew, Jennie Hodgson (co-chair), Kathy Salisbury, Kristin Chaney, Ted Mashima (AAVMC liaison). Missing: Harold Bok.
An outcomes-based, learner-centered approach to education first formally surfaced in the mid-70s but has only recently gained traction and become a trend, according to Dr. Jason Frank, an internationally recognized expert in competency-based medical education from the Royal College of Physicians and Surgeons of Canada. Frank opened the CBVE session at the AAVMC annual conference.
In 2015, the AAVMC formed the CBVE Working Group, consisting of 10 national and international veterinary medical professors. The working group built upon existing frameworks deployed in other areas of health education and incorporated extensive feedback from employer and graduate surveys.
Since its inception, the working group logged thousands of emails, over 100 videoconference meetings, 20 face-to-face meetings, 20 stakeholder engagements to gather input and ideas, two formal surveys, multiple expert consultations and communications with the AVMA Council on Education.
The resulting CBVE program seeks to clarify what abilities students need upon graduation and to elucidate steps that demonstrate the progression of necessary expertise.
It presents a framework of nine Domains of Competence and outlines specific, observable skills, knowledge, values and attitudes within each domain of competence: clinical reasoning and decision-making; individual animal care and management; animal population care and management; public health; communication; collaboration; professionalism and professional identity; financial and practice management; and scholarship.
It also presents eight Entrustable Professional Activities (EPAs) that outline what activities all students should be able perform without supervision in a workplace setting. They are: gather a history, perform an examination, and create a prioritized differential diagnosis list; develop a diagnostic plan and interpret results; develop and implement a management/treatment plan; recognize a patient requiring urgent or emergent care and initiate evaluation and management; formulate relevant questions and retrieve evidence to advance care; perform a common surgical procedure on a stable patient, including pre-operative and post-operative management; perform general anesthesia and recovery of a stable patient, including monitoring and support; and formulate recommendations for preventive healthcare.
The working group is currently developing milestones that represent steps in the mastery of competencies, on a scale from novice to proficient.
The CBVE working group was chaired by Dr. Laura Molgaard of the
University of Minnesota
and Dr. Jennie Hodgson of the
Virginia Maryland College of Veterinary Medicine
. Members include Dr. Harold Bok,
Utrecht University
; Dr. Kristin Chaney,
Texas A&M University
; Dr. Jan Ilkiw,
University of California – Davis
; Dr. Susan Matthew,
Washington State University
; Dr. Stephen May,
Royal Veterinary College
; Dr. Emma Read,
University of Calgary
; Dr. Bonnie Rush,
Kansas State University
; and Dr. Kathy Salisbury,
Purdue University
.
The CBVE program with downloadable booklets can be found on the AAVMC's website
here
.
---
New Slate of Officers Assumes Leadership at AAVMC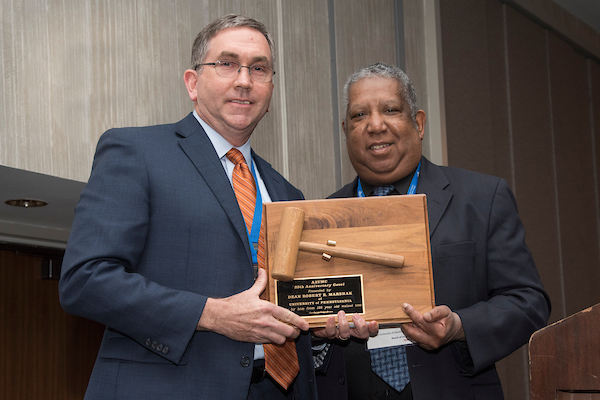 Outgoing AAVMC President Dr. Phillip Nelson (right) passes the
gavel to incoming President Dr. Calvin Johnson.

Dr. Calvin Johnson, dean of the
Auburn University College of Veterinary Medicine
, has assumed his duties as president of the AAVMC. Johnson had been serving as president-elect of the organization. AAVMC by-laws call for the president-elect to assume the senior leadership position following a year of service as president-elect.
Dr. Michael Lairmore, dean of the University of California – Davis School of Veterinary Medicine, was named president-elect following an intra-organizational election held in late January. Lairmore, board certified by both the American College of Veterinary Pathologists (ACVP) and American College of Veterinary Microbiologists (ACVM), has served as dean at California since 2011. He is a member of the National Academy of Medicine.
Dr. Phillip Nelson, dean of the
Western University of Health Sciences College of Veterinary Medicine
, has completed his term of service as AAVMC president and will now serve a year as past-president.
The president, president-elect, and past-president comprise the Executive Committee of the AAVMC Board of Directors and meet monthly.
Dr. Mark Markel, dean of the University of Wisconsin School of Veterinary Medicine, will continue in his role as Treasurer.
Dr. Paul Lunn, dean of the
North Carolina State University College of Veterinary Medicine
will continue his term as Secretary.
Dr. Susan Tornquist, dean of the Carlson College of Veterinary Medicine at Oregon State University, was elected to serve a second term as At-Large Director Representing Region I (U.S.)
Dr. Ewan Cameron, Head,
School of Veterinary Medicine, University of Glasgow
, was elected to serve a second term as At-Large Director Representing Region IV (Europe, Mexico and the Caribbean)
Dr. David Horohov, Department of Veterinary Science, University of Kentucky, was elected to serve as At-Large Director Representing Departments of Veterinary Science.
During the February board meeting, Dr. Nigel Perkins, Head of School at the
University of Queensland School of Veterinary Science
, was appointed At-Large Director, Region III (Australia, New Zealand, Asia).
The term for new officers and directors began after the AAVMC's Annual Conference held March 2-4, 2018 in Washington, D.C. The AAVMC moved its Annual Assembly from the summer meeting held in collaboration with the AVMA meeting so it now coincides with the AAVMC's annual conference. Because of that, leadership terms of office now run from March to March instead of July to July of the calendar year
---
AAVMC Career Fair Informs and Inspires Prospective Veterinary Students
An estimated 500 prospective veterinary medical students and guests converged on the Grand Hyatt Hotel in Washington D.C. on March 4 for the AAVMC's 2018 Veterinary Medical Career Fair and Information Sessions.
The event was free for any high school or undergraduate student with an interest in the veterinary medical profession.
Students gathered information from more than 20 veterinary medical schools at display tables staffed by college representatives, as well as representatives from the American Veterinary Medical Association and the United States Department of Agriculture.
In the exhibition hall, students and their parents asked questions and picked up informational materials about schools, admissions requirements, and veterinary careers.
After spending time in the exhibition hall, students attended information sessions on preparing to apply to veterinary school, with separate sessions geared specifically toward either high school or undergraduate students.
In the session on how to get into veterinary medical school, the AAVMC's Tony Wynne, director of admissions & recruitment affairs, advised attendees to consider many factors when applying to veterinary school, including "Location, culture and cost," and the importance of fulfilling prerequisites.
A session on Alternative Careers in Veterinary Medical Education by Dr. Raphael Malbreu, a lab animal veterinarian and assistant professor at The Ohio State University, outlined the many choices available to those with a veterinary medical degree, including examples of veterinarians with federal careers in the uniformed public health service, USDA, Food and Drug Administration, the National Institutes of Health and even NASA.
Dr. Malbreu conveyed his personal story of how he found a mentor, became interested in lab animal veterinary medicine, and overcame challenges to obtain a career that he feels is "one of the best careers in the world." He told the crowd that his work enables him to advance scientific research and be a "voice for the animals so that they are not abused."
Students who asked questions were able to win a t-shirt that said, "I am a Future Veterinarian," featuring a mouse in honor of Dr. Malbreu's career in laboratory animal medicine.
---
CIVME Presents Update at Annual Conference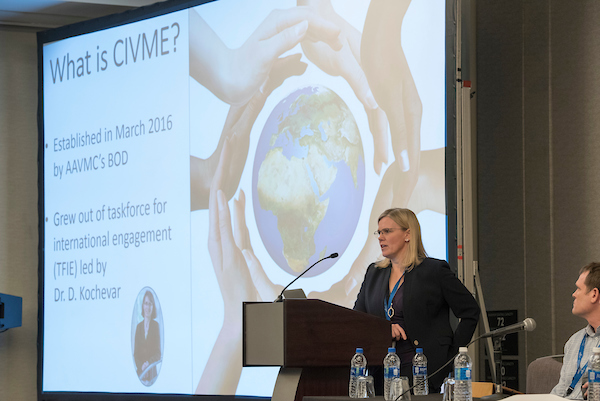 Dr. Emma Read addresses audience.


The AAVMC's Council for Veterinary Medical Education (CIVME) presented an update regarding their activities during the recent AAVMC annual conference. Titled "How has veterinary education evolved across the globe: Reports from the CIVME Regions," the session featured profiles and priorities for academic veterinary medicine in various regions of the world.

CIVME works to advance the quality of international academic veterinary medicine by encouraging communication and collaboration among regions and disseminating information about innovations and best practices.

Two years old, the group has funded two rounds of micro-grants and met several times in person, including meetings in Mexico City and London.

"We have a very dedicated group," quipped Dr. Emma Read of the University of Calgary, after outlining some of the challenges of arranging Webex meetings among members situated across 11 different time zones. Everyone agreed that learning more about academic veterinary medicine as it exists around the world has been a valuable experience.

Current CIVME points of discussion include accreditation and the establishment of standards, outcomes based education and assessment, and balancing technical and "soft" skills in education, according to Reed, who also said she knows of no other organization besides the AAVMC that is funding the advancement of academic veterinary medicine at the global level.

Panel members acknowledged the wide variety of accreditation standards across the globe, with some regions having established standards, some having evolving standards, and some having no standards at all.

For example, there is no established accreditation system serving veterinary colleges and schools in the Middle East, according to Dr. Ehab Abu-Basha of the Arab Association of the Veterinary Medical Faculties.

The focus of veterinary medicine is different there as well, he said, with the profession more focused on large animal medicine and infectious disease control as opposed to the companion animal care that predominates in the United States and England. They also face financial constraints and pressure from the government to admit more students, he said.

Dr. Francisco José Trigo Tavera of the Universidad Nacional Autonoma de Mexico said that 21 of the 52 colleges in Mexico are accredited on the basis of 85 requirements as opposed to the "standards" which characterize the COE.

The group acknowledged the need for increased standards and accreditation systems across the globe, but recognized the daunting nature of the task.

That said, the panel concurred with Dr. Steven May of the Royal College of Veterinary Surgeons when he said that quality assurance in veterinary education was necessary for "accountability for the central contract we (educators) have with the public" as stewards of the profession.
---
AAVMC's CIVME Funds Second Round of Annual Educational Research Grants
The American Association of Veterinary Medical Colleges' (AAVMC) Council for International Veterinary Medical Education (CIVME) has funded three program grants designed to foster the enrichment and advancement of international academic veterinary medicine. Funded proposals include collaborative projects from 15 institutions in 11 different countries and five global regions.
CIVME was founded during the AAVMC's 50th anniversary year (2016) to help advance AAVMC interests in elevating the quality of international academic veterinary medicine. Specifically, the charge from the AAVMC Board of Directors was to " advance high quality veterinary education internationally through enabling and empowering best practice." CIVME seeks to advance their initiatives by promoting interregional collaboration.
CIVME addresses that through:
Communication and collaboration that advances veterinary medical education around the world

Facilitating collaboration among educational researchers

Disseminating innovations and other educational advances to educators and institutions to magnify the impact of projects
Funded programs include:
Creating the next generation of evidence-based veterinary practitioners and researchers: What are the options for a veterinary curriculum?; $9,500; Main applicant: Dr. Heidi Janicke, St. George University, Grenada; Collaborators: Bristol Vet School, UK and Chittagong Veterinary and Animal Sciences University, Bangladesh.
The perceptions of final-year veterinary science students, studying at four international veterinary schools, regarding the suitability of the undergraduate professionalism training curriculum; $8,780; Main applicant: Dr. Stuart Gordon, Massey University, New Zealand; Collaborators: Murdoch University, Australia; University of Nottingham, UK and University of Guelph, Canada.
Towards an International Veterinary Immunology Teaching Network and Platform; Main applicants; $10,000; Prof. dr. Victor Rutten and Prof. dr. Femke Broere, Utrecht University, the Netherlands; Collaborators: University of Leipzig, Germany; University of Bern, Switzerland; University of Veterinary Medicine Munich, Germany; Royal Veterinary College London, UK; University of Berlin, Germany; University of Environmental and Life Sciences Wroclaw, Poland and University of Veterinary Medicine Vienne, Austria.
CIVME is comprised of representatives from eight major global regions (Australasia, North America, Central/South America, Continental Europe, UK/Ireland, Middle East, Africa and Asia).

---
Public Practice Pioneer, Early Tuskegee Grad Dr. Saul Wilson Passes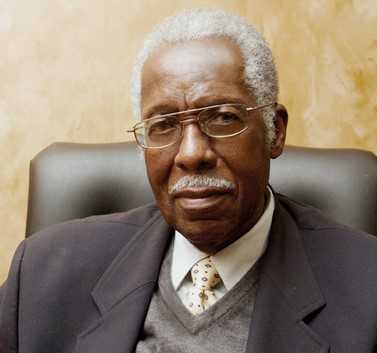 Public practice pioneer Dr. Wilson.


One of veterinary medicine's pioneering professionals in public practice was lost when Tuskegee University College of Veterinary Medicine Professor Emeritus Dr. Saul T. Wilson, Jr. passed away on Feb. 1.

"The College of Veterinary Medicine (CVM) is mourning the loss of another veterinary trailblazer, Professor Emeritus Dr. Saul T. Wilson, Jr. He has ended his earthly journey of love, commitment and dedication to Tuskegee University, but the impact he has made locally, nationally and globally is so significant, that his name will be forever remembered and noted in history as one of the greatest in veterinary medicine," said Dr. Ruby L. Perry, dean of the CVM.

Wilson was a member of the second class of Tuskegee veterinary school graduates, earning his DVM degree in 1950. Following graduation, Wilson began his career with the United States Department of Agriculture (USDA) as a field veterinarian, where he made major contributions in the eradication of Foot-and-Mouth disease in Mexico.

Wilson served in the U.S. Army Veterinary Corps from 1952 to 1954 and earned his MPH degree from the Harvard School of Public Health in 1955. Returning to the USDA, Wilson helped lead domestic and international animal disease containment program for the USDA's Animal and Plant Health Inspection Service (APHIS) until his retirement from government in 1989.

A year later, the USDA honored his contributions by creating the "Saul T. Wilson, Jr. Scholarship Program," which was developed to help recruit students from underrepresented groups to careers with APHIS in veterinary medicine and biological sciences.

Following his service at USDA, Wilson returned to his alma mater and served as a professor of epidemiology and director of the Center for Tropical Animal Health (an international program in veterinary medicine). He retired from Tuskegee University in 2015.
---
AAVMC Sponsoring One Health Meeting at CUGH Symposium in New York March 15

The AAVMC is helping present a major One Health meeting in conjunction with the 2018 Consortium of Universities for Global Health's (CUGH) 2018 annual conference

March 16-18 at the Hilton Hotel Midtown in New York City. The meeting theme is "Health Disparities: A Time for Action."
The half-day meeting is titled "Outside the Box: Addressing the Sustainable Development Goals through a One Health Approach." Several AAVMC member institutions and other organizations are co-sponsoring the event.
It's designed to explore how an integrated One Health perspective can address opportunities outlined within the United Nation's Sustainable Development Goals (SDGs).
Session topics will include maximizing food and economic security while mitigating environmental harm, translating livestock vaccination into increased educational opportunities for girls, investigating mitigation interventions for antimicrobial resistance, increasing resiliency and recovery from violence, and mitigating the planetary impact of livestock.

---
Attend a Virtual Veterinary Medicine Career and Externship Fair
The Veterinary Career Advisor Network is presenting a Veterinary Medicine Career & Externship Virtual Fair for veterinarians and veterinary students on March 24, 2018. Over 70 potential employers will be participating in the event. Founded in 2014, the Veterinary Career Advisor Network (VetCAN) is an AAVMC affiliated network of career advisors working at member institutions. VetCAN seeks to encourage collaboration and the development of best practices in the career development field to better serve veterinary students and the profession. For more information about the Virtual Career Fair, click here.
---
InterProfessional Education Collaborative (IPEC) Webinar March 13, 2018
The Interprofessional Education Collaborative (IPEC) will present the second webinar in its 2018 IPEC Webinar Series aimed at highlighting trends and activities in interprofessional education (IPE) and practice. The AAVMC is a member of the IPEC.

"Innovative IPE Instructional Methods: Strategies & Lessons Learned" will be held on Tuesday, March 13, 2018 from 2 – 3 p.m. EST.
The webinar seeks to help health professions faculty, students, and clinicians discover best practices they can use to assist with advancing IPE efforts in their home institutions.
Drs. Alan W. Dow of the Virginia Commonwealth University School of Medicine and Dr. Frank J. Ascione of the University of Michigan College of Pharmacy will share strategies for promoting collaborative educational learning and advancing quality evidence-based practice.
---
VMLRP Applications Due March 16, 2018

The USDA's National Institute for Food and Agriculture has released the new map of Veterinarian Shortage Situations for FY 2018, which contains all applicable designations for the fiscal year (FY) 2018 application cycle.

These designations are part of the eligibility determination for USDA's Veterinary Medicine Loan Repayment Program (VMLRP), authorized by the National Veterinary Medical Services Act (NVMSA). That legislation helps qualified veterinarians offset a significant portion of the debt incurred in pursuit of their veterinary medicine degrees in return for their service in certain high-priority veterinary shortage situations for specific lengths of time.
If veterinarians commit to at least three years of providing veterinary services in a designated veterinary shortage area, NIFA may repay up to $25,000 of student loan debt per year. The FY 2018 Veterinary Medicine Loan Repayment Program application period will open in February. NIFA will issue a request for applications (RFA), with an expected application deadline of March 16.
---
Federal Budget Meanders Along… Uncertainty Remains for AAVMC Priorities
Federal budget negotiations continued their meandering ways as President Trump signed the Bipartisan Budget Act of 2018 into law on Feb. 9.
The act was both a budget agreement and a Continuing Resolution that funded the government through March 23. It will allow Congress to complete work on FY 2018 appropriations, according to AAVMC Governmental Affairs Director Kevin Cain.
The deal increases the caps on defense spending for FY 2018 and FY 2019 by $165 billion, while also increasing spending for non-defense discretionary by $131 billion. Significantly, the agreement provides an additional $2 billion per year for both 2018 and 2019 for the National Institutes of Health.
The agreement also suspends the debt ceiling through March 1, 2019 (past the fall elections this year). The budget deal is also expected to make appropriations for FY 2019 go much smoother by providing additional funding under the budget caps, Cain said.
It's too early to determine how the action will affect AAVMC legislative priorities for this session of Congress. Those include maintaining the federal research enterprise, preserving the Public Service Loan Foundation Program, and passing the Veterinary Medicine Loan Repayment Program Enhancement Act (S. 487/H.R. 1268).
---
Merck Animal Health Veterinary Wellbeing Study Elucidates Wellness Issues
A major new
study
of mental health and wellness in the veterinary profession has determined that veterinarians suffer serious psychological distress at about the same rate as the general population (about five percent). But it also demonstrated that the financial pressures of educational loans and professional life are exerting a particularly detrimental effect on recent graduates: only 24 percent of veterinarians age 34 and younger would recommend a career in veterinary medicine to someone else.
Results of the study, conducted by Merck Animal Health in collaboration with the American Veterinary Medical Association, were released at the recent VMX meeting in Orlando.
"This survey is unique in that, for the first time, a nationally representative sample of veterinarians in the U.S. were asked about their wellbeing, which is a broader measure of happiness and life satisfaction than mental health alone," said study investigator Linda Lord, Ph.D., D.V.M., academic and allied industry liaison lead, Merck Animal Health. "Based on the survey results, we are particularly concerned about younger veterinarians as they are the future of our profession. We must work together to promote a healthy lifestyle, including work/life balance, access to wellness resources and debt reduction."
The online survey was conducted by Brakke Consulting in November 2017 and analyzed the results from 3,540 individuals who responded to a sample of 20,000 randomly-selected veterinarians in the U.S. The margin of error was calculated at +/- 1.62 percent.
Generally, many veterinarians are feeling overstressed and undervalued. Excessive work hours, poor work/life balance and stresses related to the provision of clinical care were cited as causal.

Of those suffering from serious distress, major problems include depression, burnout, and anxiety. The study also identified a treatment gap for those in need of assistance. There are a shortage of resources and help programs, many are unaware of those that exist, and some elect not to pursue assistance for a variety of reasons.
---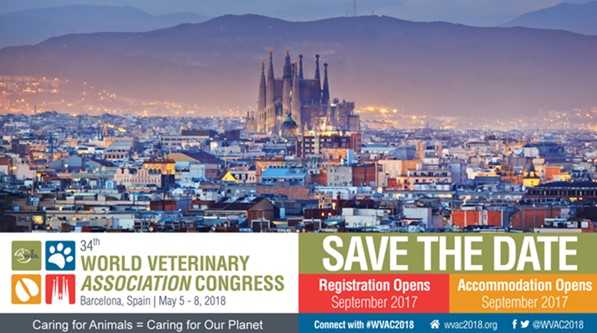 Click for more information.
---
Academic Veterinary Medicine in the News
The Changing Landscape of Veterinary Education

Genetic Similarities Between Dogs and People are Helping Cancer Research
NBC News


Roth Named as Recipient of the 2018 Senator John Melcher, D.V.M., Leadership in Public Policy Award
The Chronicle of Higher Education

Vet Study: Therapeutic Targets for Triple-Neg Breast Cancer
Pennsylvania Ag

Ebola Vaccine Inches Toward Human Clinical Trials
RevoScience
University of Guelph Researchers Investigate Potential New Way to Fight Ebola
Ontario Veterinary College
CVM Researchers Develop Diagnostic Test for 11 Tick-Borne Diseases
Texas A&M University
Companion Animals May Hold the Key to Human Pain Relief
North Carolina State
Virginia Tech Biomedical Facility will Allow Translational and Interdisciplinary Study of Alzheimer's, Diabetes, and Other Diseases
Virginia Maryland
---
People in Motion

Dr. Andrew Hoffman has been named as the next Gilbert S. Kahn Dean of Veterinary Medicine at
University of Pennsylvania School of Veterinary Medicine
, effective August 1, 2018.
Clinical pathologist Dr. Joyce Knoll has been named Interim Dean of the
Cummings School of Veterinary Medicine at Tufts University
. Former Dean Dr. Deborah Kochevar has been named Interim Provost.
---
"Like" us on Facebook or follow us on Twitter: