October 2017
VMCAS Applicant Numbers Rise Six Percent for Fall 2018 Class
The number of applicants applying to member institutions through the
Veterinary Medical College Application Service (VMCAS)
has risen six percent over last year, according to preliminary data. So far, 7,498 individuals have applied to attend veterinary medical college through VMCAS.
The total number of applications submitted was 36,554, which rose seven percent over last year. Each applicant applied to an average of 4.88 institutions, which also increased.
Overall, the VMCAS system ran very efficiently, with no significant problems or concerns reported to the AAVMC or vendor Liaison International by applicants or admissions departments, according to Director of Recruitment and Admissions Tony Wynne.
However, Mother Nature caused some serious problems.
Hurricanes Harvey, Irma, Maria wreaked havoc on millions of people and destroyed billions of dollars of infrastructure on the southeastern coast of the United States and the Caribbean Basin. Those disasters affected the ability of many applicants to complete their application packages on time, according to Wynne.
"The hurricanes posed some serious logistical problems for our applicants, mainly in the areas of submission of the application, receipt of official transcripts and letters of recommendation," said Wynne. "The AAVMC Admissions & Recruitment Committee (ARC) extended the September 15th deadline for all applicants to September 29th in the wake of Harvey and Irma to allow recovery efforts to get underway."
Subsequently, hurricane Maria provided the application service with a third logistics challenge, Wynne said. The devastating hurricane destroyed much of Puerto Rico, which caused problems for applicants there as well as mainland applicants awaiting official transcripts and evaluations from the region.
After research identified over 100 applicants in the application whose permanent residence was listed as Puerto Rico, the ARC decided to extend the submission and transcript deadline to October 13th for those applicants.
While the data will not be finalized until late October, Wynne believes the final numbers will not be significantly different.
---
Schools and Colleges of Veterinary Medicine Mobilize in Response to Recent Hurricanes





UF VETS team members work with members of the National Guard and other agencies to rescue a horse from floodwaters caused by Hurricane Irma. (Photo courtesy of John Haven)





The unusually active and extremely destructive 2017 hurricane season has wreaked havoc upon Texas, Louisiana, Florida and the Caribbean Basin. The devastating natural disasters destroyed billions of dollars of infrastructure, killed and injured many, and disrupted the lives of millions of people and animals.
Fortunately, lessons learned from Hurricane Katrina a decade ago helped the academic and organized veterinary medical communities mobilize resources and more effectively care for the companion and agricultural animals swept up in the disasters. Emergency management officials learned then that people were loath to follow evacuation orders if it meant abandoning their beloved family pets.
Throughout the weeks of mayhem, schools and colleges of veterinary medicine were on the ground, providing leadership, management, logistical support and direct animal care. Efforts rising above and beyond usual duties included search and rescue and providing shelter and veterinary medical support for companion, agricultural and aquatic animals affected by the hurricanes.
"First responders from our member institutions in Texas, Louisiana and Florida played a vital role in managing this crisis, and many others worked behind the scenes at these schools and others to coordinate support and assistance," said AAVMC CEO Dr. Andrew T. Maccabe. "Recovering from the damage caused by these terrible natural disasters is going to take a long time, but we're very proud of everyone in our member institutions who stepped up to provide aid and comfort."
In anticipation of Hurricane Harvey hitting Texas on August 28, the Texas A&M Veterinary Emergency Team (VET) deployed a Type III Strike Team to Robstown, Texas. As Hurricane Harvey made its way up the Texas coast, the team's scope expanded to include most jurisdictions located between Corpus Christi, Texas, and the Louisiana border. The team's staff included the
Texas A&M College of Veterinary Medicine & Biomedical Sciences
, its affiliate Texas Veterinary Medical Reserve Corps, and private practitioners from the Texas Veterinary Medical Association and the Texas Equine Veterinary Association. In all, the team served about 500 canines and other animals before wrapping up operations on Sept. 11.
Two faculty members from the Louisiana State University College of Veterinary Medicine travelled to Texas to aid hurricane relief efforts for large animals affected by Hurricane Harvey. Three other LSU faculty members provided services to more than 200 animals affected by Hurricane Harvey in Alexandria, Louisiana, including physical exams, vaccinations, flea medications and microchipping.
In Florida, once Hurricane Irma hit on September 10, the University of Florida (UF) Veterinary Hospital provided continual 24/7 emergency services. The UF Veterinary Emergency Treatment Service (UF VETS), the disaster response and technical rescue team from the
College of Veterinary Medicine at the University of Florida
, worked with several different agencies, including the National Guard, to conduct a challenging and multiday rescue of several horses trapped in flood water in High Springs. The team also provided assessments and assistance in Key West.
The UF Shelter Medicine team supported the Alachua County Humane Society's (ACHS) efforts to move animals out of shelters in harm's way. The shelter medicine team and associated volunteers redistributed vaccines and flea and tick preventive medication for 800 animals to the ACHS and assisted in arranging relocation transports to Chicago, Atlanta and South Carolina.
Additionally, the UF Aquatic Animal Health team responded to two separate calls to rescue several displaced manatees.
"It's a team effort," said John Haven, who heads the UF VETS team. "A lot of people going above and beyond their normal duties to make it happen. Most of our equipment and training is donation and grant funded as well."
Organizations from across East Tennessee, including the
Lincoln Memorial University College of Veterinary Medicine
and the
University of Tennessee College of Veterinary Medicine
, came to the aid of more than 200 shelter felines who were evacuated from Dunkin, South Carolina, ahead of Hurricane Irma, providing shelter and medical treatment.
Also, Pat Kaynaroglu, training director at the
Penn Vet
Working Dog Center and her K9 Rip deployed with Pennsylvania Task Force 1 to Florida Sept. 7 to aid in relief efforts for Hurricane Irma.
Hurricanes Jose and Maria were on a potential path to hit the
Ross University College of Veterinary Medicine
(RUSVM) in St. Kitts, and the
St. George's School of Veterinary Medicine
in Grenada, but both schools escaped any significant damage or loss of life.
"Our St. Kitts campus was spared the worst of Hurricanes Irma and Maria. However, many of our surrounding Caribbean islands were not as fortunate, and the people and communities affected are in our thoughts," said Dr. Sean J. Callanan, Dean of RUSVM. "We appreciated the words of support from the AAVMC during this challenging time, and are we glad to be able to contribute to hurricane relief efforts."
The AAVMC is among numerous veterinary organizations that have contributed to hurricane relief efforts. The AAVMC has made a $25,000 contribution to the Texas A&M University Foundation's Veterinary Emergency Disaster Fund to help provide relief for the millions of people and animals affected by the unprecedented flooding caused by Hurricane Harvey.
Additionally, two residents at the
University of Missouri College of Veterinary Medicine
, Dr. Willie Bidot and Dr. Aida Vientos-Plotts, who are both from Puerto Rico, organized Veterinarians for Puerto Rico. They collected both money and supplies including pet food, crates, medications, first aid supplies and bottled water to send to clinics and shelters in Puerto Rico.
Note: Communications officers from AAVMC member institutions, including Sarah Carey from the University of Florida and Megan Palsa from Texas A&M University, contributed to this report.


---
APLU | AAVMC Antimicrobial Resistance Summit Held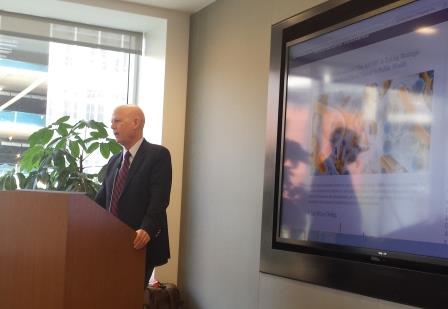 AAVMC CEO Dr. Andrew T. Maccabe addressing the antimicrobial
resistance summit.
Almost 50 scientists and administrators representing higher education, government, professional societies and the private sector recently convened for a two-day summit at 655 K Street on antimicrobial resistance (AMR). Organized as part of the
APLU
| AAVMC AMR partnership, the meeting sought to advance the planning for a national university-based center focused on addressing the AMR problem.
"This has been a very natural and productive partnership and we've made some solid progress in several important areas, but this next step is the big one," said AAVMC CEO Dr. Andrew T. Maccabe. "From research to education, we envision this national center to serve as the fulcrum for a comprehensive university effort designed to mitigate this major public health threat. Further defining our approach and developing the funding to support this initiative is an urgent priority."
To date, the APLU | AAVMC partnership has produced a major Joint Task Force Report and a comprehensive set of AMR Learning Outcomes. The task force report serves as an overall blueprint for university action designed to mitigate the role antibiotics in production agriculture are playing in the overall AMR problem. The AMR Learning Outcomes project outlines specific didactic action that can be taken to educate students at the high school, undergraduate and professional DVM student levels about the AMR issue.
The task at hand is to further develop a draft RFP leading to the establishment of a national center to coordinate research and educational programs aimed at addressing this major public health threat. As presently envisioned, the center would be comprised of a consortium of major universities with their cumulative program strength leveraged by a host institution.
Over the two-day meeting, breakout groups explored different facets of the enterprise, examining everything from vision and mission to scope and funding sources. Workshop participants considered existing models from other disciplines and potential metrics for performance and success. They also considered more fundamental questions such as whether the center should be singularly focused on the role of animal health, or embrace a broader purview that includes the role of human and environmental health as well.
Ideas and guidance generated during the meeting will inform the continued development of the RFP, which is expected to be finalized and shared in the near future.
---
Pakistani Delegation Visits Washington Following Recent AAVMC Affiliation
A high-ranking delegation of Pakistani veterinary officials spent two days in Washington meeting with AAVMC and AVMA leaders from September 21-22, as well as senior administrators with the United States Department of Agriculture. The visit followed
Pakistan's University of Veterinary and Animal Health Sciences
in Lahore joining the AAVMC as an affiliate earlier this year.
The AAVMC coordinated the visit, created the two-day itinerary with various U.S. government officials and arranged for the group to visit a U.S. based college of veterinary medicine.
The delegation was led by UVAS, Lahore Vice Chancellor Dr. Talat Naseer Pasha; Dr. Muhammed Arshad, President of the Pakistan Veterinary Medical Council (PVMC); Professor Masood Rabbani, Dean of the Veterinary Faculty, UVAS, Lahore; and Dr. Alamdar Hussain Malik, Secretary/Registrar, PVMC.
Following meetings with several AAVMC officials the group met with a series of administrators at the USDA's Food Safety & Inspection Service (FSIS), the National Institute for Food and Agriculture (NIFA), the Agricultural Research Service (ARS) and the Animal & Plant Health Inspection Service (APHIS). The group also met with officials at the AVMA's Governmental Relations Division.
Following their Washington visit, the delegation spent two days visiting the North Carolina State University College of Veterinary Medicine as guests of Dean Paul Lunn.
The group presented the AAVMC with a ceremonial decorative plate engraved with commemorative details of the visit.
UVAS includes over 300 faculty members working on five campuses. More than 5,000 students are presently studying in fields such as veterinary and animal sciences, animal production & technology, biotechnology, microbiology, pharmaceutical sciences, food sciences, environmental sciences, zoological sciences, and other disciplines.
---
Leadership Academy Cohort Completes First Session
The AAVMC's 2017-2018 Leadership Academy is underway. Now in its sixth year, the academy recently wrapped up the first of three component workshops that are part of the year-long development program. The program is sponsored by Elanco.
The 34-member cohort of "rising stars" from AAVMC member institutions gathered at the Omni Severin in Indianapolis for three days of highly interactive sessions designed to help them develop their leadership skills.
The Leadership Academy is led by Dr. Karen Cornel of the
Texas A&M University College of Veterinary Medicine and Biomedical Sciences
and Dr. Darcy Shaw of the
University of Prince Edward Island College of Veterinary Medicine
.
Cornel and Shaw have crafted a program that includes presentations and exercises incorporated from several different aspects of modern leadership development. All are presented in a way that makes them relevant for the unique operating environment of academic veterinary medicine.
Following introductory remarks from Cornel and Shaw, the three-day workshop got underway with a session that challenged participants to take a probing, introspective look at where they are in their own professional lives and examine the "flow of choices, events, directions and detours that their work life has taken."
A section on "Emotional Intelligence" took a deep dive into the four competencies of emotional intelligence (self-awareness, self-regulation, empathy and social skill) and shared some strategies for building skills in that area.
Elanco Director of Consulting Veterinarians, Companion Animals Dr. Tony Rumschlag led a session entitled "Leadership Development at Elanco," which featured several Elanco executives discussing the importance of leadership development to their organization and their profession.
Indiana University training and organizational development expert Dr. Deb Dunbar led a session on "When Teams Aren't Functioning," which examined some of the consequences of team dysfunction and shared some team-building strategies that create positive outcomes.
The academy also included a day-long workshop on "Adaptive Leadership," facilitated by Mary Jo Lewis MD, PhD. Lewis practiced internal medicine for 30 years and is now focused on leadership development in healthcare.
Academy members also participated in a half day of media training coordinated by Pederson/McGrath Associates designed to help them gain experience and develop competencies that will help them engage as successfully as possible with high-stakes media interviews.
The next three-day workshop will be held from December 7-9, 2017 at Texas A&M University in College Station. The final meeting will be held in Washington D.C. February 27 – March 2, 2018 at the Grand Hyatt Hotel in Washington, D.C.
About 180 people have participated in the AAVMC Leadership Academy since its inception.
---
Lawmakers Briefed on Pollinators and Veterinary Medicine in Post Veterinary Feed Directive World
Most people don't think of veterinarians when they think of sick honeybees. But the federal government classifies honey bees as livestock/food producing animals, and the Food & Drug Administration's recent Veterinary Feed Directive has elevated the role veterinary medicine is playing in bee health and apiculture.
To bring lawmakers up to speed, the AAVMC, the AVMA, and several apicultural groups recently co-sponsored a legislative briefing on Capitol Hill entitled "Honeybees, Pollinators, and the Veterinary Feed Directive: What's the Buzz?"
The briefing was presented twice on September 14. A morning presentation was hosted by the Congressional Veterinary Medical Caucus in the Rayburn House Office Building and an afternoon session was hosted by Senators Kirsten Gillibrand and Susan Collins in the Russell Senate Office Building.
Honeybees are the nation's primary pollinators, adding at least $15 billion a year in value to about 90 different crops of nuts, fruits and vegetables. But the number of honeybee hives in the U.S., has declined from about 6 million during the 1940's to only about 2.5 million today. These declines in the pollinator population are considered a serious threat to the world's food supply.
The featured presenter was Dr. Terry Ryan Kane, a veterinarian and bee expert who operates A2 Bee Vet in Ann Arbor, Michigan. Kane, who established and ran a feline-only practice in Michigan for 23 years, left that to conduct an AVMA-AAAS Congressional Science and Technology Policy Fellowship from 2010-2011 in Senator Gillibrand's office, where her portfolio included the farm bill, antibiotic resistance, emerging diseases, and food safety/security. With a keen awareness of the role pollinators play in food security and understanding the implications of the new FDA guidelines for beekeepers, she decided to develop the practice focused on pollinators.
Kane's presentation addressed the ecology of pollinators, particularly the honeybee, as well as some of the more significant disease threats affecting the industry and potential solutions. She also explained the Veterinary Feed Directive and why veterinarians are playing an increased role in pollinator/honeybee health during the briefings.
The briefing was also sponsored by the Pollinator Partnership (P2), a non-profit organization dedicated to fostering the health, protection and conservation of all pollinating animals; the American Beekeeping Federation (ABF), a 4700 member professional society for beekeepers, and the American Honey Producers Association (AHPA).
---
AAVMC Supporting DACA Legislation
The AAVMC has signed on to a letter sent to Congressional leaders urging passage of the bipartisan, bicameral Dream Act of 2017 (S.1615, H.R. 3440). The bill provides a legislative remedy to preserve the Deferred Action for Childhood Arrivals (DACA) program, which was formerly structured upon an executive order.
The AAVMC joins 70 other major associations and societies in voicing support for the legislation, including its 655 K Street neighbors the Association of American Medical Colleges (AAMC), American Dental Education Association (ADEA), the American Association of Colleges of Nursing (AACN), the American Physician Education Association (APEA), and many other organizations in the Federation of Associations of Schools in the Health Professions (FASHP).
Repeal of the executive order supporting the DACA program will affect some students currently studying at AAVMC member institutions, according to Dr. Lisa Greenhill, senior director for institutional research and diversity.
Reads one salient passage of the letter: "With the nation's population growing and becoming increasingly diverse, it is crucial that the health professions workforce respond to the changing demographics of the country to mitigate racial, ethnic, and socioeconomic health disparities. Research demonstrates that diversity in the health professions leads to improvements in access to care for underserved communities, and some studies have shown that patients report greater satisfaction with clinical care when they are treated by providers from the same racial/ethnic background."
---
AAVMC and Pet Night on Capitol Hill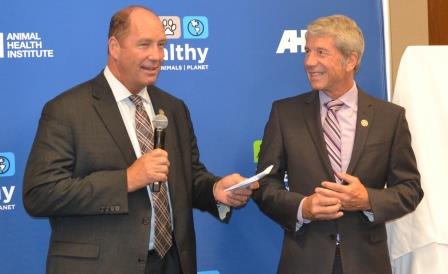 Veterinary Caucus Co-Chairs Ted Yoho (R-Florida) and Kurt
Schrader (D-Oregon) were on hand for "Pet Night."
Thanks to years of advocacy work, more and more members of Congress have come to understand the vital role veterinary medicine plays in food security and public health and wellbeing. But that doesn't belie the respect they have for the profession because of their beloved family pets.
That connection is celebrated annually during "Pet Night on Capitol Hill," when veterinary medical and animal health officials gather for an annual tribute to pets and the human-animal bond. Hosted by the Human Animal Bond Research Institute (HABRI) and the Pet Leadership Council (PLC), the event is sponsored by more than a dozen other organizations, including the AAVMC.
Wednesday, October 4th, was no different, as members of Congress, staffers, and executives from throughout the private sector and organized veterinary medical community converged in the Rayburn House Office Building for the 2017 event.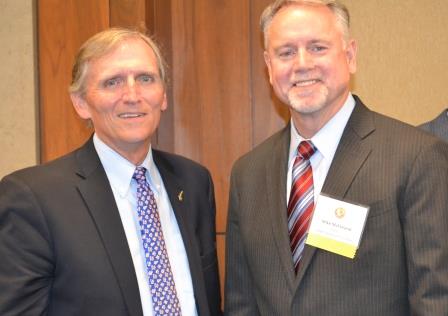 University of Florida CVM Dean Dr. James Lloyd chats with Zoetis'
U.S. Companion Animal Marketing Executive Director J. Michael
McFarland.
"This is a very important advocacy event, both for us and the entire industry," said AAVMC Governmental Affairs Director Kevin Cain. "The love these folks have for their family pet provides them with an opportunity for us to help them appreciate the 'big picture' in veterinary medicine. This event is focused on pets and the human animal bond, but it's a powerful recognition opportunity for the entire profession."
About 450 people attended the event, which featured events like the "Cutest Pet" contest. This year, 13 Members of Congress attended Pet Night, which is about twice as many that ordinarily attend the event, according to AAVMC Governmental Affairs Director Kevin Cain.
Veterinary Caucus Co-Chairs Ted Yoho (R-Florida) and Kurt Schrader (D-Oregon) were among those that presented remarks and participated in presentation ceremonies.