September 2017
New Profile of Admitted Students (PAS) Tool Provides Applicants with Context

The decision to study veterinary medicine is a big one, and prospective students know they are embarking upon a challenging academic journey. But that's just the beginning.
The application process itself can be intense. Which college or school should I attend? How many schools should I apply to? Are my chances for admission to this school better than that school?
To help prospective students navigate that pathway, the AAVMC arms them with useful information resources. The AAVMC's
Cost Comparison Tool
(CCT), for example, introduced last year and updated this year, provides applicants with vast amounts of useful data.
Now, a new tool created by the AAVMC's offices of institutional research and admissions is providing applicants with another facet of useful information, also presented through an interactive on-line format.
The
Profile of Admitted Students
(PAS) tool provides detailed information about AAVMC U.S. member institutions, allowing applicants to better understand historical applicant trends. It also provides applicants with an opportunity to benchmark their individual applicant profile against these trends.
"We know the admissions process is an intense one for prospective students," said AAVMC Director of Admissions and Enrollment Tony Wynne. "Our goal with this program is to equip these applicants with up-to-date information about the admissions landscape at each of the schools they are considering."
The Admitted Student Statistics Summary provides enterprise-wide and individual data from member institutions on applicant pool size, GPA averages, GRE scores, and admitted students on the basis of geographical location, mean years of pre-professional experience and preparation and more.
Using the interactive software, prospective students can locate and examine data concerning each school they are interested in simply by moving their mouse on a map. By examining the data, students can gain some context of how their application profile fits within the range of that institution's applicants.
This data is gathered on an annual basis from AAVMC member institutions. Each applicant pool is unique, which will explain variations in each of the data points included in this tool. Summary data for the Class of 2021 will be available on the website in January 2018.
---
AAVMC Donates $25,000 to Help with Hurricane Harvey Relief
The AAVMC has made a $25,000 contribution to the
Texas A&M University Foundation
's Veterinary Emergency Disaster Fund to help provide relief for the millions of people and animals affected by the unprecedented flooding caused by Hurricane Harvey.
The Texas A&M University College of Veterinary Medicine and Biomedical Sciences' Veterinary Emergency Team (VET) deployed to the area on the day before Hurricane Harvey hit and is providing care for animals in need. This includes support for the search and rescue dogs helping manage the disaster, as well as pets, horses, cattle, and other livestock that are injured and/or separated from their owners. Texas A&M's VET will likely be engaged in disaster relief efforts for an extended period of time.
"This is a catastrophic natural disaster and resources are critically needed to support the rescue and relief operations," said AAVMC President Dr. Phillip Nelson, dean of the Western University of the Health Sciences' College of Veterinary Medicine in Pomona, California. "We're proud of the vital support that's being provided by our colleagues at Texas A&M and we're grateful for this opportunity to assist. Their efforts can be reinforced and sustained by all of us in the academic and organized veterinary medical communities who want to help and we encourage everyone to do what they can."
A Veterinary Emergency Disaster Fund has been established to accept donations. Donations can be made directly on the website. Anyone wishing to provide supplies or in-kind gifts is invited to call 979-845-9043 or 979-324-8300 for more information.
---
National Veterinary Scholars Symposium Showcases Veterinary Medical Student Research
The recent National Veterinary Scholars Symposium drew more than 500 scholars from 38 schools for two days focused on veterinary medical student research.
Student researchers gathered at the National Institutes of Health (NIH) headquarters in Bethesda, Maryland, August 4-5 to share their summer internship research accomplishments, surrounded by research scientists working in academic, government, and private research settings.
The symposium, which is widely recognized as the premiere national meeting for veterinary student research, is the culmination of many student summer research programs, including the Boehringer Ingelheim Veterinary Scholars Program (previously known as the Merial Veterinary Scholars Program), multiple programs funded by the National Institutes of Health (NIH) and the colleges of veterinary medicine.
First- or second-year veterinary medical students who were mentored by university faculty members in established laboratories presented scientific posters on their hypothesis-driven research projects.
Distinguished speakers at the symposium included Dr. Michael M. Gottesman. NIH Deputy Director for Intramural Research; Dr. Fabian M. Kausche, Head of Global Research and Development, Animal Health Business Unit, Boehringer Ingelheim; Dr. Julie Pavlin, Director of the Board on Global Health at the National Academies of Sciences, Engineering and Medicine; and Dr. Donald Neiffer, Chief Veterinarian of the Smithsonian's National Zoo and Conservation Biology Institute, who spoke on site at the National Zoo.
The official co-sponsors of the event were the National Cancer Institute's Center for Cancer Research and the AAVMC. The lead program organizer was Dr. R. Mark Simpson, Senior Scientist and Head, Molecular Pathology Unit of the NIH's Center for Cancer Research, and Director, NIH Comparative Biomedical Scientist Training Program. Featured research topics included neuroscience, global health, conservation medicine, and comparative oncology.
Support for the symposium was provided by Boehringer Ingelheim, the Burroughs Wellcome Fund, the American Veterinary Medical Foundation (AVMF), the Howard Hughes Medical Institute, and Michigan State University.
---
AAVMC Affirms Principles of Inclusion
Recent events remind us that bigotry and racism are present in our society. The AAVMC confronts and rejects all forms of prejudice and discrimination, including the hateful violence and speech exhibited by white supremacists and neo-Nazis in Charlottesville, Va.
As part of the academic community, we endorse the statement from the Association of Public and Land-grant Universities (APLU), which states, "The First Amendment is not just a right. It's also a responsibility. We must speak out against evil, hateful beliefs through free speech of our own that advances the shared American value of equality. The struggle against hate will only be won through education and public understanding."
The AAVMC is committed to advocating for policies and practices that serve to recruit and retain a diverse professional student and faculty community, which sustain inclusive institutional climates for students, faculty and staff, and curricula that produce culturally competent veterinarians. The AAVMC believes that through these actions, the health and wellbeing of animals and humans will be best served.
We embrace the differences as well as the commonalities that bring us together and call for respect in our personal interactions.
We affirm the right of freedom of expression of thought opinions and recognize that learning and teaching thrive in this type of environment.
We promote open expression of our individuality and diversity within the bounds of courtesy, sensitivity and respect.
We affirm the value of human diversity for the enrichment of the community and believe diversity fosters a climate conducive to success for all members of the veterinary medical education community.
We confront and reject all forms of prejudice and discrimination, including those based on race, ethnicity, gender, disability, sexual orientation, gender identity, religious beliefs, political beliefs, geographic, socioeconomic, and educational background or any other differences that have led to misunderstanding, hostility and injustice.
We encourage awareness of the differences in communication, learning, information processing, conceptualizing and the need for educational innovation to enable all to achieve academic success.
We affirm education and professional growth for all members of the veterinary medical education community. We strive to build a community based on mutual respect and to graduate professionals who are prepared to work in an increasingly diverse world.
We affirm that each member of the veterinary medical education community is expected to work in accordance with these principles and to make individual efforts to enhance the quality of campus life for all.
We also support the joint statement from the Broad Spectrum Veterinary Student Association (BSVSA), Veterinary students as One Community for Empowerment (VOICE), and the Student American Veterinary Medical Association (SAVMA), which states, "We reject hatred and bigotry in all their forms; it does not, and will never, have a place in our profession…. We will continue to advocate for an open, inclusive veterinary profession where students from all backgrounds come to learn, grow, and achieve their dreams uninhibited by hate."
Questions and comments should be addressed to AAVMC Chief Executive Officer
Dr. Andrew T. Maccabe
or AAVMC Senior Director for Institutional Research and Diversity
Dr. Lisa Greenhill
.
---
Nominations for AAVMC Professional Excellence Awards Open September 1 – October 13, 2017
Do you know someone whose commitment to professional excellence rises above the mean? A colleague whose teaching methods always seem to inspire everyone else… or whose work in the lab is changing the world? Why not consider nominating them for an AAVMC recognition award?
The AAVMC annually presents a series of prestigious awards designed to inspire and recognize professional excellence in teaching, research, service and other areas in academic veterinary medicine. The nomination period is now open for the 2018 series of awards, which will be presented during the 2018 annual conference in Washington.
The professional excellence awards that will be presented to faculty and administrators at member institutions include:
AAVMC Excellence in Research Award
AAVMC Distinguished Veterinary Teacher Award, Presented by Zoetis
AAVMC Senator John Melcher, DVM Leadership in Public Policy Award
AAVMC Billy E. Hooper Award for Distinguished Service
For more information, please see our awards page
here
. Award criteria and submission information is available on the individual award pages.
The nomination deadline is October 13, 2017.
---
VMCAS Cycle for Class of 2022 Closes September 15
As you read these lines, leagues of prospective veterinary medical students are frantically working to complete and submit their applications through the
Veterinary Medical College Application Service
(VMCAS) by the September 15 deadline.
While the application period for the class entering in Fall 2018 opened on May 15, institutional research demonstrates that many wait until the last two weeks to submit their applications.
Last year 7,077 applicants, a record number, vied for the first-year seats available at the 40 member institutions participating in the VMCAS system. The total number of applications increased 11 percent to 34,038.
The VMCAS platform continues to evolve into an enterprise-wide application management and marketing system that is annually refined and improved. Several new enhancements to the application program were added during this cycle, including modifications to accept international coursework.
The AAVMC also publishes several print and digital products to assist applicants with the admissions process. The 188-page 2018
Veterinary Medical School Admissions Requirements
(VMSAR) book was published during the spring.
The AAVMC's web-based, interactive Cost Comparison Tool (CCT), introduced in 2016, was updated for 2017. That data-packed resource provides comprehensive information regarding costs associated with attending veterinary college.
Additionally, a new
Admitted Students Statistics
Summary provides prospective students with cumulative and member institutional applicant performance data which provides contextual information for applicants seeking admission to those institutions.
---
33rd World Veterinary Congress Held in Korea
An estimated 5,000 people gathered for the 33rd World Veterinary Congress held in Incheon, Korea August 27-31, 2018. The World Veterinary Congress has been presented periodically since the first was held in 1863 in Hamburg, Germany.
The congress included plenary addresses from former United Nations Secretary-General Ban Ki-Moon and South Korean Prime Minister Lee Nak-yeon.
AAVMC CEO Dr. Andrew T. Maccabe, who made a presentation at the WVA's Global Conference on Quality Assurance in Veterinary Education held in conjunction with the congress, said the meeting was exceptional in scope and quality and included a spectacular opening ceremony and gala dinner for registrants.
Sponsored by the World Veterinary Association and the Korean Veterinary Medical Association, the meeting's theme was "One Health, New Wave," which sought to promote awareness about One Health and the way new technologies are elevating the quality of clinical veterinary medicine.
Hundreds of scientific and educational presentations across the spectrum of veterinary medicine and biomedical science were presented during the meeting.
Maccabe's presentation focused on the purpose and components of professional accreditation systems, how Continuous Quality Improvement assures that the profession is meeting societal needs, competencies, outcomes assessment, and presented ideas about how to improve veterinary medical education worldwide.
The congress also featured a new "Veterinary Education Day" which included lectures on the curriculum, assessment and feedback, teaching methods, veterinary professional skills, and clinical skills development. Featured presenters included Professor Stephen May and Dr. Ayona Silva Fletcher, both from the Royal Veterinary College in London.
---
Michigan State University CVM Develops Novel Student Loan Program
The
Michigan State University College of Veterinary Medicine
(MSUCVM) has played a leadership role in helping academic veterinary medicine address the student debt issue. In April 2016, they hosted a major symposium that brought thought-leaders together to focus on the problem. That meeting served as a rallying point for the entire profession.
Now, the MSU-CVM has developed a novel strategy to help students finance their veterinary medical education in a more sustainable way. They have formed a partnership with the Michigan State University Federal Credit Union to create an attractive student loan program especially tailored for veterinary students.
"We are very pleased with the partnership we have developed with the MSU Federal Credit Union and the program that they have just announced," said MSUCVM Associate Dean for Administration Dr. Mike Chaddock. "We are continuing to do what we can do to help our students' debt issue and therefore to improve the health and wellness of our student body."
Designed for third and fourth year students, the MSUFCU's Veterinary Medicine Student Loan program enables students to borrow up to $25,000 per year on a fixed (as low as 4.6%) or variable rate (as low as 4.75%) option with five, 10 and 15-year repayment options. The program is capped at $50,000.
"This is very tangible approach to problem-solving that delivers immediate and very real results," said AAVMC CEO Dr. Andrew T. Maccabe, noting that much of the energy devoted to the "Fix-the-Debt" initiative has been focused on strategic, systemic problems. "We commend our colleagues at Michigan State for their initiative in developing this novel program and invite other schools to consider the model."
The inspiration for the idea came from Dean John Baker, who asked faculty member Dr. Donna Harris to lead negotiations with the credit union in establishing the partnership. The program was a year in development.
---
RVC Earns Gold for Teaching Excellence
The
Royal Veterinary College
(RVC) in the United Kingdom has received a Gold award—the highest rating a university can achieve–from the Teaching Excellence Framework (TEF).
The UK government introduced TEF to build evidence regarding the performance of its education sector. It aims to recognize and reward excellence in teaching and learning, and help inform prospective student choices within higher education. The program uses a combination of national data and evidence submitted by each institution to measure excellence in three areas: teaching quality, the learning environment and the educational and professional outcomes achieved by students.
In recognizing the RVC, an independent panel of expert judges noted the school's optimal levels of personalized contact time with students, high-quality, engaged teaching from accomplished academic staff, and "an embedded institutional culture that facilitates, recognizes and rewards excellent teaching," among other attributes.
Judges also noted the school's strategic focus on veterinary science and "course design and assessment practices, which provide outstanding levels of stretch and challenge."
Professor Stuart Reid, Principal of the RVC, said: "I am delighted that the award of TEF Gold endorses and builds upon the RVC's recognition as a global leader in veterinary education. As the only independent, internationally accredited school that offers education for the whole veterinary team, a commitment to delivering quality teaching is at the core of our business. The TEF Gold award is peer recognition that we meet the highest of standards, an achievement of which we can be justifiably proud."
The RVC is the UK's largest and longest established independent veterinary school and is a constituent College of the University of London.
---
Maccabe Featured on "Through the Noise" Podcast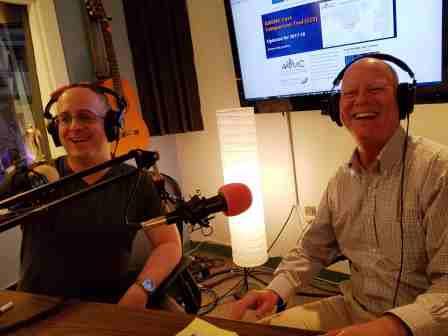 "Through the Noise" host Ernesto Gluecksmann (left) interviewing Dr.
Andrew T. Maccabe.

AAVMC CEO Dr. Andrew T. Maccabe was the featured guest on a recently released edition of "
Through the Noise
," an Arlington, Virginia based podcast that explores the role of communications and management best practices in the world of association management and non-profit organizations.
"Through the Noise" is hosted by Ernesto Gluecksmann and Blake Althen, a duo whose eclectic backgrounds and light-hearted perspective help produce an entertaining yet insightful glimpse of "the business of communicating."
Guests frequently include executive directors, CEOs, communications directors, entrepreneurs, and other professionals who deal with the management of organizational communications.
The podcast describes its mission this way: "Our world is constantly changing and we are looking for ways to better understand it. Our goal is to have lively discussions about how the work gets done and learn about unique approaches, best practices and tips."
The wide-ranging interview with Maccabe touched on leadership style, the importance of diversity and inclusiveness in organizational health, and many other topics.
The podcast can be accessed
here
.
---
Pijpers Named President of Utrecht University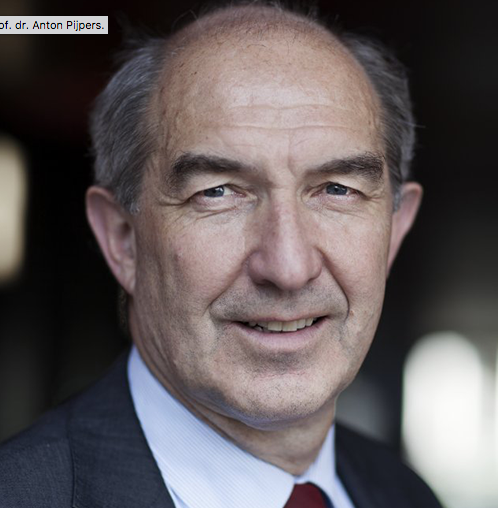 Dr. Anton Pjipers
Professor Anton Pijpers, former dean of the Veterinary Medicine Faculty, has been named the new president of the Executive Board of
Utrecht University
. The appointment is effective October 1, 2017. Pijpers had been serving as vice-president since 2014.
"We in the AAVMC congratulate our colleague Anton Pijpers on this appointment," said AAVMC CEO Dr. Andrew T. Maccabe. "He joins the ranks of several other deans from our member organizations who have risen to serve as provosts and presidents of major universities and we wish him success and achievement in his new leadership role."
Pijpers studied veterinary medicine at Utrecht and then spent time in professional practice. He earned his PhD at Utrecht University and was appointed a professor in 1993. Between 2000 and 2009, he left the university and worked as the managing director of GD Animal Health. In 2009, he returned to the university to serve as dean of the veterinary medicine faculty, and in 2014, he was appointed vice-president of the Executive Board.
"Anton Pijpers is a highly experienced manager who knows the university inside out," said Professor Emmo Meijer, chairman of the Supervisory Board. "Utrecht University wishes to strengthen its international position in the areas of education and research, spread its wings and at the same time play a central role in society, with its feet firmly planted in Utrecht soil. Anton Pijpers is very good at combining these two worlds."
Meijer praised Pijpers for the work he did in improving the financial sustainability of the university during his role as vice president, and said he played a major role in the establishment of the Netherlands Centre for One Health.
Pijpers says that he is looking forward to continuing the collaboration. "Every day, I am impressed by the talent of the people who work and study here," said Pijpers. "As the Executive Board, together with the deans, we must ensure that they can flourish and contribute to resolving the social issues facing our world. I consider it a great privilege to be able to do this in the role of president."
---
Congressional Caucus on Public Service Loan Forgiveness Formed… Major AAVMC Legislative Priority
A Public Service Loan Forgiveness (PSLF) Caucus has been formed by Congressmen Brendan F. Boyle (D-PA-13) and Ryan Costello (R-PA-6) to focus congressional efforts on protecting the federal Public Service Loan Forgiveness program. The PSLF program has been targeted for elimination in the proposed Trump administration budget and restoration is a major AAVMC legislative priority.
The PSLF program was created in 2007 to encourage more Americans to pursue public service careers despite the more modest salaries and increased financial burdens of student debt. Under the provisions of the program, teachers, firefighters, police officers and other full-time public service workers including doctors, nurses and veterinarians, can have their student debt forgiven after 10 years of public service employment and 120 on-time payments. More than half a million people have enrolled over the last decade.
Congressman Boyle said: "The PSLF Caucus will focus on making good on our collective promise to public servants who have served their communities for years, often for low pay in positions that may have otherwise not been financially manageable, with the understanding that the 10-year-old Public Service Loan Forgiveness program would eventually help them lighten their burden of student debt."
Congressman Costello said: "Many teachers, first responders, and public health specialists are working hard to make a difference in their local communities while relying on the Public Service Loan Forgiveness Program. We must fulfill the promise made to these student borrowers over the past decade."
The PSLF Caucus is broadly supported by a coalition of more than fifty organizations, including the AAVMC.
Those interested in supporting the initiative are invited to contact their elected officials and ask them to join the PSLF Caucus. Information on how to engage with the grassroots effort is available at their
advocacy center
:
---
Academic Veterinary Medicine in the News

Texas A&M Veterinarian Team Rescuing Animals Caught in Floodwaters
KBTX-TV
The Burden Your Veterinarian is Carrying
CNN
Vets Fight To Save Horses In Harvey Aftermath
Huffington Post
Want to Keep America safe? Train More Veterinarians
Fox News Opinion
How Much Pre-veterinary Experience is Enough?
VIN News Service
Mental Health Struggles Show the Dark Side of Veterinary Medicine
Toronto Star

When Veterinarians and Physicians Collaborate, all Kinds of Patients Benefit
Philadelphia Inquirer
AVMA Recognizes Excellence in Veterinary Medicine
JAVMA News

Education Council Members Appointed
JAVMA News
USDA Grant to Help MU Study Tick-borne Disease in Cattle
Columbia Tribune
The Right Move Can Change More Than Your Address
Associations Now

Devastating Floods Swamp Houston-area Veterinarians
VIN News Service
Pogo the 'Super Pony' Rehabilitates at Auburn
oanow.com
---
From Our Members

Graduate Student Benjamin Okyere Studies How the Brain Repairs Itself After a Stroke
Virginia-Maryland College of Veterinary Medicine

College Awarded $1.68 Million in Research Grants from USDA
Michigan State College of Veterinary Medicine
---
People in Motion
Dr. Nicholas Frank has been named associate dean of academic affairs at the
Cummings School of Veterinary Medicine at Tufts University.

Dean John Baker has announced plans to step down as dean of the
Michigan State University College of Veterinary Medicine
effective July 1, 2018.
Dr. Carolyn Henry has been named interim dean at the
University of Missouri College of Veterinary Medicine
.
Dr. Bonnie Rush has been named acting dean at the
Kansas State University College of Veterinary Medicine
.
---
AAVMC Newsletters
Read our
CIVME Newsletters
Read our
Advocacy Newsletters
---