2022-2023 AAVMC Leadership Academy
AAVMC launched the Leadership Academy in 2012 to provide leadership development for emerging leaders in academia and to provide a forum for building lasting ties between faculty members at veterinary schools and departments around the world. While there are many types of leadership development training available, the AAVMC Leadership Academy is unique in that it is focused on helping develop tomorrow's leaders of academic veterinary medicine. The participants quickly bond with one another and will find that they have colleagues and friends they can communicate with as they progress through their careers.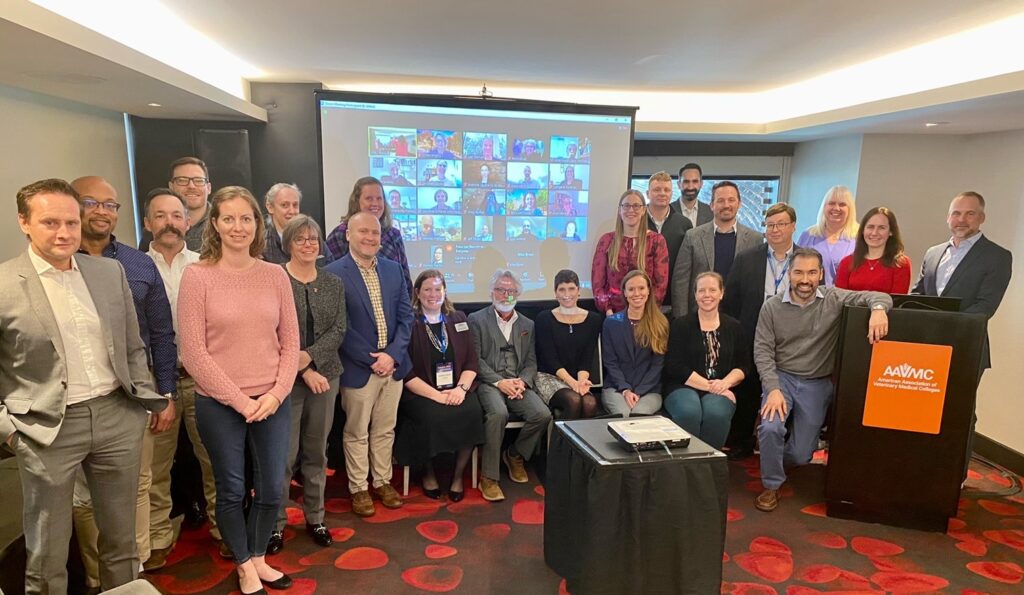 Mission: We develop leaders for success in contemporary academic veterinary medicine.
Vision: To be the premier leadership development program in academic veterinary medicine.
Purpose: The development of enlightened, progressive, adaptable, and competent leaders ensures the health, vitality, sustainability, and relevance of the veterinary profession to effectively serve society.
Values
We promote ethical, compassionate, and servant leadership attributes and characteristics.
We embrace the fundamental virtue and strength of diversity in every dimension, and recognize that equity and inclusion are key drivers of excellence in leadership.
We believe in developing exceptional and inspirational leadership attributes and competencies.
We believe that everyone can lead and is a leader.
We are committed to experiential learning experiences for current and aspiring leaders.
Program Objectives
Enhance "real-world" leadership competencies in order to address a broad range of issues frequently encountered in modern leadership roles
Develop a working knowledge of theory, terminology, and practical application of "leadership" by exploring operational definitions of leadership, management, and followership theory
Provide participants with contextual, current, and accurate information for discussion of important leadership frameworks
Provide robust opportunities for participants to share their unique thoughts, observations, and perspectives involving leadership
Create an expanded network of peers, colleagues, and experts who can provide information and discussions on new developments in knowledge and application
Provide the Veterinary Profession as context relating leadership at the educational institution and the professional traditions
Experience leadership realities from professional leaders and influencers through interactions and discussions
Provide a experiential learning opportunity through the capstone project activities
Program Outline
September 13-15, 2022; in-person meeting in Washington, DC
March 6-7, 2023: in person meeting in Washington, DC (immediately prior to the AAVMC Annual Conference)
Virtual synchronous sessions will be held on the following dates. All sessions will occur between 10:00 am and 5:00pm EST; exact times will be announced at a later date.
October 14, 2022
November 18 2022
December 9, 2022
January 20, 2023
February 17, 2023
Additional asynchronous programming will also be available.
Capstone Experience
The 2022-2023 AAVMC Leadership Academy includes a capstone experience . These capstone projects bring together small groups of participants on an ongoing basis to work on a self-identified project. Projects focus on exploring significant challenges facing academic veterinary medicine. For questions about the capstone experience, please contact AAVMC Leadership Academy Director Dr. Rod Bagley at rsbagley@iastate.edu.
Leadership Academy Topics
Who am I as a Leader?
Leaders vs. Managers
The Impact of Followers
Communicate Styles and Strategies
Individual and Group Decision-making Strategies
Planning Strategically
The Dynamics of Team
Crisis Management- the New Reality
Stress and Resiliency for Leaders
Lessons from the Leadership Trail
The Leader Out Front
Enrollment Information
The AAVMC is now accepting nominations for the 2022-2023 Cohort, the deadline for nominations is July 17, 2022. Leadership Academy participants are required to attend all synchronous virtual programming as well as the in-person experiences. For information about the Leadership Academy please contact staff liaison Dr. Caroline Cantner, ccantner@aavmc.org. Nominations are received directly from the office of the Dean at our member institutions. Please contact your dean's office for more information on your University's specific nomination process.
Attendance Costs
Thanks to the generous support of Elanco, AAVMC is able to offer enrollment in the Academy with no registration fee.
Testimonials from Previous Participants
"If every unit leader was exposed to this educational experience, I think it would completely change the culture of academia for the better."
"The Academy has been excellent throughout. The sessions provided were directly relevant to issues we are working through now."
"I have strongly recommended it to my dean for others in my institution."
"It was great to be able to get to know your teammates over time. I feel like I was able to make connections with the other attendees and that helped make the whole experience better. I got a lot out of all the sessions."
"I heard this quote several times: 'We all have the same problems and issues at our schools.' It was common to discuss a project/directive someone was working on that someone else had just dealt with."
"The experience on Capitol Hill has made me a believer in advocating for the profession and encouraging my colleagues to do the same."