Pulitzer Prize Winner, 1619 Project Creator Nikole Hannah-Jones to Keynote AAVMC Conference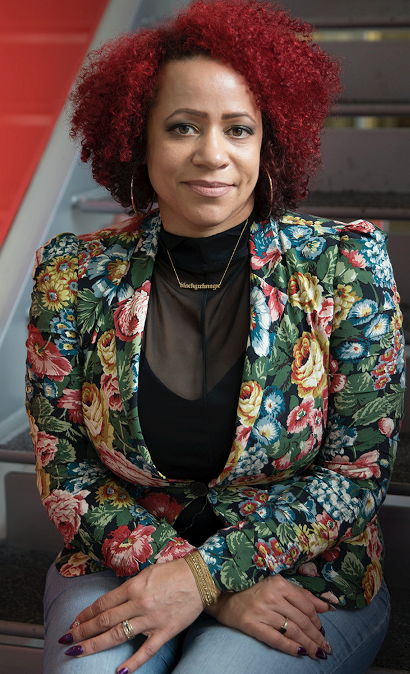 Pulitzer-prize winning writer Nikole Hannah-Jones will present a keynote address during the AAVMC's upcoming annual conference March 3-5 at the historic Watergate Hotel in Washington, D.C.
Hannah-Jones, who won a Pulitzer Prize for Commentary as the creator of the 1619 Project, is a staff writer for the New York Times Magazine, covering civil rights issues. She is also the inaugural Knight Chair in Race and Journalism at the Howard University School of Communications.
The New York Times's 1619 Project is described as commemorating "the 400th anniversary of the beginning of slavery in what would become the United States by examining slavery's modern legacy and reframing the way we understand this history and the contributions of black Americans to the nation."
In 2016, Hannah-Jones co-founded the Ida B. Wells Society for Investigative Reporting, a training and mentorship organization dedicated to increasing the ranks of investigative reporters of color.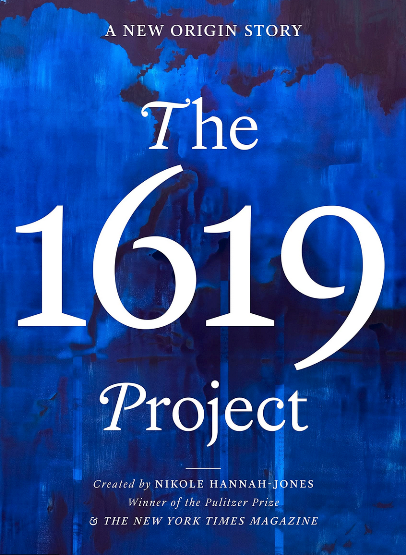 The AAVMC's annual conference is considered one of the leading professional development events in international academic veterinary medicine. Hundreds of educators and other leaders from the veterinary medical profession gather every year for a three day-symposium that features respected thought-leaders from around the world, explores issues and opportunities, shares best practices, and focuses on diversity, equity and inclusion.
The conference also features the AAVMC's annual Advocacy Day on Capitol Hill.
Registration for the meeting opens Oct. 1.
---
AAVMC Introduces New Learning Management System: "AAVMC Learn"

The AAVMC has introduced "AAVMC Learn," a new learning management system that will provide a platform for asynchronous learning through a comprehensive digital trove of information resources.
The program has been months in development and will be built out over time, but is now available for member access through the AAVMC website (please see upper sub-menu in orange for access and instructions for establishing an account).
"This represents a major step forward in our efforts to provide our members with rapid access to high-value information," said AAVMC Chief Executive Officer Dr. Andrew T. Maccabe. "We're excited about building this new program out in the months and years ahead."
Initial programs using the new platform include the "2021-22 AAVMC Leadership Academy," a training course for member colleges and schools on the Institutional Data Report, and the "Wellbeing for First Years Course," a series of courses for pre-veterinary school applicants.
The AAVMC will be developing additional online professional development resources for our member institutions throughout the coming year, according to Director for Professional Development Dr. Caroline Cantner, who is overseeing the project.
Additional programs featuring content in the critical areas of Diversity, Equity and Inclusion (DEI), Wellbeing and Competency Based Veterinary Education will be developed in the near future.
New courses will be announced through AAVMC's newsletter and communication channels as they become available.
---
The Future of Admissions and Enrollment: Expect "Changes in the Pipeline"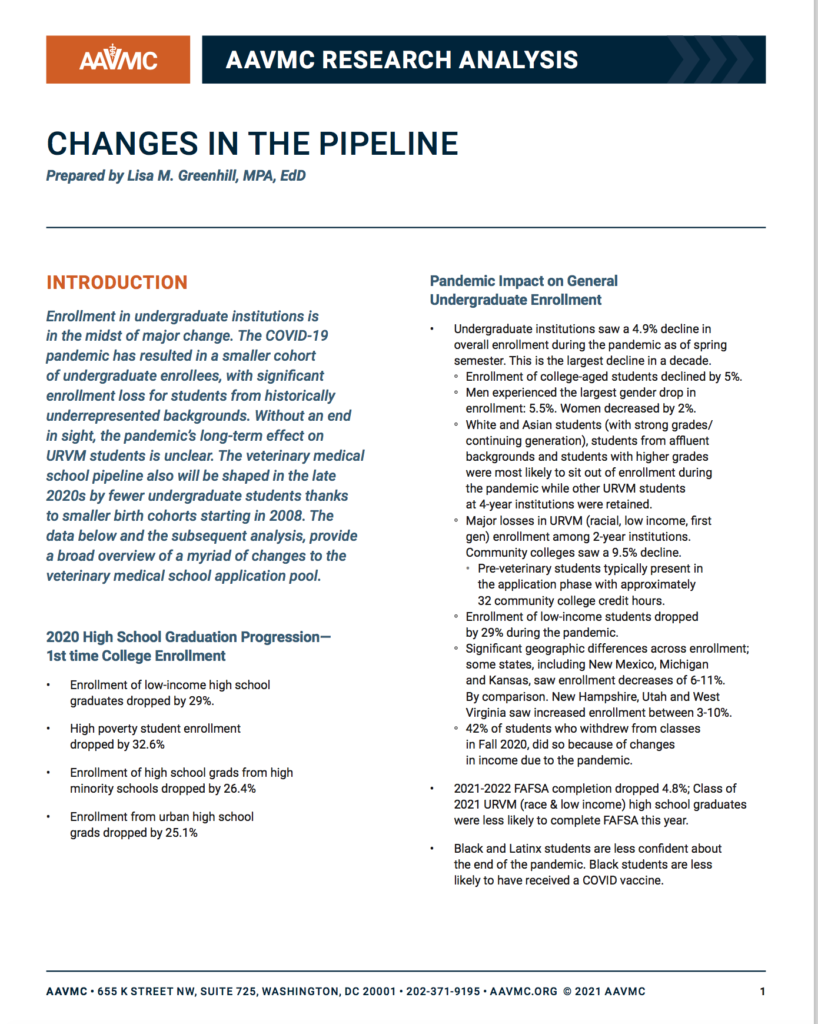 AAVMC institutions experienced record demand for admission last year, with the number of applicants soaring almost 20 percent year-over-year. And it looks like demand for seats remains strong this year. But existing demographic trends and the Covid-19 pandemic will impact enrollment across higher education in a variety of ways during the years ahead.
Predicted changes in both the numbers and the nature of the future applicant pool will likely challenge efforts to achieve more racial, economic, gender and geographic diversity in academic veterinary medicine, according to Senior Director for Institutional Research & Diversity Dr. Lisa Greenhill.
A research review entitled "Changes in the Pipeline" produced by the AAVMC's Office of Institutional Research and Diversity details some of the factors expected to impact the application/enrollment picture for AAVMC member institutions as the decade unfolds.
---
Veterinary College Common Application Service Deadline Extended by Natural Disasters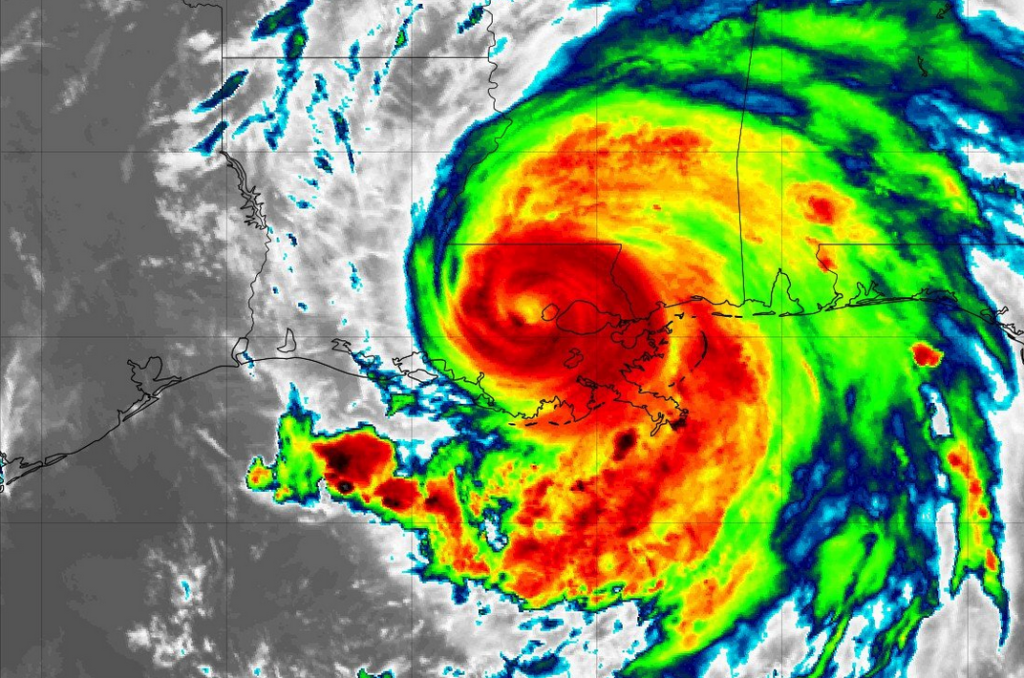 The AAVMC has extended the 2022 Veterinary Medical College Application Service (VMCAS) deadline about two weeks because of the impact of natural disasters on the process. The new VMCAS 2022 application deadline is Wednesday, September 29, 2021, at 11:59 p.m. Eastern Time for all applicants.
The decision to extend the deadline was made because the destruction and flooding caused by Hurricane Ida in the south and the northeast has posed significant obstacles for some VMCAS applicants, according to AAVMC Director for Admissions and Recruitment Affairs Ms. Diana Dabdub. Many applicants have been forced to evacuate their homes and may still be without electricity, she said, and some colleges and universities were closed and are just returning to normal operations.
"We hope that all applicants and their families are safe and that those who are facing natural disaster-related issues can recover quickly," said Dabdub.
Because the deadline extension shortens the amount of time schools will have to review applications, applicants in non-affected areas are encouraged to complete and submit their VMCAS applications as soon as possible, despite the deadline extension. There will be no additional deadline extensions this cycle.
Dabdub said applicants should submit their VMCAS applications as soon as they are completed regardless of whether VMCAS has received academic transcripts or electronic letters of reference (eLOR).
Other provisions and caveats associated with the deadline extension include:
There is no extension related to GRE scores, which must be received by 9/15/21.
Applicants must reach out directly to schools that require the Casper test for deadline clarification.
WES evaluations must be received by the extended application deadline of 9/29/21.
All academic transcripts must be received (or postmarked) by the extended application deadline of 9/29/21.
Applicants with questions about the deadline extension should contact the Veterinary Medical College Application Service (VMCAS) at 617-612-2884 or email: vmcasinfo@vmcas.org.
---
AAVMC Introduces Suicide Prevention Awareness Month Toolkit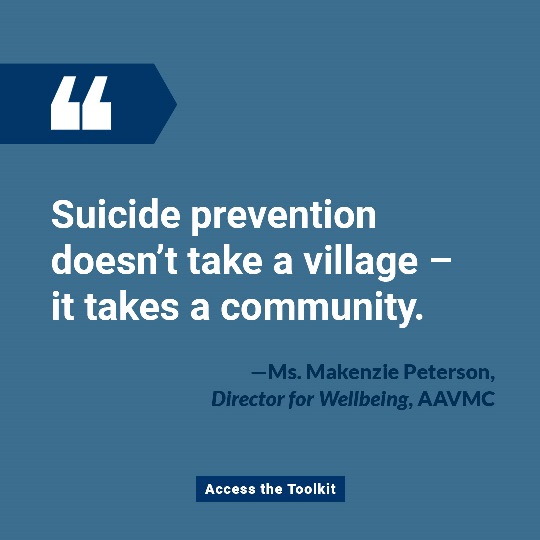 In observance of Suicide Prevention Awareness Month this September, the AAVMC is offering resources and guidance to help communities strategically focus their efforts related to suicide prevention during this month and beyond.
During Suicide Prevention Awareness Month, organizations are encouraged to continue their efforts to help reduce mental health stigma and suicide, increase access to resources and encourage their community members to reach out for help.
"It is crucial that students and professional groups who share our commitment to reducing suicide in the profession follow the evidence-based approaches and promote messages that focus on prevention, hope, empowerment, and healing," said the AAVMC's Director for Wellbeing Ms. Makenzie Peterson. "How we discuss and respond to suicide in the veterinary profession matters."
Recent data has confirmed that suicide is more likely among veterinarians than among the general population — 1.6 times more likely for male veterinarians and 2.4 times more likely for female veterinarians. The same study found for the first time that the suicide rate is also higher for veterinary technicians—5.0 times more likely for males and 2.3 times more likely for females.
The AAVMC has compiled this data and other strategic resources into an abridged Suicide Prevention Awareness Toolkit. The toolkit includes recommendations for communicating on suicide, how to craft appropriate health promotion messages, community training and promotion materials, as well as information for wellbeing professionals and leaders planning suicide prevention strategies for their communities.
Over the coming year, the AAVMC will be enhancing this toolkit to include even more information and programmatic examples for the benefit of its members and as a resource to the profession.
"We know that mental health and suicide prevention are important topics, and as a professional community we can make an impact by collectively following the practices that have been shown to reduce suicide," said Peterson. "Suicide prevention doesn't take a village – it takes a community."
---
AAVMC's Governance Committee Operates at Structural, Ethical Foundation of the Association
Successfully operating the AAVMC requires a dedicated team of professionals and volunteers focused on organizational mission, grounded by integrity and guided by thoughtful policies and procedures.
While the Board of Directors is ultimately responsible for running the AAVMC, it is the Governance Committee that "codes" for its infrastructure and provides the oversight that binds the organization together.
The already important work of the Governance Committee has been recently magnified by the Board of Directors, who "sunset" the former Ethics Committee and rewrote the charge of the Governance Committee to include those responsibilities.
The AAVMC Governance Committee is a committee of the board of directors and includes the immediate past president and the at-large directors representing Regions I, II, III, and IV.
"The Governance Committee supports the AAVMC's core value of integrity and upholds the highest ethical principles of governance and oversight through honesty, transparency and accountability to our stakeholders, which guides all work of the organization in alignment with its strategic plan," said AAVMC Chief Operating Officer Ms. Dotty Gray, who provides staff support for the committee.
The Governance Committee's charge includes:
Evaluating the composition and skill set of directors to assure a representative mix of AAVMC's membership and to enhance the diversity of Board members
Submit recommendations for committees, councils, and task forces to assure their charges align with the AAVMC Strategic Plan.
Develop and monitor the implementation of Board policies related to ethics and governance matters.
Submit to the Board of Directors recommendations for nominations of candidates for election or appointment of officers and members of the Board.
In accordance with its new ethical oversight responsibilities, the Governance Committee:
Selects and convenes on an ad hoc basis an "Ethics Review Panel" with members drawn from the AAVMC voting membership and with a majority of non-Board members to review emergent ethical concerns or complaints; or develop policy and/or position recommendations on contemporary ethical issues.
Establishes and maintains a process that include a submission option by which ethics inquiries or complaints may be submitted to the Governance Committee from anyone within the AAVMC organization.
The Governance Committee is currently reviewing the composition and skill set of the Board of Directors and expects to make a recommendation to restructure the Board at the October 2021 Board meeting.
---
Minority Serving Institution Working Group Develops Interactive Map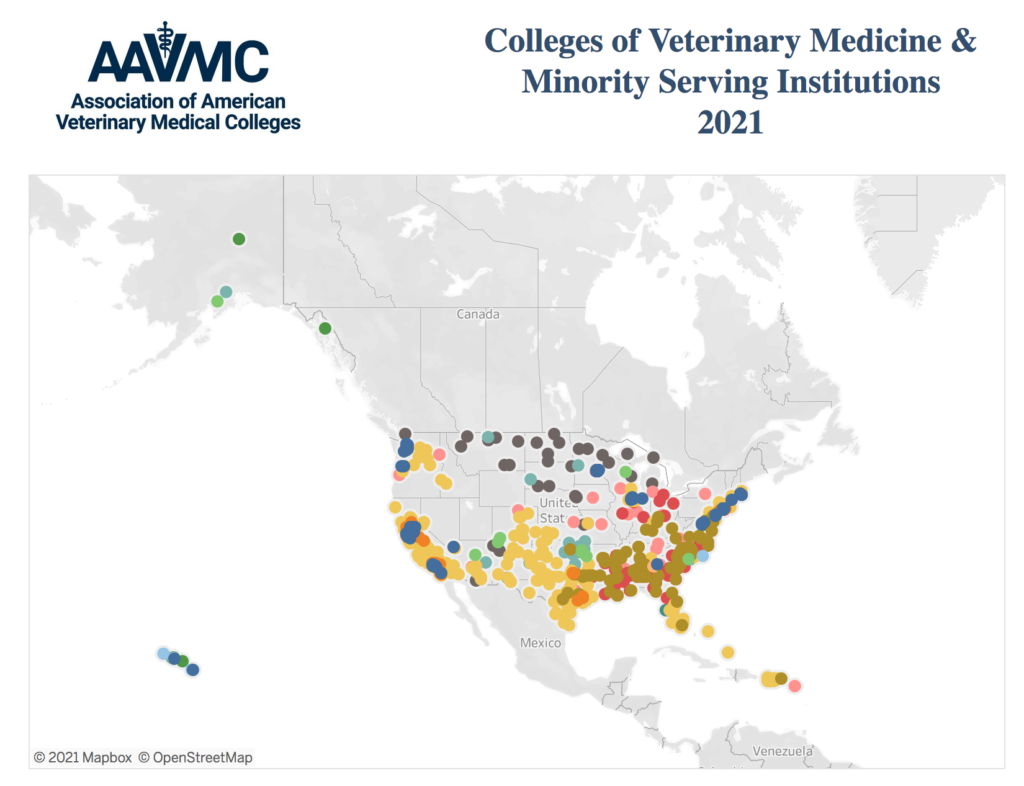 In an effort to promote recruitment, collaboration, and increased access and opportunity for underrepresented students, AAVMC has created an interactive map featuring locations of colleges of veterinary medicine and Minority Serving Institutions (MSIs).
MSIs are designated by the US Department of Education and are defined as "institutions of higher education enrolling populations with significant percentages of undergraduate minority students or that serve certain populations of minority students under various programs created by Congress."
The visualization shows existing relationships between colleges of veterinary medicine and MSIs, as well as the numerous MSI institutions where colleges, veterinary organizations and individual veterinary professionals can foster relationships that strengthen pathways to careers in veterinary medicine for underrepresented students.
As more relationships between CVMs and MSIs are created, this visualization will be updated. Additionally, MSI institutions in Australia, Canada and New Zealand are expected to be added to this visualization over time.
The work was undertaken by the Office of Institutional Research and Diversity and the Minority Institutions Working Group, which was established by the Board of Directors to consider strategies for improving outreach and collaboration with Minority-Serving Institutions.
The group is addressing goals which include (1) identifying best practices for Primarily White Institutions (PWI) to engage with Historically Black Colleges and Universities (HBCU) and Native American serving institutions, (2) cataloging current scholarship and internships for underrepresented minorities, and (3) working with admissions teams to enhance diversity in recruitment and admissions.
These efforts are being undertaken in recognition of the AAVMC's responsibility to help the profession evolve into one that includes more appropriate levels of diversity, equity and inclusion. They complement a broad portfolio of DEI programs and services that have earned national recognition for excellence.
---
Community Reads Program Begins Newest Book on "AAVMC Learn" Platform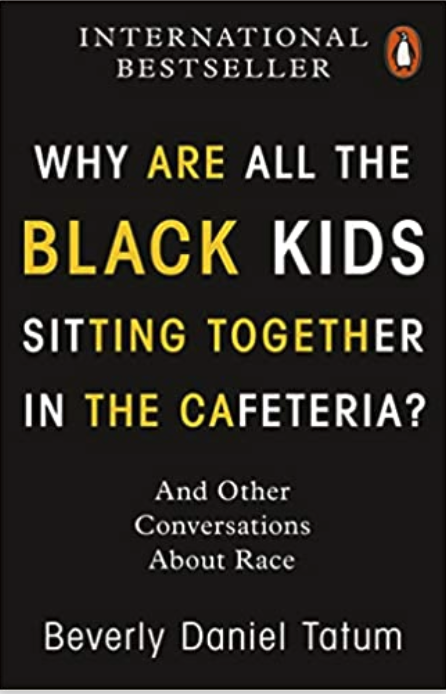 The AAVMC's Community Reads Program has undertaken its newest book: Why Are All the Black Kids Sitting Together in the Cafeteria?: And Other Conversations About Race by Beverly Daniel Tatum.

The book explores racial identity, racial socialization and how these shape our approaches to understanding discrimination and marginalization.
"In reading this book, I hope we will explore how upbringing shapes our perspectives around racial identity, how our perceptions of diversity challenges within veterinary medicine are shaped by these identities and how social colorblindness serves to maintain the status quo," said Senior Director for Institutional Research & Diversity Dr. Lisa Greenhill, who leads the program.

This Community Read will take place on AAVMC's new Learning Management System, AAVMC Learn! Dr. Greenhill is hosting asynchronous discussions on the AAVMC's new Learning Management System (AAVMC Learn), along with Zoom discussions in September and October.

Click here to register for your account on AAVMC Learn and for #AAVMC Reads!

Launched in October 2020, the Community Reads program is designed to promote stakeholder readership on texts exploring diversity issues in higher education and use those insights to improve diversity, equity and inclusion efforts within member institutions.
---
AAVMC Opens Nomination for 2022 Professional Achievement, Service Awards
The AAVMC annually presents a series of professional recognition awards designed to inspire and recognize excellence in teaching, research, service, diversity and inclusion and other important areas of academic veterinary medicine. The nomination period is now open for the 2021-22 series of awards, which will be presented during the 2022 annual conference in Washington.

The professional excellence awards that will be presented this year include:
Eligibility for these awards is generally limited to members of the AAVMC member institution community unless otherwise noted in the individual award announcements. Nominators are encouraged to review individual award criteria and to consider the importance of diversity as an AAVMC core value in selecting potential nominees for recognition. Additional information on the AAVMC's awards program is available here.
The nomination deadline for all awards listed above is October 15, 2021; please submit all materials to the following survey linked here.
More specific information about award criteria and submission information is available on the individual award pages. Please contact AAVMC Manager for Member Engagement Ms. Lawann Blunt at lblunt@aavmc.org with questions.
---
Leadership Development: 2021-22 Leadership Academy Gets Underway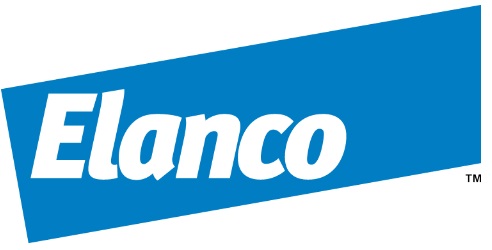 The AAVMC's 2020-22 Leadership Academy gets underway this month with a new cohort of 38 participants. Those aspiring academic leaders will be engaged in a year-long hybrid program that combines online content from September through February with an in-person final session immediately preceding the 2022 AAVMC Conference.
Sponsored by Elanco, the leadership academy addresses how to develop effective leadership skills around the themes of communication, emotional intelligence and applied leadership skills.
"Elanco Animal Health is once again proud to sponsor the AAVMC Leadership Academy," said Dr. Kim Chappell, Regional Consulting Veterinarian, US Companion Animal, Elanco Animal Health. "We recognize the profound impact of investing in the professional development of members of the academic veterinary community in order to build and shape the future of our profession. Veterinary advocacy and support of leadership development fulfills our mission to promote and provide for the success of the veterinary profession."
The AAVMC launched the academy in 2012 to help cultivate optimal leadership within academic veterinary medicine. Each member institution typically enrolls one participant who is chosen by the dean based upon demonstrated leadership or potential.

Topics considered during the academy include communication, team dynamics, planning, decision-making, advocacy, fundraising, and others.
Dr. Rod Bagley from Iowa State University is in his second year of service as director of the AAVMC's Leadership Academy. Dr. Bagley is a professor and chair of the Department of Veterinary Clinical Sciences at Iowa State's College of Veterinary Medicine, where he also directs the university's Emerging Leaders Academy.

In December 2020, an outcomes assessment of the Leadership Academy determined that "an overwhelming majority of respondents found participation in the Leadership Academy to be very influential in their careers" by providing them with the tools they needed to reach career goals and be better leaders.
Details of that study, "The AAVMC Leadership Academy Outcomes Assessment Summary and Recommendations," are on the website.
---
Leadership Development: Academy for Advancing Leadership

Four new, current and aspiring administrators at AAVMC member institutions were awarded scholarships by the AAVMC to attend the Academy for Advancing Leadership's (AAL) Chairs and Academic Administrators Management Program (CAAMP).
CAAMP is a three-day interactive program tailored for higher ed administrators designed to increase leadership skills for new, current and aspiring administrators. Topics covered during the workshop include interprofessional engagement, finance, crisis management, decision-making collaboration, wellness and resilience and others.
This year's cohort was themed "Confronting Complexities with Courageous Innovative Leadership" and was held from August 23-25.
Scholarship recipients include: Meera C. Heller DVM, PhD, DACVIM, Associate Professor of Clinical Livestock Medicine, Department of Medicine and Epidemiology, University of California Davis, School of Veterinary Medicine; and Bente Flatland, DVM, MS, DACVIM, DACVP, Professor, Clinical Pathology Laboratory Director, Biomedical and Diagnostic Sciences, University of Tennessee College of Veterinary Medicine.
Also, Kent Reed, MS, PhD, Professor and Interim Vice Chair, Department of Veterinary and Biomedical Sciences, University of Minnesota, College of Veterinary Medicine; and Pedro Paulo Diniz, DVM, PhD, Associate Professor, Small Animal Internal Medicine, Western University of Health Sciences College of Veterinary Medicine.
---
AAVMC Undertakes Digital Marketing Initiative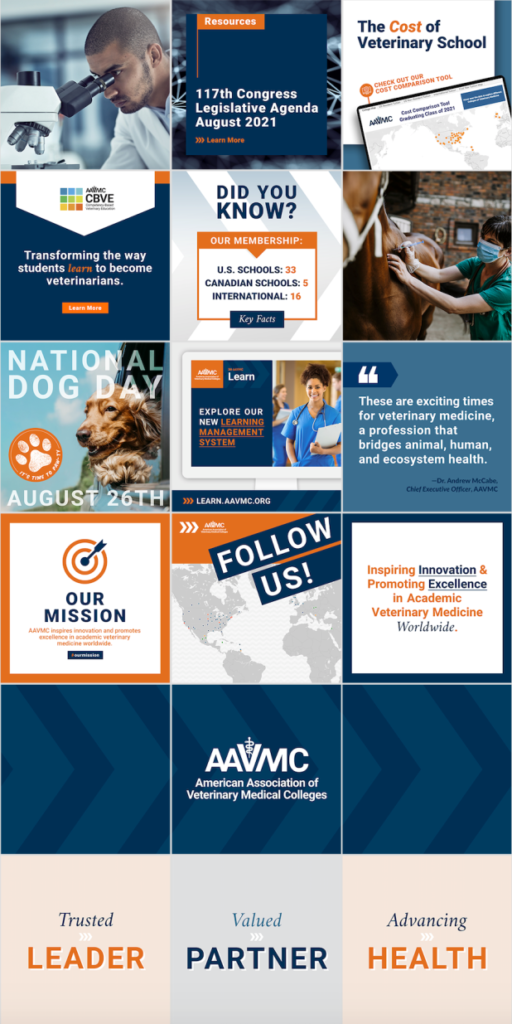 The AAVMC has undertaken a new digital marketing initiative that will increase the number of social media platforms in use and help it better connect with specific target audiences within the stakeholder base. In addition to Facebook and Twitter channels, the AAVMC has established new Instagram and LinkedIn accounts. Social media programming will now be organized on automated systems and more synchronized with editorial calendars. The work is being undertaken in concert with the Washington D.C.-based digital media and marketing company The Jake Group. The AAVMC uses a variety of owned and earned new and legacy media channels to communicate with stakeholders. Analytics continue to demonstrate growing interest among prospective students and others for receiving information through social media channels. Make sure to follow us!
---
AAVMC Senior Accreditation Advisor Dr. Sheila Allen Honored by Cornell
Dr. Sheila Allen, the AAVMC's Senior Accreditation Advisor, has been honored by the Cornell University College of Veterinary Medicine with their "Daniel Elmer Salmon Award for Distinguished Alumni Service," the college's highest alumni honor. Described as a "consistent trailblazer" in the announcement, Allen served for 11 years as dean of the University of Georgia College of Veterinary Medicine, becoming only the second female dean of a CVM in the United States.
Allen, who is also a Diplomate in the American College of Veterinary Surgeons," joined the AAVMC in 2016 and has provided leadership for the AAVMC's role in supporting the Council on Education (COE). She has also served as a member of the Cornell University Board of Trustees. Click here to read the story on Dr. Allen published by Cornell University.
---
AAVMC Chief Communications Officer Jeff Douglas Retiring December 31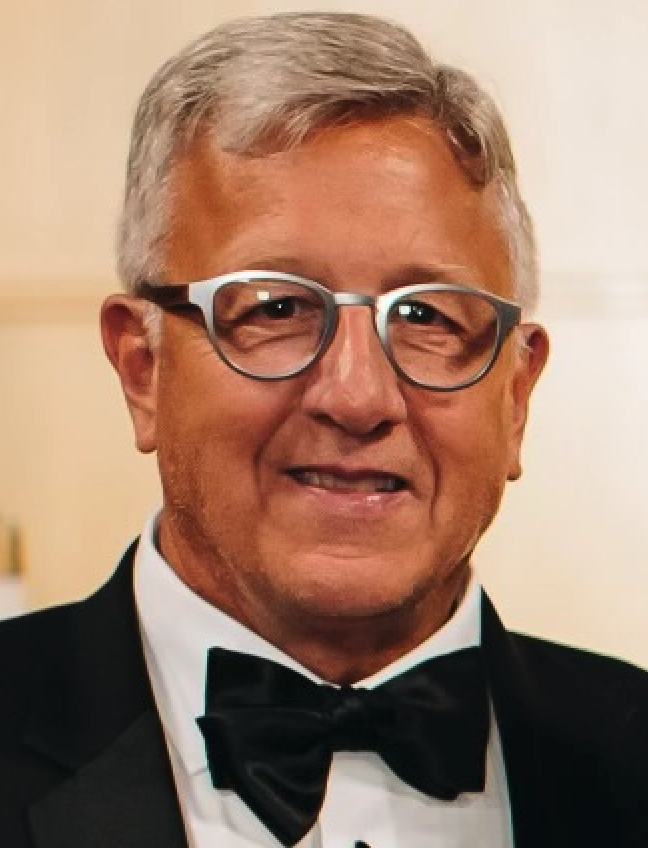 AAVMC Chief Communications Officer (CCO) Jeff Douglas has announced he is retiring from the AAVMC on December 31st.
Douglas joined the AAVMC in 2012, where he created and led the organization's strategic communications program.
"Serving in this capacity has been the opportunity of a lifetime for me," said Douglas, who began working in academic veterinary medicine in 1983. "I've been involved with the AAVMC as a volunteer and as a professional for more than 25 years and I have a keen understanding and appreciation for the critically important work they are doing. I will always be grateful I was able to be a part of it."
"Jeff Douglas has had a massive impact on the AAVMC," said CEO Dr. Andrew Maccabe. "We aspire to be a thought leader in academic veterinary medicine, and Jeff's work has allowed us to achieve that goal. In addition to greatly expanding the scope and reach of our communications, he managed two complete renovations of our website and oversaw our 50th anniversary celebration in 2016. These activities have significantly raised the visibility of the AAVMC as a trusted leader and valued partner in advancing health."
His work with the AAVMC began in the 1990s when he brought in nationally recognized public relations experts like the late Patrick Jackson to speak with the deans about the importance of communications during AAVMC annual conferences.
Douglas also studied how the institutional advancement function was staffed in AAVMC member institutions, reported that data during AAVMC meetings and helped form the AAVMC's Advancement Committee in the late 1990s.
His work led to the establishment of the Association of Veterinary Advancement Professionals (AVAP) in 1998, which now includes more than 300 development officers, communication and alumni relations professionals working at AAVMC member institutions. AVAP became a component organization of the AAVMC in 2018.
Earlier in his career, Douglas served for decades as a communications consultant with the American College of Veterinary Internal Medicine (ACVIM) and the American College of Veterinary Surgeons (ACVS), where he helped those organizations with their annual conferences and communication programs designed to build public and professional awareness about the growing role of the board-certified veterinary specialist in private practice.
Douglas worked with the Virginia-Maryland Regional College of Veterinary Medicine for 25 years before being named Executive Director of University Relations at Virginia's Radford University in 2009. He earned undergraduate and graduate degrees in journalism and corporate communications, respectively, from Radford.
Douglas helped found the Blue Ridge Chapter of the Public Relations Society of America in 1992 and served in a variety of offices at the local and national level with that association. He earned his professional certification from PRSA in 1994 and was inducted into the PRSA College of Fellows in 2004. As an adjunct professor at Radford University and Virginia Tech, he taught almost 20 undergraduate courses in communications and public relations.
The AAVMC has launched a national search for his successor and expects to name a new Director for Communications and Marketing in the near future. Douglas will work closely with the new director through the end of the year to assure a smooth transition.
---
Application Period Opens for CIVME Research Grants

The Council on International Veterinary Medical Education (CIVME) is accepting grant proposals for the sixth annual cycle of the CIVME Funding Program, which supports projects that promote international collaboration in veterinary medical education. Total project budgets should not exceed $10,000 and are limited to a maximum duration period of 24 months. The application deadline is January 14, 2022 at 11 a.m. EST.
Preference will be given to applications that represent collaborative efforts among institutions and across regions. The CIVME Research Grant will be available in English, French, and Spanish. Proposals will be evaluated on criteria that include relevance, impact, fit with CIVME goals, feasibility, risk analysis, and others. Funded proposals will be announced during the AAVMC's annual conference in March 2022 and in other communications.
For detailed information and application instructions, click here. For more information on the CIVME grant program or translation services please contact civme@aavmc.org.
---
MSD Animal Health Continues Partnership with AAVMC on Global Antimicrobial Resistance Education Programs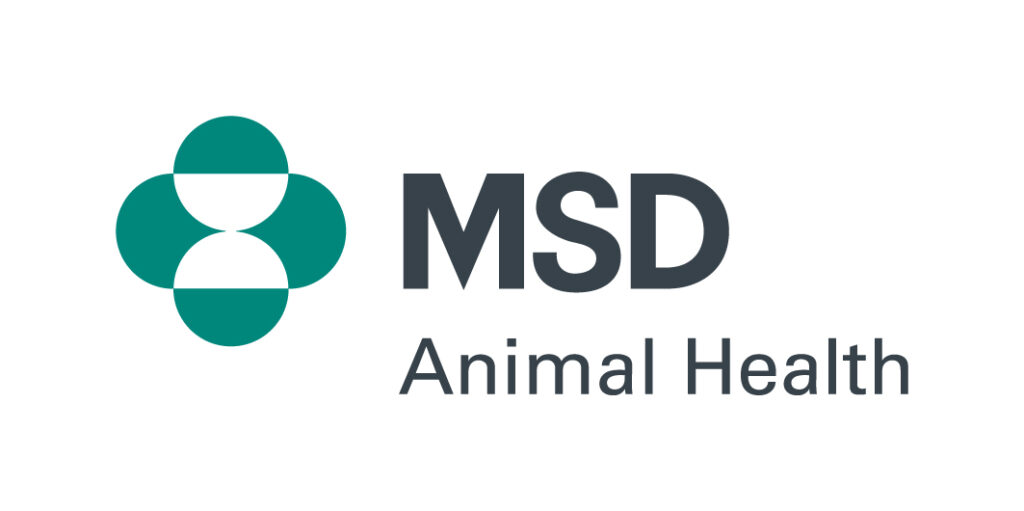 MSD Animal Health and the AAVMC are partnering for the third year on an international grant program created to help mitigate the global public health problem of antimicrobial resistance (AMR). Administered through the AAVMC's Council on International Veterinary Medical Education (CIVME), the MSD Animal Health CIVME Antimicrobial Stewardship Grant program (ASGP) seeks to improve instructional programs related to AMR in educational institutions around the world. The program funds two grants for up to $10,000 over a maximum period of 24 months.
The grant program focuses on antibiotic stewardship and emphasizes disease prevention through improved vaccination protocols. Keeping more animals free from infectious disease through immunizations will reduce the amount of antimicrobial agents required to treat sick animals.
"As a company that is highly committed to science-based research, MSD Animal Health supports the responsible use of antibiotics to prevent and treat disease, maintain the health of animals and, ultimately, ensure a safe global food supply," said Elzo M. Kannekens, DVM, director of global public policy and multilateral affairs, MSD Animal Health. "We advocate for the use of vaccines to prevent disease and are making significant investments in global anti-microbial stewardship efforts to ensure current treatments remain effective as long as possible. As part of this commitment, we are proud to partner with AAVMC to bring forward this international grant program to improve educational programs about antimicrobial resistance."
Projects are expected to align with one or more criteria that advance CIVME's mission and convincingly promote international collaboration in veterinary medical education. Indirect costs are not considered. The Antimicrobial Stewardship Grant will be available in English, French, and Spanish.
"Antimicrobial resistance is an enormous problem in the world today and it looms as one of the greatest public health challenges we will face in the future," said AAVMC Chief Executive Officer Dr. Andrew T. Maccabe. "We're grateful to partner with a forward-thinking corporation like MSD Animal Health on an educational program that will help us address this threat and we appreciate their support of this critical program."
The deadline for grant submission is January 14, 2022. Recipients will be announced in March 2022 as part of the AAVMC Annual Conference. For information on how to submit your application, please visit the MSD CIVME Grant page. Any questions about the Antimicrobial Stewardship Grant program or the program's translation services please contact civme@aavmc.org.
---
Interprofessional Education Collaborative Schedules October 2021 Virtual IPEC Institute

The Interprofessional Education Collaborative (IPEC) is presenting the October 2021 IPEC Institute October 12, 14, 19, and 21 through four days of live, synchronous sessions.
The AAVMC is an active member of IPEC, and AAVMC Chief Executive Officer Dr. Andrew T. Maccabe is one of the featured speakers. Dr. Maccabe will present "Advancing IPE for Collaborative Practice" during a session that discusses how inclusion, diversity, equity, and advocacy improves IPE and generates positive outcomes for members of the healthcare team, patients, and communities.
The conference is an advanced virtual program for institutions trying to sustain or strengthen their existing interprofessional education for collaborative practice (IPECP) programs while increasing faculty readiness and student preparation around inclusion, diversity, health equity, and advocacy.
Here are links to the full agenda and daily schedule.
---
In the News
Last 9/11 Search Dog's Legacy Lives on in Rescue Work — and in a Furry Kid Sister
Today
Upside-down Rhino Research Wins Ig Nobel Prize
BBC
K-State Receives $3.7 Million Grant for Continued Research into COVID-19 Treatments
Yahoo News
Study Reveals Mechanism Behind Male Infertility Caused by Autoimmune Disease
Medical News
New Emergency Program to Help Rescue Animals During Disasters
AgNet
How Much Does Vet School Cost?
MSN
AVMA Offers Well-being, Suicide Prevention Resources
JAVMA News
The Health Benefits of Bonding With Pets
WMAL-FM
Sucrose and Fructose Increases Health Risks: Study
Technology Times
Army Study Evaluates Use of Dogs in COVID-19 Detection
US Dept of Defense Explore
The Cat-Human Bond: Yes, Cats Really do Become Attached to You.
The Free Library
Another Chance at a Dog's life: OSU Vet Med Treats a Second Pup with Upside-down Paw
The Moultrie Observer
KSU Grant For Tick Disease Rocky Vaccine
KSAL
Academic Groups Seek Easier Approval Path for Gene-edited Food Animals
JAVMA News
Second Virtual National Veterinary Scholars Symposium Draws 900
JAVMA News
---
From Our Members
NIH Awards $1.878 Million to Research Immune Response to Influenza
Louisiana State University
Veterinarian Vaccinators Help Create New Normal
Virginia Tech (Virginia-Maryland)
Forging Healthy Bonds with Canine Companions
University of Pennsylvania
How a Dog with a Giant Tongue Was Saved by a Veterinary Surgeon
Tufts University
UF Veterinary College Aims to Enhance Diversity Recruitment Efforts Through Mentoring Program
University of Florida
Investing in the Power of Pathology and Genomics
Tufts University
Biomedical Scientists Receive NIH Funding for Ovarian Cancer Research
Cornell University
Legendary Veterinary Neurologist de Lahunta Dies at 88
Cornell University
UF-led Study Explores Differences in COVID-19 Severity Internationally
University of Florida
---
People in Motion
Kathryn Meurs, senior associate dean for research and graduate studies, has been named the interim dean of the NC State College of Veterinary Medicine. Meurs officially begins her term as interim dean on Jan. 18, 2022.
Dr. James Roush has been appointed associate dean for academic programs and student success at the Kansas State University College of Veterinary Medicine.
Dr. Suresh Marulasiddappa has been appointed associate dean of research and graduate training at the University of Wisconsin School of Veterinary Medicine.
---
"Like" us on Facebook or follow us on Twitter, LinkedIn, and Instagram: