November 2017
Registration Open for Annual Meeting March 2-4, 2018 at Grand Hyatt Washington

Registration
is now open for the AAVMC's 2018 Annual Meeting and Assembly, which will be held March 2-4, 2018 at the
Grand Hyatt Washington
in Washington, D.C.
Considered the ultimate professional development event in academic veterinary medicine, this year's meeting is themed "New Horizons in Veterinary Education: Addressing Opportunities with Innovative Approaches."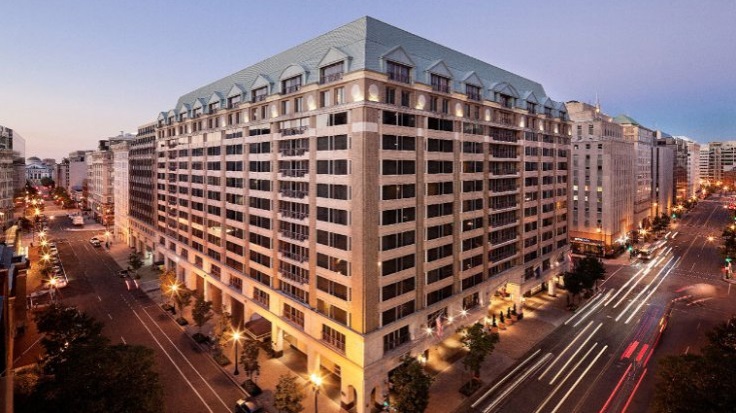 Grand Hyatt Washington
Hundreds of educators and leaders from throughout academic veterinary medicine are expected to converge for the three-day meeting.
Conference programming will feature experts from around the world discussing topics like competency-based veterinary education (CBVE), health and wellness within the profession and the academy, new trends in education, emerging educational technologies, and more.
The AAVMC's annual meeting provides registrants with a one-of-a-kind opportunity to network and share ideas with thought leaders from throughout academic veterinary medicine and the profession.
This is the first year the AAVMC annual meeting has ever been held at the Hyatt. Located just a ten-minute walk from the National Mall and one block from the Metro Center station, the 888-room hotel provides excellent conference and meeting facilities and is convenient to many popular downtown destinations.
Early registration incentives are available through January 29, 2018.
---
AAVMC's PCVE Symposium Advances Primary Care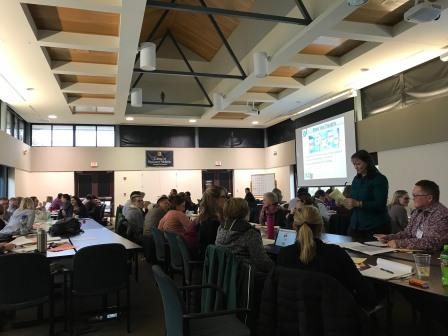 PCVE faculty are providing their feedback on a draft of the Competency Based Veterinary
Education framework. Dr. Susan Matthew presented the draft on behalf of the AAVMC's
CBVE working group.
Veterinary medical educators recently gathered at the
University of Missouri College of Veterinary Medicine
for the Primary Care Veterinary Educators (PCVE) Symposium. Over 80 participants from 28 U.S. schools and 10 international schools met for a series of presentations and networking opportunities focused on generating new ideas and developing more effective strategies for primary care education.
"I've been a primary care educator for 19 years now, and it has been wonderful to watch and participate in the growth and maturation of the PCVE community," said Dr. Richard Meadows from the University of Missouri, who was faculty co-lead with Dr. Alisa Hutchison. "The University of Missouri was honored to host educators from around the world with the unified goal of educating the next generation of veterinary practitioners."
During one session, participants provided feedback on a draft framework for competency-based education. The framework is being developed by the AAVMC Working Group on Competency-Based Veterinary Education.
Another session on "Diversity, Inclusion, and Wellness: It Takes a Village" looked at inclusive leadership and the principles of cultural competency in veterinary medicine.
A wellness-focused session examined how to enhance resilience in clinical education through resources and strategies for both students and educators.
Additionally, an informal "Swap Shoppe" allowed participants to share ideas and discuss best practices, and an educators' panel looked at issues such as incorporating practice learning theory, the promises and challenges of client simulations, and clinical teaching tools.
The symposium was generously supported by Boehringer Ingelheim, Hill's Pet Nutrition and IDEXX Laboratories.
---
Three AAVMC Members Earn Diversity Heed Award
For the first time, three AAVMC member institutions have been awarded the Health Professions Higher Education Excellence in Diversity (HEED) Award. Colleges of Veterinary Medicine at
Purdue University
,
Texas A&M University
and
The Ohio State University
have all earned the designation this year, which recognizes them as exemplary institutions.
"Advancing diversity and inclusion on campus is a top priority for the AAVMC and we congratulate these AAVMC institutions for earning this prestigious award," said AAVMC CEO Dr. Andrew T. Maccabe. "This recognition speaks of their abiding concern for fostering an exceptional organizational culture on campus, and I hope their achievements inspire other member institutions to consider participating in this program in the future."
The HEED Award and the Health Professions HEED Award are the only national awards that honor individual institutions for being outstanding examples of colleges, universities, or health profession schools that are committed to making diversity and inclusion a top priority across their campuses.
The HEED Award competition is open to community colleges, undergraduate and graduate degree granting institutions as well as all accredited U.S. health profession schools in medicine, veterinary medicine, dentistry, pharmacy, nursing and other areas.
The award is based upon a comprehensive assessment of an institution's level of achievement and intensity of commitment regarding efforts to broaden diversity and inclusion on campus. Judges examine a range of programs and initiatives, including outreach, student recruitment, retention, and completion; and hiring practices for faculty and staff.
HEED Award administrators say one of the goals of the application process is to help institutions of higher education assess their diversity efforts in a way that helps them recognize and build upon their success and identify opportunities for improvement.
The award is judged by representatives of Potomac Publishing, Inc., publisher of INSIGHT Into Diversity magazine, as well as members of the INSIGHT Into Diversity Editorial Board members and members of the Health Professions HEED Award Advisory Board.
---
AAVMC's 2017 Annual Report Published
The AAVMC's
2017 Annual Report
has been published. Digital copies are available on the website and multiple print copies to support selected distribution within member institutions will be arriving in the weeks ahead.
The 20-page report is themed "Learning and Leading" and includes updates on major program areas like admissions and recruitment, health and wellness, diversity and inclusion, educational debt and other areas.
Programmatic activity within each of the AAVMC's enterprise-wide initiatives to Analyze, Catalyze and Advocate are also detailed. The report contains several infographics summarizing key data on application trends, graduation, enrollment and student debt.
The report also contains an annual financial report.
---
AVMA, AAVMC and AAVSB Endorse Telehealth Statement
A formal statement developed by the
AVMA
/AAVMC Joint Committee regarding telehealth and veterinary medicine has been endorsed by the AAVMC, the AVMA, and the
American Association of Veterinary State Boards
(AAVSB).
The statement provides a common framework by which the participating organizations view the emerging opportunities in veterinary medical healthcare made possible by advancements in technology.
"Telehealth has the potential to transform how the veterinary medical profession serves people and animals," said AAVMC CEO Dr. Andrew T. Maccabe. "The educational community needs to make sure new generations of veterinarians are prepared to leverage the technology. We are especially pleased to be working with the American Veterinary Medical Association and the American Association of Veterinary State Boards in this rapidly emerging area to ensure that telehealth is used appropriately to improve veterinary medical services in the future."
Here is the statement:
Telehealth can provide valuable tools to augment the delivery and availability of high quality veterinary care. According to the Center for Connected Health Policy, "Telehealth encompasses a broad variety of technologies and tactics to deliver virtual medical, health, and education services. Telehealth is not a specific service, but a collection of means to enhance care and education delivery." Veterinarians need to utilize emerging technologies to enhance accessibility and client communication, while promoting the responsible provision of high quality veterinary medical care. Both AVMA and AAVMC are committed to continue their collaboration with a wide variety of stakeholders to promote access to the convenience and benefits of telehealth, while providing information to the veterinary community about the development of applications and other technologies that help connect veterinarians with clients.
"As the veterinary profession's 'umbrella' organization, the AVMA understands that collaboration with veterinary regulatory/licensing boards and veterinary medical colleges is essential to help veterinarians take full advantage of new technologies in ways that best support the health and well-being of their patients," said Dr. Mike Topper, president of the AVMA.
Collaboration among individual veterinarians, educational institutions, and the state and federal regulatory communities provides the breadth of understanding necessary for successful implementation of telehealth technologies in ways that support veterinary health care providers, their clients, and—most importantly—the wellbeing of their patients.
"Telehealth, when used within the confines of state, territorial, provincial, and federal regulations, can provide valuable tools to augment the delivery and availability of high quality veterinary care, said AAVSB President, Dr. Mark Olson. The AAVSB is drafting model regulations and will continue to provide education to support our member regulatory boards on the use of emerging technologies in telehealth and how these innovations could enhance veterinary care." See the full
memo
of support from the AAVSB.
As outlined in the joint statement, there will be continued outreach to additional stakeholders in veterinary medicine to discuss further collaboration on telehealth.
The AVMA is developing an extensive and practical toolkit and guidelines for members who are interested in using telemedicine in practice. It will include information on policies, laws, and regulations; potential applications; an FAQ; descriptions of various service models; and guidance on monetization. The toolkit is tentatively set to be unveiled at the 2018 AVMA Convention.
Visit the
AVMA website
to read and comment on the new AVMA policy on
telemedicine
and the AVMA Practice Advisory Panel's entire 42-page document,
Final Report on Telemedicine
.
The AAVMC wishes to acknowledge the assistance of the AVMA's Sharon Granskog for this content.
---
Fifth Annual AVMA Economic Summit Held
| | |
| --- | --- |
| | |
| Dr. Lisa Greenhill | Dr. Michael Dicks |
Leaders from veterinary medical education, industry and allied groups recently gathered in Rosemont, Illinois, for the Fifth Annual
American Veterinary Medical Association (AVMA)
Economic Summit.
At the summit, members of the AVMA veterinary economics team and others presented the latest data and research on veterinary medical economic issues, including financial issues in veterinary practice and education. The summit helps participants to project what the future of the profession might look like based on current research.
Different experts explored a variety of economic issues during the two-day event. Topics encompassed the economy and economic projections, including the market for veterinary education, veterinarians and veterinary services.
Dr. Michael Dicks, director of the AVMA's Economics Division, provided an overview of the current state of the economy and how the macro-economy affects veterinary practice, as well as an update on the steps taken to improve the profession's debt-to-income ratio.
AAVMC Past-President Dr. Douglas Freeman, dean of the
Western College of Veterinary Medicine at the University of Saskatchewan
, presented a veterinary medical college dean's perspective and looked at the opportunities and challenges in preparing veterinary school grads to meet 21st century market needs.
AAVMC Senior Director of Institutional Research and Diversity Dr. Lisa Greenhill told symposium registrants that there continues to be a strong and qualified applicant pool. Dr. Greenhill presented an analysis of how an imbalanced distribution of veterinarians across practice types and locations is influenced by the demographic profile and characteristics of job applicants. She also discussed efforts to cultivate a more diverse population of applicants.
The AAVMC's Director of Governmental Affairs Kevin Cain and AVMA Government Relations Assistant Director Gina Luke presented on Congressional Action and the Affordability of Veterinary Education. Their session focused on current legislative agenda items such as the re-authorization of the Higher Education Act, which contains provisions that affect financial aid as well as student loan repayment. They also updated the group on the Fix-the-Debt campaign.
---
CIVME Grant Applications Solicited
The
Council on International Veterinary Medical Education
(CIVME) has announced that it is accepting grant proposals for the second annual cycle of the CIVME Funding Program, which supports projects that promote international collaboration in veterinary medical education.
Total project budgets should not exceed $10,000 and are limited for a maximum period of 24 months. The application deadline is January 30, 2018 at 11 a.m. EST. Detailed information on the program is available
here
.
Preference will be given to applications that represent collaborative efforts between institutions and across regions. Potential applicants interested in collaboration but lacking partners are invited to contact CIVME at
CIVME-grant@aavmc.org
for assistance.
Proposals will be evaluated on criteria that include relevance, impact, fit with CIVME goals, feasibility, risk analysis, and others. Funded proposals will be announced during the AAVMC's March 2018 annual meeting and in other communications.
The Council on International Veterinary Medical Education (CIVME) is an AAVMC initiative that seeks to promote and share best practices in veterinary medical education around the world. The council promotes:
Communication and collaboration that advances international veterinary medical education
Collaboration among educational researchers
Dissemination of innovations and other educational advances among international members
---
Maccabe Congratulates 'Future Veterinarians' at National FFA Congress
About 65,000 members of the
Future Farmers of America
(FFA) recently converged upon Indianapolis for their annual
FFA Conference
, and more than a few will likely end up becoming veterinarians one day. Perhaps some of those heard AAVMC CEO Dr. Andrew T. Maccabe present congratulatory remarks during the awards ceremony for the massive convention's
Veterinary Sciences Career Development Event
, which is sponsored by
Zoetis
and the AAVMC.
Students participating in that program participate in a series of tests, evaluations and skills laboratories, as well as a team-based project in veterinary medicine that takes place prior to the convention. With more than 650,000 members participating at the junior high, high school and undergraduate level in both rural and suburban areas, FFA is the largest youth organization in the United States.
---
UC Davis Treats Animals Affected by Wildfires
The
University of California Davis School of Veterinary Medicine
treated dozens of animals that were injured or displaced during California's recent wildfires. The catastrophic wildfires ravaged hundreds of thousands of acres in Santa Rosa and California's wine country, destroying more than 6,000 homes and other structures.
Many people tried to take pets with them, but in the chaos of escaping the fires, cats, in particular, were often difficult to contain and bolted in fear and confusion.
The school sent faculty veterinarians and students to perform search and rescue missions throughout Sonoma County and the Napa area. And the school's Veterinary Emergency Response Team was on the front lines offering care to all kinds of animals, including koi fish that were found in an abandoned, ash-covered pond.
At the end of October, the school's veterinary hospital had treated one dog, 25 cats, one goose, one chicken, two llamas, 14 horses and 25 koi fish.
The school's communications team posted photos on social media of unclaimed animals. There were some joyous success stories as people were reunited with lost pets but, in other cases, animals were so injured or burned that, with the owners' permission, they had to be humanely euthanized.
Many of the treated animals were from families that had lost everything. UC Davis set up a
Veterinary Catastrophic Need Fund
to help treat animals affected by the wildfires. They also worked to secure donations of medications, medical supplies, medical equipment, food and money from corporate partners.
Track the school's daily progress
here
.
---
One Health Congress Fellows Deadline December 1, 2017
Early career professionals wishing to apply for
One Health Fellowships
at the
One Health Platform's Fifth Annual One Health Congress
in Saskatoon, Saskatchewan, Canada June 22-25, 2018 must submit their proposals by December 1, 2017.
Open to participants from around the world, the
One Health Fellows Program
awards financial support to cover the registration fee, accommodations and travel in exchange for presenting their work.
Fellows must be senior PhD students (expected to complete their dissertations within a year of the Congress) or must have held a PhD or a clinical qualification for no longer than three years at the time of the application. For more information on qualification criteria, follow this
link
.
Their research and presentation must focus on one of the congress' main program themes:
Pathogen discovery
Drivers for emerging diseases
Diagnostics and syndrome surveillance
Pathogenesis
Ecology
Underprivileged communities
Vaccines
Intervention strategies
Politics and social science
Antimicrobial resistance
The 5th International One Health Congress is being presented by the One Health Platform and the
University of Saskatchewan
, in collaboration with the
Southern African Centre for Infectious Disease Surveillance
(SACIDS),
CDC Kenya
and
One Health Central & Eastern Africa
(OHCEA).
Conference organizers are also soliciting
abstracts
for presentation.
The AAVMC is helping sponsor the fellows program and the event.
---
Secretary of Agriculture Dr. Sonny Perdue Visits UGA-CVM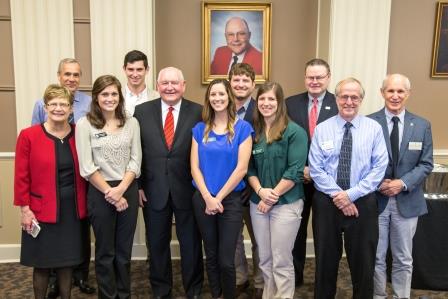 U.S. Secretary of Agriculture Dr. Sonny Perdue (bottom row, third from left)
with
UGA CVM Dean Dr. Lisa Nolan (bottom row, left), the AAVMC's Director of Governmental
Affairs Kevin Cain (second row, second from right) and others at UGA.
U.S. Secretary of Agriculture Dr. Sonny Perdue was recently on campus at the University of Georgia (UGA) to participate in the ribbon-cutting ceremony for a new $150 million
USDA
Southeast Poultry Research Laboratory that will work closely with the
UGA College of Veterinary Medicine
.
While there, Secretary Perdue met with UGA College of Veterinary Medicine Dean Dr. Lisa Nolan and colleagues.
Perdue, a veterinarian and former Georgia governor, toured the campus and attended a luncheon with administrators and students from the College of Veterinary Medicine, the
College of Agriculture and Environmental Sciences
and the
Warnell School of Forestry & Natural Resources
.
He closed out his visit by presenting a broad-ranging lecture and Q&A for about 250 students, faculty and staff based on the three colleges.
During public remarks shared throughout the day, Perdue praised the new facility as a world-class laboratory that will help scientists better understand and mitigate infectious diseases threatening agriculture, national food security, and human health and wellbeing.
He said he views the opportunity to serve as U.S. Secretary of Agriculture as a once-in-a-lifetime opportunity and that his "mission" and his "passion" is to help make the USDA the best federal agency in Washington, noting the organization is embracing a motto of "do right and feed everyone."
While he has spent much of his life as a businessman and public servant, he said, Perdue credits his training as a veterinarian for much of his success.
He said he decided to become a veterinarian while he was in the ninth grade, and when he became a first-year student at the UGA-CVM in 1971, there were 64 people in his class, including only four women.
He said a veterinary medical education teaches a person how to evaluate things carefully and how to make good decisions, which are all important in life.
Governmental Affairs Director Kevin Cain represented the AAVMC during the event.
---
Open House Held for Medical Education Associations Based at 655 K Street
Programs designed to build awareness and promote collaboration among the series of national health education associations headquartered at 655 K Street in Washington, D.C., continue. The
Association of American Medical Colleges
(AAMC), the host organization that constructed and owns the office building, recently organized an "Open House" for the five major associations now based at 655K Street.
In addition to the AAMC, those groups include the AAVMC, the
American Dental Education Association
(ADEA), the
Physician Assistant Education Association
(PAEA), and the
American Association of Colleges of Nursing
(AACN). The almost 900 employees working in the building are providing leadership and support for the academic centers that provide the foundation for human medicine, veterinary medicine, physician assistants, and nursing.
The Open House was presented in the building's main auditorium on the second floor. Those attending the event networked and visited information booths staffed by each resident association while slides highlighting the associations were featured on a wall-sized projection screen.
One of the AAMC's goals in building the office complex several years ago was to provide a nexus for health education associations based in Washington, D.C. Having the organizations based in the same building promotes interprofessional collaboration and an integrated approach to promoting heal and wellness.
---
AAVMC Observing Public Health Thank You Day on November 20
The AAVMC is partnering with
Research!America
and other U.S. public health organizations to celebrate
Public Health Thank You Day
on November 20, 2017.
The day seeks to recognize public health professionals working to protect the health of all Americans and raise awareness about the critical role public health workers play in keeping the nation safe and well.
"Most of us working in veterinary medicine understand the substantial role modern veterinary medicine plays in public health and the critical role public health plays in society," said AAVMC CEO Dr. Andrew T. Maccabe. "But many people don't make those connections, so we're pleased to join Research!America in congratulating these professionals for the important work they do."
The day is intended to honor health inspectors, environmental health scientists, public health researchers, medical professionals, community health workers and other unsung heroes who keep people safe from infectious diseases, promote mental health, prevent injuries, increase immunization rates, promote food safety and perform many other tasks that promote human health and wellbeing.
"Public Health Thank You Day is intended to salute those who work tirelessly, sometimes putting their own lives at risk, to find solutions to some of our most pressing public health threats," said Mary Woolley, president and CEO of Research!America.
The growing opioid epidemic, limited resources for addressing mental health issues, emerging infectious diseases, non-compliance with immunization recommendations, and unsafe drinking water are just a few of the maladies challenging public health workers, organizations like the Centers for Disease Control and Prevention and other institutions.
Research!America is the nation's largest not-for-profit public education and advocacy alliance working to make research to improve health a higher national priority. Founded in 1989, it is supported by member organizations that represent more than 125 million Americans.
---
In the News
For Aspiring Vets, Jobs are Aplenty — Demand Set to Rise 18 Percent in 10 Years
CNBC