Vision
Academic veterinary medicine is a trusted leader and valued partner in advancing health.
Mission
AAVMC inspires innovation and promotes excellence in academic veterinary medicine worldwide.
Analyze
Generate data-driven information that helps member institutions improve performance and plan for the future.
Catalyze
Ignite change throughout the academic veterinary medical community in order to shape the future of our profession.
Advocate
Protect, promote, and advance the interests of the academic veterinary medical community.
Values
Our work is guided by five core values that inform our thinking and guide our actions.
Integrity
We uphold the highest ethical principles by being honest, transparent and accountable to our stakeholders.
Service
We act in the collective best interest of the academic veterinary medical community in service to society.
Diversity
We embrace the fundamental virtue and strength of diversity in every dimension.
Inclusion
We affirm the dignity and equity of all people and view collaboration as the cornerstone of successful relationships.
Excellence
We strive to achieve the highest standards of excellence as we build a culture of continuous improvement.
---
History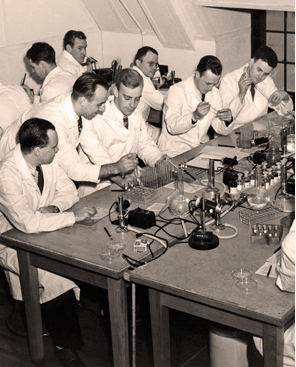 The American Association of Veterinary Medical Colleges (AAVMC), formerly known as the Association of American Veterinary Medical Colleges, was formed in 1966 by the deans of 18 U.S. and three Canadian veterinary colleges. Membership was subsequently opened to U.S. Departments of Veterinary Science and Comparative Medicine and international colleges and schools of veterinary medicine.
Founded in 1966, the AAVMC represents more than 40,000 faculty, staff and students across the global academic veterinary medical community. Our member institutions include Council on Education (COE) accredited veterinary medical colleges and schools in the United States, Canada, Mexico, Europe, Asia, Australia, and New Zealand as well as departments of veterinary science and departments of comparative medicine in the U.S.
In July 1995, the Association launched its Veterinary Medical College Application Service (VMCAS). VMCAS is the central distribution, collection, and processing service for applications to the veterinary medical colleges.
The AAVMC was originally chartered as a not-for-profit corporation in the state of Illinois. On April 25, 1997, the AAVMC was chartered in the District of Columbia.