The AAVMC fosters and protects its brand identity through a trademark protected logo, a tagline, and a defining set of graphic design and typographical standards. The AAVMC tagline is "Trusted Leader. Valued Partner. Advancing Health." The AAVMC's brand standards are described in the AAVMC Brand Standards publication.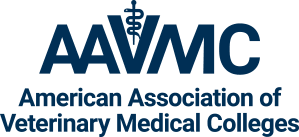 Logo Usage by Partner Organizations
The AAVMC is pleased to collaborate with organizations that share its values and goals in advancing academic veterinary medicine and the veterinary medical profession. We are frequently asked by organizations for permission to express that relationship by using our logo on their digital and print communication materials. In most cases, we are able to comply with these requests within 24 hours. Please contact Chief Operating Officer Ms. Dotty Gray at dgray@aavmc.org or Director for Marketing and Communications Ms. Susan Leigh at sleigh@aavmc.org for assistance.