Fee Structure for VMCAS 2021
*** VMCAS will no longer accept checks for payment of your application.***
Application fees are calculated based on the number of colleges to which you are applying.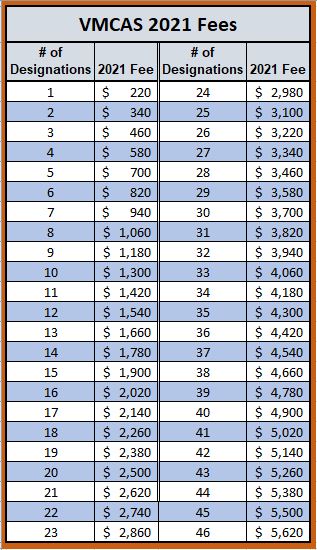 What does my fee cover?
Your VMCAS fee covers the following services
The processing and transmission of your VMCAS Web Application
The processing and transmission of your evaluations
VMCAS Student and Advisor support
NOTE: VMCAS does not provide refunds under any circumstances, including when an applicant accidentally chooses the wrong school.
Fee Reimbursement Program:
VMCAS has implemented a fee reimbursement program for those that qualify. The program will open in May when applicants have the ability to submit applications to schools. A limited number of VMCAS fee reimbursements are available through this program. Reimbursements are granted to financially disadvantaged applicants on a first-come, first-serve basis, and the program will close once the allotted funds are exhausted. VMCAS will decide if you qualify for a reimbursement based on your income, or your parent's income if you are claimed as a dependent, as reported on the most recent Federal Income Tax Return. for more information, please see the following fee reimbursement information page.
VMCAS Application Payment:
Once you have completely entered your application data, you will be taken through a series of disclaimer statements. When you have completed all required disclaimers, you will be taken to the payment screen.
Credit Card Payment:
To pay the application fee, enter the appropriate information on the payment screen. Make sure you print the resulting receipt when you submit. Our financial processing is secure and easy to use. VMCAS accepts only Visa and MasterCard. VMCAS colleges will not review applications if fees have not been submitted.
Supplemental Applications and Fees
Some participating VMCAS institutions require a supplemental application and/or fee. Supplemental fees should be paid directly to the institution (Do not send your supplemental fees to VMCAS). Please refer to the individual college specification pages to determine if a supplemental fee and/or application is required and the deadline for each school.
Please note: A college's receipt of your supplemental application or fee may not necessarily indicate that your VMCAS application is complete. The college may have additional requirements that you must fulfill before they consider your application completed. Please refer to the college descriptor pages and the VMCAS application instructions for details.
Page Updated:09/9/2020